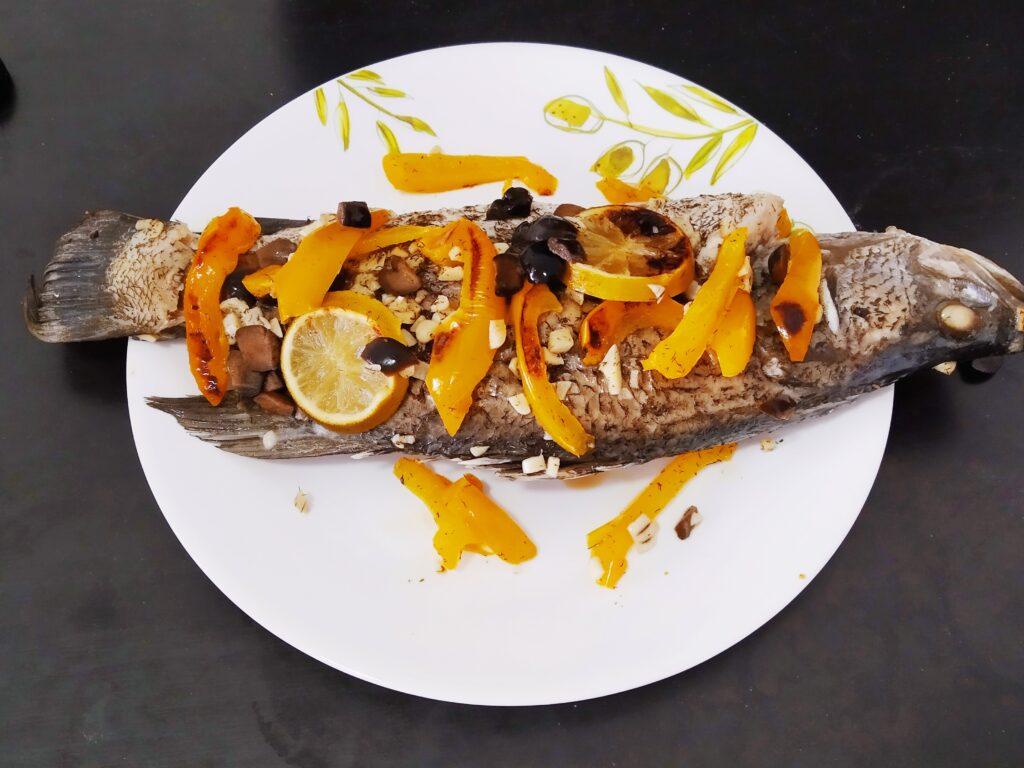 I'm thrilled to share an absolute gem of a recipe with you all today. It's time to tantalize your taste buds and nourish your body with the most divine Oven Baked Barramundi! Trust me, this dish is a game-changer, and I can't wait for you to try it. So, let's roll up our sleeves, get our aprons on, and embark on a culinary adventure together!
The Beauty of Seabass/Barramundi – A Nutritional Powerhouse
I'm sure many of you are already familiar with the fantastic fish called Barramundi, but let me tell you why I love it so much. Barramundi is a nutritional powerhouse, packed with omega-3 fatty acids, protein, and essential minerals like potassium and magnesium. It's not just delicious; it's incredibly good for you too! Asian Sea Bass is the other known name for barramundi.
Why Oven Baking is the Way to Go
When it comes to cooking Barramundi, I've found that oven baking is the ultimate method. It keeps all those delicate flavors and nutrients intact, and the fish turns out moist and succulent every single time. Plus, it's a breeze to prepare! No more worrying about overcooking or undercooking – oven baking guarantees a perfectly cooked Barramundi fillet.
What to serve with baked Seabass/Barramundi
For a refreshing and nutritious combo, serve the Barramundi with a colorful mixed green salad. Drizzle a light lemon vinaigrette over the greens for that perfect balance of tanginess and freshness. The crispness of the greens, combined with the delicate flavors of the Barramundi, is a match made in heaven.
Alternatively, opt for a medley of roasted vegetables seasoned with your favorite herbs. The roasted veggies add warmth and depth to the meal, creating a wholesome and satisfying dining experience.
There you have it – my beloved Oven Baked Barramundi recipe, ready to take center stage on your dining table. I hope you're as excited as I am to give this dish a try. It's an absolute showstopper, and I can't wait for you to experience the burst of flavors and tender goodness it offers. So, gather your ingredients, get cooking, and enjoy a meal that will elevate your dining experience to new heights.
Explore the Finest Fish Selection
HOW TO MAKE THAI-STYLE STEAMED FISH WITH LIME AND GINGER– Thai-style steamed fish with the zesty flavors of lime and ginger. This delectable recipe brings the taste of Thailand to your kitchen, perfect for a delightful seafood feast. Learn the steps to achieve a mouthwatering dish with fresh fish and aromatic herbs.
QUINOA STUFFED CAPSICUM & BAKED TOMATO FISH FOR A GLUTEN-FREE FEAST-Indulge in a gluten-free delight with Quinoa Stuffed Capsicum and Baked Tomato Fish! This wholesome recipe combines the goodness of quinoa and the succulent taste of baked fish, creating a satisfying and nutritious feast.
HOW TO MAKE BAKED FISH AND CHIPS FOR A LUNCH | HOMEMADE HEALTHY PLATTER -Create a homemade healthy platter with Baked Fish and Chips for a delightful lunch experience. Ditch the deep-frying and embrace a lighter, oven-baked version of this classic dish.
HOW TO MAKE COCONUT-FREE SARDINE RAW MANGO CURRY -Savor the flavors of Coconut-Free Sardine Raw Mango Curry, a delightful twist to traditional curry recipes. Dive into the tangy and spicy notes of raw mango, perfectly complementing the sardines' rich taste.
HOW TO PAN-FRY SALMON WITH DILL EFFORTLESSLY -Master the art of pan-frying salmon with dill to perfection. This effortless recipe brings out the natural flavors of salmon, enhanced by the aromatic touch of dill. Elevate your seafood cooking skills and impress your guests with this mouthwatering dish.
PAN-FRIED SEER FISH FOR A SIMPLE LUNCH-Enjoy a simple and satisfying lunch with Pan-Fried Seer Fish, cooked to perfection. Delight in the delicious simplicity of this dish, featuring the delicate taste of seer fish seasoned to highlight its natural flavors.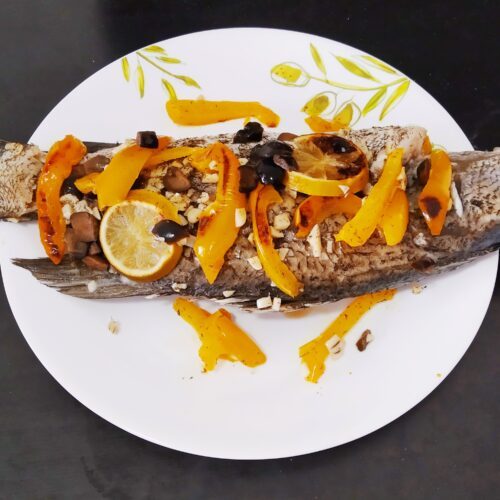 Elevate Your Dining: Discover the Divine Oven Baked Barramundi Recipe!
Ingredients
1

Seabass

3 to 5

tsp

Lemon Juice

Minced garlic

Salt

1

tsp

Dill leaves

½

Capsicum

1

tsp

Olives

chopped

2

slices

Lemon
Instructions
Add lemon juice in a mixing bowl.

Now add chopped/minced garlic.

Now add dried/freshly chopped dil leaves.

Mix well until everything blends together.

Preheat the oven for 170C

Now place the cleaned and washed seabass in a plate/tray.

Add and marinate the dill marinade and spread evenly in and around the seabass.

Place the marinated seabass on baking paper. Wrap the seabass and ensure the seabass is covered tightly and thoroughly.

Wrap the baking paper wrapped seabass one more time with another baking paper.

Place the packed seabass on a baking tray.

Bake the seabass for 20 to 25 minutes or according to your oven tempreature settings.

When the seabass is cooked serve it with pilaf or Mediterranean dishes.
Savor the Ocean's Seafood Bounty
HOW TO MAKE COCONUT-FREE PRAWN MASALA | PRAWN RECIPES -Indulge in the flavors of Coconut-Free Prawn Masala, a tantalizing prawn recipe that will elevate your seafood dining experience. Learn how to prepare this aromatic dish packed with rich flavors and spices, perfect for a delightful seafood feast.
HOW TO MAKE PRAWN TOFU LAKSA FROM SCRATCH-Embark on a culinary adventure with Prawn Tofu Laksa made from scratch. Discover the art of creating this luscious, fragrant noodle soup infused with the delicate taste of prawns and tofu. Elevate your cooking skills and treat yourself to the delightful flavors of this homemade laksa.
THAI CUISINE: HOW TO MAKE TOM YUM FRIED RICE FROM SCRATCH-Immerse yourself in the essence of Thai cuisine with Tom Yum Fried Rice made from scratch. Savor the spicy and tangy flavors of this delectable fried rice, inspired by the vibrant tastes of Thailand. Explore the art of Thai cooking and enjoy a delightful fusion of flavors.
DISCOVER THE SECRET BEHIND THIS IRRESISTIBLE LAKSA SEAFOOD LINGUINE-Uncover the secret behind the irresistible Laksa Seafood Linguine, a fusion of flavors that will tantalize your taste buds. Dive into the harmonious combination of seafood and the rich taste of laksa, beautifully presented in a linguine dish. Elevate your dining experience with this exquisite seafood delight.
FUSION – SIMPLE TO MAKE STUFFED SQUID FRIED RICE-Experience the best of both worlds with Stuffed Squid Fried Rice, a delightful fusion dish that brings together the flavors of the sea and the heartiness of fried rice. Delight in the unique blend of ingredients, creating a symphony of tastes that will leave you craving for more.
LOW-FAT NEW ENGLAND CLAM CHOWDER BREAD BOWL FROM SCRATCH-Indulge guilt-free in Low-Fat New England Clam Chowder Bread Bowl made from scratch. Relish the creamy goodness of clam chowder served in a warm bread bowl, creating a comforting and satisfying meal.
Subscribe to my YouTube channel GameOfSpice for more healthy vlogs. For instant updates about new recipes check out my Instagram. For recent updates, check out my Facebook page. Go through my pins on Pinterest. Check out my Yummly page for healthy recipes.