Today I made a home-style coconut-free sardine raw mango curry with the use of pantry staples. This simple sardine curry does not require any grinding or roasting thus makes the process easier and quicker. The history of sardines go way back, but Napolean Bonaparte was the one who initiated the canning process, the first fish ever canned to feed his citizens.
The healthier type of meat is fish. Red meats have adverse side effects. So a popular recommendation from doctors is to reduce the consumption of red meat and include seafood.
These small fish are packed with nutrients. They can be beneficial in the prevention of a number of health conditions. They're known to help prevent heart disease as well as some cancers. The abundance of Omega 3 gives sardines a strong flavor and oily texture.
Sardines are sometimes recommended for pregnant women and older adults. They contain calcium and other vital nutrients.
Sardines can be prepared in many ways. Salad, curry, fritters and can also be included in spaghetti.
Fish recipes to try
Thai style steamed fish with ginger and lime– A Thai-style steamed fish recipe includes ginger, lime, and lemongrass.
Pan-fried seer fish– A pan-fried fish recipe uses simple pantry staples and seer fish to enjoy along with rice and curries.
Singapore fried vermicelli with shrimp– A Singapore style fried vermicelli includes shrimp and fish cake.
Prawn tofu laksa– A Malaysian laksa recipe made using homemade laksa paste and added with prawn and tofu.
Pan-fried salmon with dill– A pan-fried salmon recipe marinated with Indian spices and dill.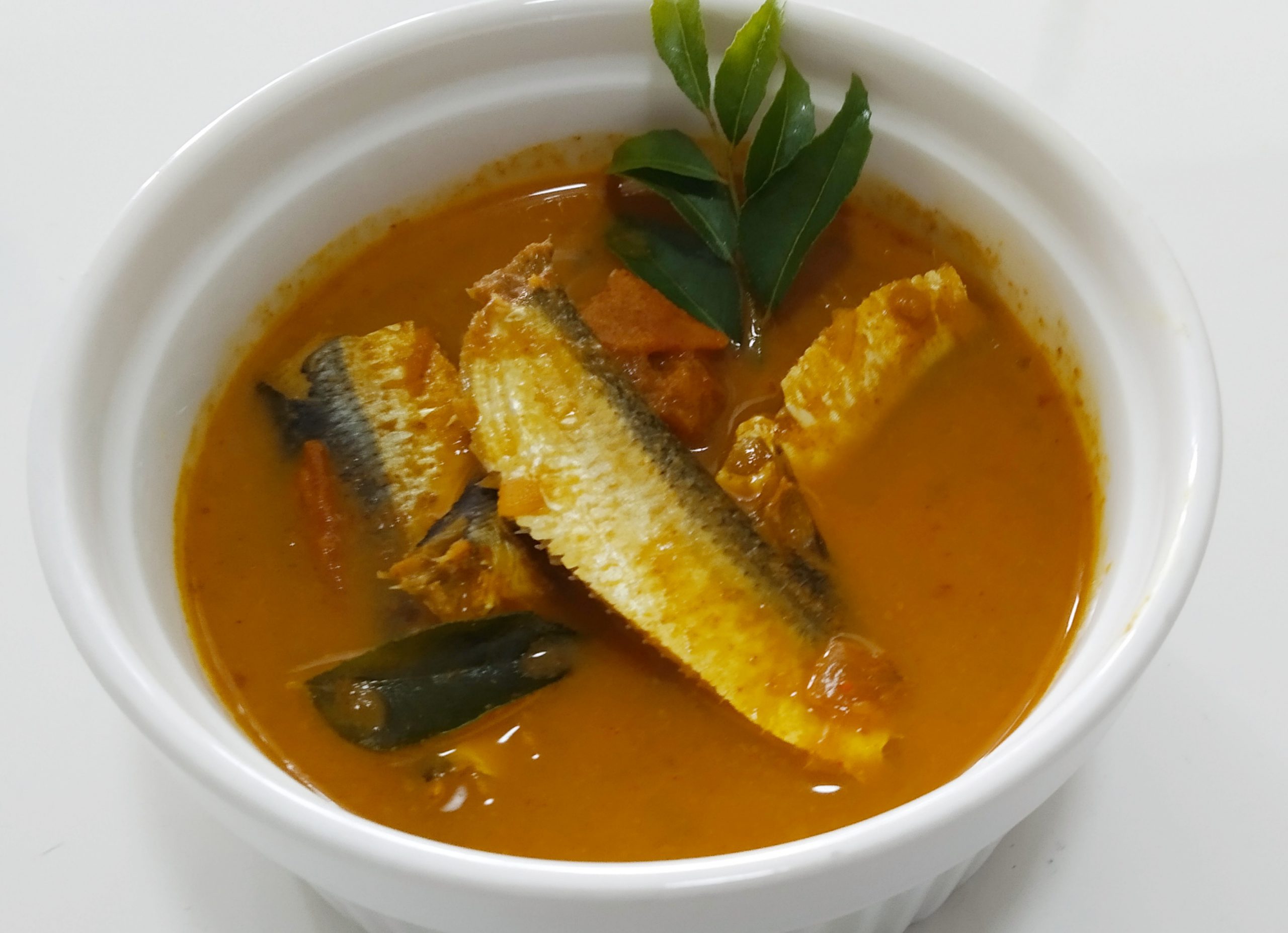 How to make coconut-free sardine raw mango curry
A simple home-style coconut-free sardine raw mango curry.
Ingredients
Fresh Sardine-1/2 kg

Chopped Raw mango-1/2

medium-sized

Chopped Drumstick-1/2

Chopped Onion-1

big sized

Chopped Tomato-1

big sized

Coriander powder-4 tsp

Turmeric powder-1/2 tsp

Grated coconut-3 tbsp

Fish curry powder-3 tsp

Curry leaves

Garlic -7 cloves

Oil-3 tsp

Salt

Mustard seeds-1/4 tsp

Fennel seeds-1/4 tsp

Cumin seeds-1/4 tsp

Fenugreek seeds-7-10
Instructions
Add oil to a pot or pan. When the oil is hot enough add mustard seed, fennel seed, cumin seed, and fenugreek seed. Wait until it splutters.

Meanwhile, grind the coconut into a smooth paste with the required water.

Add onion, garlic and fry till it cooks well.

Then add chopped tomato and season with salt to cook the tomato faster.

Add drumstick and mango. Saute for a while.

Add coriander powder, turmeric powder, fish curry powder and mix them in low-heat.

Add enough water and cook covered in medium heat until the vegetables are cooked.

Now add sardines along with the coconut paste and cook covered.

Check the saltiness in this stage, and add if required.

Add curry leaves and serve hot with white rice, Black gram rice, Idli, Dosa, Chappathi, and Appam.
Notes
Mud/Clay pot is traditionally used to make fish curry. It enhances the taste and flavor.
Remove the gut and clean the sardines if using the fresh one.
Tamarind pulp can be used to replace the raw mango.
To replace store-bought fish curry, use red chilli powder only. That is more than enough and the taste of this dish won't get changed.
Fresh raw fish is used in this recipe. If you use canned sardines in this recipe, the taste may get change.
Coconut milk can be substituted for coconut paste.
Add curry leaves in the final stage to get a flavourful curry.
Word of caution
Sardines naturally contain a substance that creates uric acid. Uric acid buildup can cause kidney and gout issues for those who are already susceptible.
Canned sardines are high in salt. If you're trying to reduce your salt intake, check the label before eating canned sardines.
Curry recipes to try
Buttermilk curry– A comfort food that includes yogurt, coconut, and mild spices to enjoy along with rice.
Tofu vegetable Japanese curry– A vegetarian Japanese curry that includes tofu along with vegetables.
Vegetarian dalcha curry– A protein-rich pulse curry that includes vegetables to relish.
Simple chicken curry with pantry ingredients– A simple home-style chicken curry made using kampong chicken and pantry ingredients.
Prawn masala– A simple home-style coconut-free, cream-free prawn/shrimp masala.
Subscribe to my YouTube channel GameOfSpice for more healthy vlogs. For instant updates about new recipes check out my Instagram. For recent updates, check out my Facebook page. You can also go through my pins on Pinterest. Check out my Yummly for healthy recipes.