Mushrooms are neither fruit nor vegetable, but a type of fungus. Mushrooms have distinct flavors and textures. Some averse to that flavor.
Along with Vitamin B and Selenium, Ergothioneine works as an antioxidant. Mushrooms, which maintain the heart's health and are cancer-preventive, give enough folic acid in pregnancy time.
If anyone likes mushrooms then they have a lot of varieties to taste and try. Starting with button mushroom is one of the best options when you are trying mushrooms for the first time.
There is another mushroom that is similar to the Button mushroom and varies only in the colour. But it is the young of Portobello mushroom and is called Crimini.
Portobello mushrooms are wide in size. And they can be substituted for meat. They are best when grilled or stuffed. It has a rich and dense taste. Best when added in pasta and sauces.
Shitake mushrooms predominantly used in Asian food are cultivated mostly in Japan, China, Korea. They are intense and more flavourful when they are dried. Many of the Chinese recipes call for dried mushrooms when making soup stocks.
Oyster mushroom has a sweet flavor. This is best suitable for stir-frys because of its even size which helps in better cooking. The King Oyster is the bigger version.
Enoki mushroom comes in bunches and is very small in size. They have a crispy texture so they are mostly used in soups and salads.
Shimeji mushrooms have a bitter taste. When cooked the bitterness goes and a nutty taste is present. Mostly works well in soups, stir-frys, salads, and sauces.
In this recipe, I included Shitake, white button mushroom, and Enoki mushroom. I am using leek in this recipe. Leek gives an onion-like taste. If you don't have and it is impossible to use leek in this recipe add onion instead.
I added potatoes to this recipe to add taste and thickness. This is a mild-flavored recipe.
What do we need to make the mushroom potato soup
Mushrooms
Potatoes
Leek
Milk
Seasoning
Soup recipes to try
Prawn tofu laksa from scratch– A Malaysian famous laksa recipe includes prawn, tofu along with homemade laksa paste.
Homemade clear tom yum wonton soup– A clear tom yum soup includes fresh ingredients and made from scratch. Chicken-filled wontons are an addictive add on.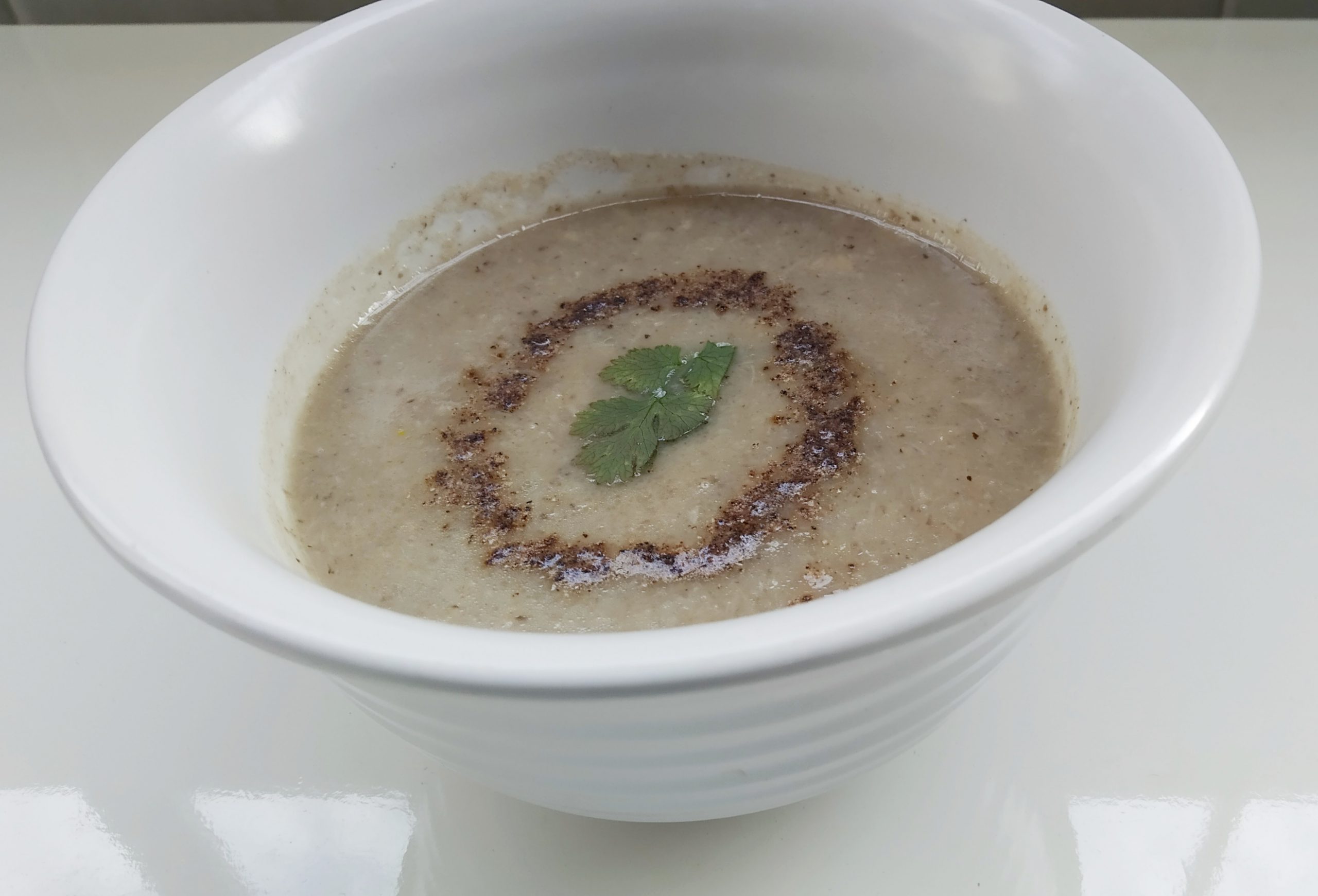 Easy to make healthy low-fat 3-Mushrooms potato soup
A healthy low-fat mushroom potato soup which includes 3 types of mushrooms,potato and leeks.
Ingredients
Chopped leek-160 gm

Chopped shitake mushroom-60 gm

Chopped potato-120 gm

Chopped white button mushroom-120 gm

Chopped enoki mushroom-120 gm

Milk-3 tbsp

Chopped garlic-3 cloves

Salt

Crushed pepper

Olive oil-2 tsp
Instructions
In a pressure cooker, add leek, shitake mushroom, potato, white button mushroom, enoki mushroom with enough water and salt.

Pressure cook it to 4 whistles to make it mushy. Allow the pressure to release it by itself.

Wait till the mixture comes to room temperature.

Use a blender to make the mixture into a smooth paste.

In a hot pot add olive oil and garlic. Saute the garlic for a while to change the color it.

Add the ground paste into the pot and bring it to a boil.

Cook covered for few more minutes. Add milk and cook for 2 minutes.

Garnish with fresh parsley leaves and pepper.

Serve hot with Garlic bread.
Notes
Crushed pepper gives more freshness, strong flavor, and spiciness. Adjust the pepper quantity as it will be spicier than powdered pepper.
I prefer to add the white part of the leek. If you prefer to add the green part then cook more time to tenderize that.
Adding milk in the final stage of cooking gives better color and creamy texture.
Add fresh cream instead of milk if you prefer so.
Add cheese if you like when the soup is hot enough before serving.
Similar healthy recipes
Low-fat broccoli soup– A low-fat broccoli soup includes mushroom and corn for a chunky taste.
Hearty pasta soup– A hearty vegetables-rich pasta soup made using tomato base.
Homemade chicken stock/soup from scratch– A homemade chicken stock made using celery, carrot, onion and cilantro to enjoy the flavorful stock.
Subscribe to my YouTube channel GameOfSpice for more healthy vlogs. For instant updates about new recipes check out my Instagram. For recent updates, check out my Facebook page. You can also go through my pins on Pinterest. Check out my Yummly for healthy recipes.