Get ready to tantalize your taste buds with a sensational dish: Seafood Laksa Linguini. This delightful recipe combines the richness of shrimp, the briny goodness of white clams, and the tender texture of squid, all perfectly paired with linguini pasta. And the star of the show? The homemade laksa paste, adds a burst of aromatic flavors to the dish.
Why use homemade laksa paste?
With homemade laksa paste, you'll elevate your Seafood Laksa Linguini to a whole new level of taste and satisfaction. Indulge in the authentic flavors, freshness, and customization that come with making your own laksa paste. Get ready to savor a bowl of Seafood Laksa Linguini that will impress your taste buds and leave you craving more.
What do we need to make seafood laksa linguini?
When preparing our mouthwatering Seafood Laksa Linguini, one crucial ingredient takes center stage – the laksa paste. It's the secret behind the abundant flavors that tantalize your taste buds. But that's not all. We take it a step further by incorporating an array of seafood varieties to enhance the laksa with their rich and aromatic essence.
Imagine succulent shrimps, briny clams, and tender squid coming together to create a symphony of flavors. Their presence adds depth and character to the laksa, elevating it to new heights of deliciousness. As you savor each bite, you'll be captivated by the irresistible seafood aroma that dances on your palate.
To achieve a velvety creaminess that enhances the overall experience, we combine the natural sweetness of coconut cream with the luscious richness of cooking cream. This delightful combination creates a harmonious balance of flavors, resulting in a truly indulgent and satisfying dish.
Prepare yourself for a culinary adventure as you enjoy every spoonful of our Flavorful Creamy Laksa Linguini. Let the homemade laksa paste and the richness of the seafood take you on a journey of taste sensations. Relish the creamy texture and the explosion of flavors that will leave you longing for more.
Similar fusion recipes
Boba custard– A vegetarian custard topped with boba to enjoy.
Sweet milk wonton– A sweet coconut, split Bengal gram stuffed in a wonton and served with sweet milk.
Stuffed squid fried rice– A simple fried rice stuffed inside a squid and pan-fried.
Spaghetti kra pao– An Italian and Thai fusion recipe merges Thai kra pao with spaghetti.
Check out TOFU LAKSA FROM SCRATCH for homemade laksa paste.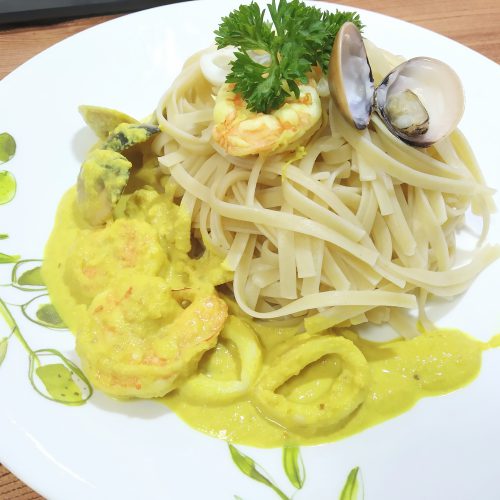 How to make Laksa Seafood Linguine | laksa pasta
A fusion recipe blends together Italian linguini into homemade laksa sauce.
Ingredients
Shrimp-10 to 12

White clams-200 gm

Squid-2 medium-sized

Linguine-350 gm
For laksa sauce
Homemade laksa paste-3/4 cup

Coconut cream-3tbsp

Cooking cream-1 cup

Salt
Instructions
Boiling the squid and clams
Add cleaned and washed squid rings and cook.

Cook for 2 to 3 minutes or until it turns into white.

Pressure cook or steam the clams.

When the shells are open the clams are cooked.
For Linguini
Boil water in a pan or pot.

When the water is boiled enough add linguini pasta and cook until al dente.

Drain the water and rinse the linguini with cold water and keep aside.
Seafood Laksa Linguini
Add the prepared laksa paste and cook well.

When the laksa paste starts boiling reduce the heat and cook until its water are evoparated and becomes thick enough.

Now add the deveined and cleaned prawn and cook until the colour of the prawn changes.

Now add required salt and mix well.

Then add the cooking cream an mix well so that the prawn absorbs the cream.

Now it is time to add coconut cream. Mix well to blend together the cooking cream and coconut cream.

Add water to adjust the consistency of the pasta sauce.

Now add the cooked squid rings and clams and mix well.

Platter the linguini with pasta sauce and enjoy your dinner.
Notes
Refer to Prawn tofu laksa for homemade laksa paste.
Do not overcook clams as they tend to become chewy and hard.
Exciting Seafood Recipes
HOW TO MAKE THAI-STYLE STEAMED FISH WITH LIME AND GINGER-Lime and ginger-infused Thai-style steamed whole seabass: A tantalizing seafood sensation.
HOW TO MAKE COCONUT-FREE PRAWN MASALA | PRAWN RECIPES– A coconut-free delight bursting with flavors that will transport your taste buds on a culinary adventure.
PAN-FRIED SEER FISH FOR A SIMPLE LUNCH– An irresistible easy-to-make Indian spiced delight that will leave you craving for more.
HOW TO PAN-FRY SALMON WITH DILL EFFORTLESSLY– Delectable pan-fried salmon infused with fresh dill and a mouthwatering treat that will captivate your senses with its enticing flavors.
Subscribe to my YouTube channel GameOfSpice for more healthy vlogs. For instant updates about new recipes check out my Instagram. For recent updates, check out my Facebook page. You can also go through my pins on Pinterest. Check out my Yummly page for healthy recipes.