Frozen food is generally considered unhealthy due to the high-fat content, taste enhancers, and preservatives that are often added to such products. However, this does not necessarily apply to home-cooked frozen meals. In this blog, I share some of my own recipes and meal prep ideas for freezing food, which can help simplify your daily routine if you prefer to purchase groceries and stock up for the week.
Having meals that can be frozen is incredibly convenient, particularly for busy mornings or during the dinner rush. If the food is thawed properly, we can cook frozen meals even faster, allowing us to focus on other tasks without too much stress.
However, cooking ahead for the week can be tiring, especially when we have work schedules or children's activities to juggle. For busy moms who are constantly picking up and dropping off kids for classes and other activities, freezing easy-to-reheat meals can be a great option.
Preparing chicken freezer meals in advance can be an effective way to save cooking time for the upcoming week. You can find information about meals that freeze and reheat well, as well as my own meal prep ideas for freezer meals.
As someone who likes to do their grocery shopping once a week, I find that weekly prep and frozen meals are incredibly useful shortcuts to help maintain a smooth weekday routine, particularly for busy moms.
Freezer meals
These are some of my favorite make-ahead meals that freeze and reheat well:
Black Bean Burrito
This grab-and-go breakfast is simple to make and packed with protein and flavor from the black beans. It's also a filling recipe that's perfect for those busy mornings when you need to make something ahead of time and freeze.
Mushroom Soup
This healthy soup is a great alternative to the high-sodium soups found in supermarkets. You can either make the soup completely ahead of time or just freeze the soup base. Then, when you want to make the soup, simply add garlic, milk, and seasonings for a rich and healthy mushroom soup in less time.
Roasted Vegetable Burrito
Another easy grab-and-go wrap recipe with roasted vegetables and cheese. I make these wraps ahead of time so they're ready in a hurry on busy mornings. Kids will also love this cheesy wrap without any fuss. Plus, it freezes and reheats well.
Pasta Sauce
I've been making this make-ahead pasta sauce recipe for over two years now, every two weeks. This versatile sauce can be used for pasta, lasagna, mac & cheese, soups, and even Mexican rice.
Tandoori Chicken Marinade
This marinade is made with basic spices found in most homes, along with yogurt and ginger garlic paste. Simply marinate the chicken with the marinade and freeze. Then use the marinated chicken whenever you're ready for a delicious tandoori chicken meal.
Meal prep Recipe Ideas
WHAT I MEAL PREP AND MAKE FOR FREEZER MEALS – Meal prep and freezer meal ideas to ease the weekly routine and spend your time in a productive way.
LESSEN YOUR BREAKFAST PREPARATION WITH SHEET PAN PANCAKE – Another one-time prep work to manage a week-long breakfast requirement. A fruit-filled sheet pan pancake to enjoy the homemade breakfast.
RAMADAN PREPARATION 2022 | HOW TO MAKE & FREEZE IFTAR RECIPES – Prep and freeze foods to ease up your Ramadan cooking.
3 HEALTHY FREEZER-FRIENDLY CHICKEN MEALS THAT WILL HELP YOU SAVE COOKING TIME– Want to have chicken recipes on weeknights with less prep, marination time, and cooking? Try these freezer-friendly chicken meals.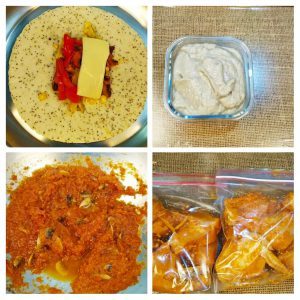 Freezer meals | How to make a week ahead meal prep
Ingredients
Beans burrito
1½

cups

Brown beans

1

Yellow onion

big-sized

2

Garlic

cloves

½

Lemon

1

Sweet corn

½

tsp

Cumin powder

½

tsp

Chilli powder

8

Quinoa wrap/totilla wrap

½

tsp

Fajita seasoning
Mushroom soup (white button mushrooms and Enoki mushrrom used instead of 3 mushrooms)
Roasted veg burrito
1

pack

Mushroom

1

Capsicum

2

Sweet Potato

medium-sized

1

Sweet corn

8 to 10

Cheese slices

8

Chia wrap/Tortilla wrap

½

tsp

Chili powder

½

tsp

Cumin powder

¼ to ½

tsp

Fajita seasoning
200 to 250

gm

White button mushrooms

1½

cups

Homemade pasta sauce

12 big cubes of frozen pasta sauce

¼

tsp

Oregano powder

¼

tsp

Cumin powder

½

tsp

Paprika powder
Tandoori chicken marinade
600 to 800

gm

Chicken

1

tsp

Yogurt

heaped

½

tsp

Chilli powder

½

tsp

Turmeric powder

⅓

tsp

Ginger garlic paste

½

tsp

Kashmiri chilli powder

½

tsp

Garam masala

Salt
Instructions
Beans burrito
Add soaked and frozen beans into a pressure cooker.

Pressure cook for 4 whistles.

Add chopped garlic to the pan and fry.

When the garlic has cooked halfway,add the chopped onion.

When the onion is cooked enough add the cooked beans and mix well.

Add chilli powder and cumin powder

Add required salt and cook well. Mix and mash with the spatula.

Add lemon juice and mix well

Add sweet corn in a lined baking tray.
Roasted veg burrito
Line a baking paper in a baking tray.

Add chopped capsicum strips.

Mix well to blend well with the seasoning.

Add sliced mushrooms and mix well.

Bake the mushroom and capsicum in a preheated oven at 170 C for 12 minutes or until the vegetables are cooked.

Add sweetcorn to a lined baking tray and cook in a preheated oven at 170 C for 10 minutes.

Add olive oil in another lined baking tray.

Add chopped sweet potato strips and mix well.

Now bake the sweet potato in a preheated oven at 170 C for 18 minutes or until the sweet potatoes are cooked.

Place a chia wrap in a wide plate or tray to assemble.

Add baked sweet potato strips and corn.

Add baked capsicum and mushroom on top of the sweet potato.

Add cheese slices on all sides of the stuffing.

Fold the wrap by folding the sides into center.

When wrap is ready, keep aside and do the folding for the rest.

When all the wraps are ready and cooled down to room temperature, store them in an air-tght container or in a ziplock packet.
Pasta sauce
Add chopped mushroom and saute

When the sauce starts to cook add the oregano powder.

Add paprika powder and cook well.

When the pasta sauce is ready, let it cool down. Store it in a air-tight container or in a ziplock bag.
Tandoori chicken
Add ginger-garlic paste in a bowl.

Add Kashmiri chilli powder.

Add yogurt and mix well until all the spice powders blend well with yogurt.

Add cleaned chicken pieces and mix well.

Keep the marinated chicken pieces in a ziplock bag or in an airtight container.

Label and freeze the marinated chicken.

Thaw the chicken pieces when required before cooking.
Notes
Beans Burrito
Soaked and frozen beans take less time to cook. If you are using the soaked-only beans it may need more time/pressure cooker whistles to cook.
Roasted veg burrito
1. While placing the cheese slices on top of the stuffing try to cover all sides. That will help to hold the wrap in a good shape.
Make ahead recipes
WHY IS THE EGGLESS RAGI BANANA CAKE BETTER THAN REGULAR BANANA CAKE?-A more nutrient ragi banana cake with a fluffy, light, and versatile taste.
LESSEN YOUR BREAKFAST PREPARATION WITH SHEET PAN PANCAKE– Make pancakes in a baking tray. Shorten your cooking time and make ahead your breakfast.
HOW TO MAKE TOMATO JAM RECIPE| EASY JAM RECIPE-A healthier and cost-effective alternative to the store-bought jam with few ingredients.
3 QUICK TO MAKE OVERNIGHT CHIA PUDDING-HEALTHY FRUIT DESSERTS-They are not only healthier, but they are also so much tastier! Enjoy these fruit desserts for your breakfast!
Subscribe to my YouTube channel GameOfSpice for more healthy vlogs. For instant updates about new recipes check out my Instagram. For recent updates, check out my Facebook page. You can go through my pins on Pinterest. Check out my Yummly for healthy recipes.