The dish known as Biryani holds a significant place in our festivities, family gatherings, and cherished memories. Given its widespread popularity as a restaurant staple, takeaway option, and event favorite, I won't delve into describing the lively delicacy further.
The majority of us would include biryani in our list of favorite foods, having sampled one or more of the numerous varieties that are popular and widespread across India.
Types of Biryani
Hyderabadi biryani, Lucknowi biryani, Kolkata biryani, Sindhi biryani, Malabar biryani, Thalassery biryani, Ambur biryani, and Dindigul biryani all utilize distinct cooking techniques, ingredients, and measurements to produce their own distinct and fragrant varieties of biryani. The combination of cooking methods and ingredients works to heighten the aroma and flavor, resulting in the distinctive taste that is expected of each type. Some of the common cooking methods are
Dum biryani
One-pot biryani
Pressure cooker biryani
Instant pot biryani
The distinguishing characteristics of the different types of biryani are the ingredients and cooking techniques utilized. The unique taste of region-specific biryanis is determined by factors such as the variety of rice used, the blend of spices, and the ratio of ingredients. The very well-known biryani types are
Hyderabad biryani
Lucknow biryani
Memoni biryani
Kolkatta biryani
Sindhi biryani
Bombay biryani
Calcutta biryani
Malabar biryani
Ambur biryani
Dindigul biryani
Thalaserry biryani
Chettinad biryani
Pressue cooker chicken biryani
Presented here is a recipe for pressure-cooked chicken biryani that can be prepared with minimal effort. While it may not be considered an authentic biryani, its simplified cooking method utilizing a pressure cooker makes it an easy and convenient option for bachelors and working individuals.
To prepare, begin by washing and soaking the basmati rice for 10 to 30 minutes, depending on the variety of rice and its cooking time. It is worth noting that some brands of basmati rice may not require washing, as indicated on the label. It is also possible to substitute jeera rice in this recipe, adjusting the water ratio accordingly.
Some more tips to enhance the taste of the fail-proof biryani are
Coarsely grind the ginger-garlic paste
Thinly slice the onion
Chop mint and coriander leaves
You can remove the skin of the tomato if you prefer.
Simply follow the instructions to prepare the biryani, and savor it with your preferred accompaniments, such as chicken curry, brinjal chops, boiled egg, onion raita, and chicken fry.
Exciting (and easy!) one-pot chicken recipes to try
HOMESTYLE CHICKEN MANDI | ARABIC CUISINE– A quick and fast chicken mandi recipe made in a pot with pantry ingredients.
CLAYPOT CHICKEN RICE IN A PRESSURE COOKER-A clay pot chicken rice recipe made in a pressure cooker to enjoy the hawker center recipe.
FINGER MILLET/RAGI DUMPLINGS/THIKKADI– A one-pot chicken and ragi millet dumpling recipe to enjoy healthy homemade cooking.
TORTILLA LASAGNA ON THE STOVETOP-A stovetop chicken lasagna using store-bought tortilla wraps for a healthy twist.
SPAGHETTI KRA PAO– A fusion recipe of spaghetti and basil chicken creates a medley of flavors.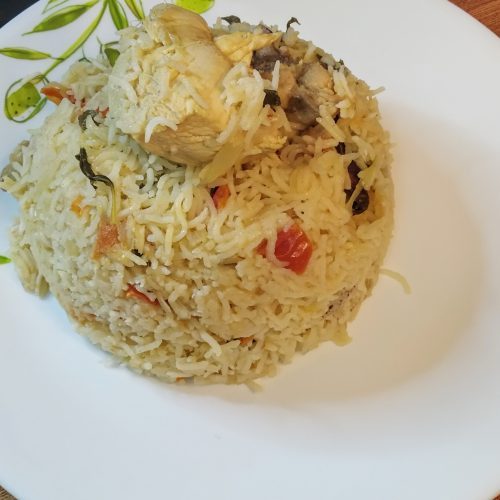 How to Pressure Cook Chicken Biryani | Quick Chicken Biryani
Ingredients
1½

cups

Basmati rice

1 cup equals to 250ml

6 to 8

pieces

Chicken

600 to 800 kg

3

Onion

sliced thinly

2

Tomato

chopped

¼

cup

Curd/yogurt

3 to 4

inch

Ginger

2

Garlic

solo garlic/single bulb of garlic

1

Green chilly

½

cup

Mint

handful

½

cup

Coriander /cilantro leaves

handful

Chilli powder

Oil
Spices
2

pieces

Cinnamon

8 to 10

pieces

Cloves

5

pieces

Cardamom

2

pieces

Bay leaf
Instructions
Heat the pressure cooker.

Add oil in the pressure cooker.

Add the whole spices (cinnamon,cardamom,cloves, bayleaf) and fry.

Add sliced onion when the spices are fried enough.

Add green chilli and fry.

Add ginger garlic paste and fry well.

Add the chopped tomato and cook.

Add chopped coriander and mint leaves.

Cook everything until everything blends together.

It is time to add chilli powder.

Now add the yogurt/curd and mix well.

Add the washed and cleaned chicken and mix well.

Cook the chicken in yogurt masala until the chicken is throughly coated with masala.

Add the washed basmati rice.

Mix the rice and the masala without breaking the rice.

Add required salt and mix gently not to break the rice.

Cover with the lid and cook for 2 whistles.

Open the lid when the pressure completely gone.

Use a fork or spoon to fluff the rice.
Notes
This recipe requires more ginger than garlic.
Fry the onion well to make the biryani tastier.
Add more green chillies to spice up the biryani.
Use Kashmiri chilli powder along with regular chilli powder to attain a red/orange colour biryani.
Wash and soak the basmati rice for 10 to 30 mins for a fluffy biryani.
You can roast the rice to attain the separate grains texture of the biryani.
Do not mix the soaked rice forcibly as that will break the rice.
Do not mix the cooked biryani that will result in a mushy biryani. On the other hand, fluff the rice with a spoon or fork.
Some more chicken Recipes to try
ROASTED ROTISSERIE CHICKEN AT HOME-A simply herbed homemade rotisserie chicken recipe with pantry ingredients.
SIMPLE CHICKEN CURRY – A coconut-free chicken curry made using simple spices and kampong chicken.
CILANTRO LEMONY CHICKEN-A Middle Eastern style lemony cilantro chicken for a mild flavored tasty chicken treat.
CLEAR TOM YUM WONTON SOUP– A clear tom yum soup with chicken wonton dumplings.
Subscribe to my YouTube channel GameOfSpice for more healthy vlogs. For instant updates about new recipes check out my Instagram. For recent updates, check out my Facebook page. You can go through my pins on Pinterest. Check out my Yummly for healthy recipes.