Prepare for Ramadan by planning Suhur/Iftar meals, make-ahead recipes, and freezer meals for a relaxed and stress-free fasting experience. Try healthy and light Iftar recipes for easier fasting.
Here's a recipe for oats nombu kanji, which allows you to enjoy the goodness of oats.
Ramadan fasting
Ramadan fasting is a type of intermittent fasting that promotes fat mass and body weight loss.
Since Ramadan shifts 11 days earlier every year, this year's Ramadan falls during the summer. Ramadan fasting begins with Suhur/Sahar and ends with Iftar, often starting with dates and water. To maintain energy levels, eat fiber-rich foods, vegetables, and fruits, and stay hydrated with small, portion-controlled meals between Iftar and Suhur/Sahar. Avoid fried foods and sweets to prevent fatigue during this holy month.
Oatmeal diet
If you're looking to shed some pounds during Ramadan, incorporating the oatmeal diet into your routine can be helpful. Rolled oats, also known as old-fashioned oats, are less processed and have a thicker texture compared to quick-cooking oats, but they take longer to cook. Why not consider swapping rice for oats and enjoy a light and healthy oats nombu kanji with your preferred side dish?
Traditionally, nombu kanji is served with snacks like bajji, vada, and samosa, but I served it with tawa-fried cutlet.
I don't limit this oats nombu kanji recipe to just Iftar, as I find it to be a light and healthy dinner option that I can prepare whenever I want.
Ramadan Recipe Ideas
TWIST TO REGULAR IFTAR-VEGETARIAN IFTAR PLATTER FOR RAMADAN-A vegetarian platter contains Potato chapati, Vegetarian salad, Pomegranate chia pudding, Pomegranate sharbat/sherbet, and Fruit skewers.
RAMADAN PREPARATION 2022 | HOW TO MAKE & FREEZE IFTAR RECIPES-4 make and freeze Iftar recipes and Ramadan meal prep recipes to ease the workload during the fasting month.
ROASTED ROTISSERIE CHICKEN– A homemade whole roasted rotisserie chicken with simple spices to enjoy.
EASY MUTTON/MINCE KEBAB | NON-VEG STARTER RECIPE-A tasty and zesty minced mutton kebab recipe for a comforting mutton side dish.
EASY TO MAKE FALAFEL IN 2 WAYS– A crunchy snack recipe made with chickpeas and simple spices to enjoy Middle Eastern cuisine.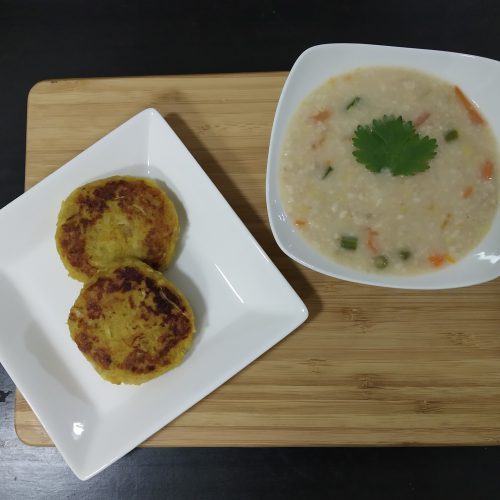 How to make Oats Nombu kanji | Ramadan 2022 | Iftar Recipes
Ingredients
1

cup

Oats

2

tbsp

Moong/mung dal

2

inch

Cinnamon

3

Cloves

2

Cardamom

1

Bay leaf

½

tsp

Fenugreek

1

Onion

medium-sized

1

Tomato

2

Green chillies

2

inch

Ginger

2

cloves

Garlic

1

Carrot

8

Beans

Oil

Salt
Instructions
Add bay leaf, cinnamon, clove and cardamom and fry.

Now add fenugreek and fry.

Add chopped onion and fry well.

Add grated ginger and garlic and fry well.

Now it is time to add the slit chillies.

Fry everything until everything cook well.

Add salt to fasten the cooking process of the tomato.

When the tomato is cooked enough,add the washed and soaked moong/mung dal.

Add the chopped beans and carrot when the dal is half cooked.

Add enough water and cook the vegetables and dal well.

Add crushed oats andmix well.

Sprinkle chopped coriander leaves.

Serve hot with your favourite side dish.
Notes
Wash and soak the moong/mung dal.
You can roast the moong/mung dal if you prefer.
Use your favourite vegetables to make the oats kanji more nutritious. Pea and mushrooms can be included to make the kanji tastier.
Crush the oats in a blender or food processor to ease the cooking.
Add the oats little by little and mix. Mix quick and well to avoid forming any lumps.
No need to crush the oats if you are intending to use the quick-cooking oats.
Usually, the nombu kanji used to serve with fried snacks like vada, samosa or bajji.
Ramadan Desserts
STEAMED JACKFRUIT RICE CAKE– A fluffy and soft jackfruit rice cake steamed and enjoyed as a dessert.
CLEAR AGAR-AGAR JELLY FRUIT CAKE– A clear agar-agar jelly fruit cake for a refreshing dessert.
KUNAFA-LOW-FAT DESSERT– A low-fat Middle Eastern dessert popularly known as kuna fa with some low-fat modifications.
4 INGREDIENTS MANGO MOUSSE– A 4 ingredients mango mousse pudding made using fresh mango.
BOBA CUSTARD FROM SCRATCH– A custard topped with homemade boba pearls.
Subscribe to my YouTube channel GameOfSpice for more healthy vlogs. For instant updates about new recipes check out my Instagram. For recent updates, check out my Facebook page. You can go through my pins on Pinterest. Check out my Yummly for healthy recipes.