Although Ramadan has already started, it's never too late to prepare for it. Some people opt for making healthy frozen meals in advance, while others prefer freezer meal prep recipes that can be partially prepared and frozen. Some even combine freezer food prep with the best make-ahead meals to help them fast during Ramadan in a healthy and stress-free way.
Smooth meal prep is essential for Ramadan, and generic meal prep and freezer meal recipes can help achieve that. By preparing meals in advance, you not only save time but also reduce the need to order food frequently. Additionally, having a variety of meal choices readily available at your fingertips is highly beneficial.
Ramadan Preparation
Preparation is crucial for a month-long fast during Ramadan. To ensure that the daily food requirements are met, especially if you have children, it's important to prepare meals in advance. By planning ahead according to your children's requirements and preferences, you can make sure that their lunchbox and breakfast necessities are fulfilled without any compromise.
In addition to packing school lunchboxes, it's important to address and plan for daily suhoor/Sahar and Iftar meals to make them more manageable. Many of us engage in some form of meal prep, such as preparing ginger-garlic paste or yogurt, for example. Some meal prep ideas involve freshly prepping ingredients that meet the specific taste requirements for the dish you plan to prepare.
Make & Freeze Iftar Recipes
There is a plethora of recipes and ideas available for making, freezing, and meal-prepping for Iftar and Suhoor/Sahar. You can refer to my posts on multipurpose tomato sauce, tomato jam, meal prep, and freezer meals for a quick review. You can also lessen your breakfast preparation with sheet pan pancake.
I posted healthy freezer-friendly chicken recipes and would like to share some tasty and simple recipes/prep that can assist you in your Ramadan meal prep/freezer meals journey, ultimately helping you save time in the kitchen.
Cajun chicken
Shredded tuna
Mutton mince/keema kebab
To find more meal prep and quick recipe ideas, please check out my YouTube channel Game Of Spice. Ramadan Mubarak!
Ramadan Recipes to try
HOW TO MAKE HOMESTYLE CHICKEN MANDI | ARABIC CUISINE– A homestyle chicken mandi recipe made in a simple way to enjoy the restaurant-style Arabic cuisine
VEGETARIAN IFTAR PLATTER FOR RAMADAN– A vegetarian Iftar platter-an alternative to the regular rich Iftar food to the comfort food.
HEALTHY GHEE RICE | HOW TO MAKE GHEE RICE | NEI CHORU– A healthy ghee rice to enjoy along with veg and non-veg curries.
ZESTY MINCE WITH PEAS CURRY– A tasty mutton mince recipe cooked with peas and spices to enjoy with roti and rice.
BRINJAL/EGGPLANT CHOPS– A brinjal/eggplant chops that can be accommodated with biryani or any variety of rice.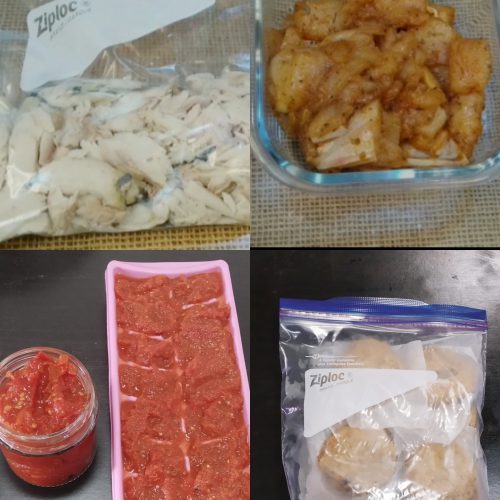 Ramadan preparation 2022 | How to make & Freeze Iftar Recipes
Ingredients
Cajun Chicken
300

gm

Chicken

2

tsp

Cajun seasoning

½

tsp

Garlic powder
Mutton keema kebab
½

kg

Mutton/goat meat

1

Onion

medium-sized

2''

piece

Ginger

4

cloves

Garlic

2

Green chilis

1

Cardamom

1''

piece

Cinnamon

2

Clove

1

tsp

Saunf

1

tbsp

All purpose flour

1

tbsp

Fried gram

Salt
Instructions
Cajun Chicken
Place cleaned and washed chicken in a bowl.

Add cajun seasoning and mix well.

Adjust the salt based on the label of the seasoning.

Mix everything and store in an airtight glass container.
Shredded Tuna
Cut the tail and head if it is not fitting inside the steamer, or cut the fish into 2 to 3 pieces if required.

Keep the tuna in a big plate or tray.

Place the tray/plate in the steamer and steam cook for 30 to 40 minutes or until it is cooked.

Make sure the tuna is cooled down completely.

Remove the skin using a spoon or fork.

Shred the tuna into small pieces.

Divide the tuna fish into the required amount according to your recipe requirements.

Store the shredded tuna in a freezer bags.
Mutton Keema Kebab
Use a mixer grinder and make a powder out of fried gram.

Use a mixer grinder/food processor to chop the onions

Strain the juice from the onion and discard the juice. Keep aside the onion.

Add the ginger,garlic, green chilis,cardamom,clove,cinnamon and saunf in a mixer grinder/food processor.

Add the cleaned and washed mutton pieces.

Give it some pulses in a mixergrinder/food processor

Transfer the ground mutton into a wide bowl.

Mix until everything blends together.

Place a baking paper on a tray/plate.

Make thin circles out of small ball of mutton mixture.

Place them on the baking paper with adequate space between each other.

Flash freeze them until they are hard enough to handle.

Cut the baking paper that is covering and holding enough the mutton keema kebabs.

Keep and store them in the freezer bags. Freeze the mutton kebab and cook them in a tawa/pan with little oil whenever required.
Notes
Mutton Mince Kebab
Make sure not to grind the onions. We are going to chop the onions to extract the unwanted juice.
You can grind/mince the mutton separately in a mixer grinder/food processor separately.
You can air fry or bake the frozen mutton keema kebab as well.
Some more Ramadan recipes
STEAMED JACKFRUIT RICE CAKE– A fluffy steamed rice cake made using jackfruit and rice flour.
KUNAFA- MIDDLE EASTERN LOW-FAT DESSERT-A middle eastern low-fat dessert with a crunchy outside and gooey inside.
FALAFEL IN 2 WAYS-BAKED AND FRIED– A healthy garbanzo beans fritters baked and fried to enjoy the crispiness.
TAPIOCA CAKE/ KUEH IN THE AIR FRYER– An air-fried tapioca cake made using egg, coconut milk and fresh tapioca.
HIBISCUS JUICE | ROSELLE TEA | DETOX– A refreshing tea/juice made using roselle/hibiscus.
Subscribe to my YouTube channel GameOfSpice for more healthy vlogs. For instant updates about new recipes check out my Instagram. For recent updates, check out my Facebook page. You can go through my pins on Pinterest. Check out my Yummly for healthy recipes.