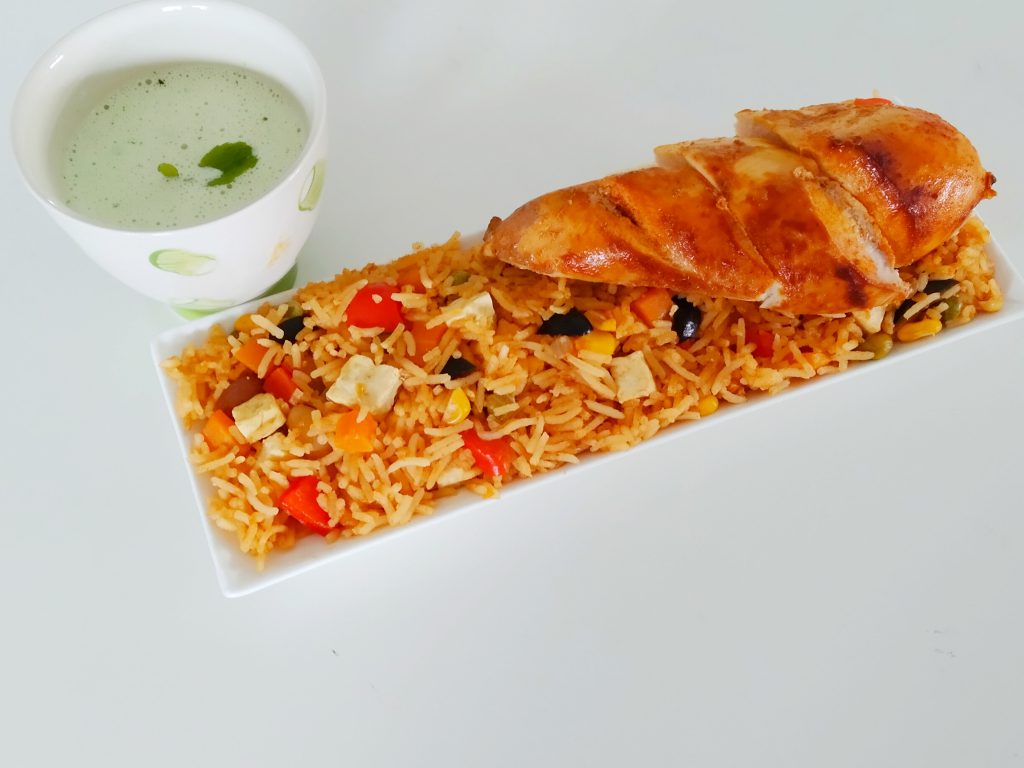 A vegetarian one-pot Mexican rice and beans loaded with vegetables, beans, peas, tofu is the recipe I like to share with you. This recipe is healthy and tasty with the punch of smoked paprika and spices. I served this vegetarian recipe along with roasted rotisserie chicken and mayo cilantro dipping sauce.
Like anyone, I like to have rice for my lunch most of the days. If I am into Indian style cooking, then I need to go for many separate dishes that make a complete meal like rice, curry, side dishes (poriyal, kootu). Some days I don't feel like doing this long list of dishes. And when I feel like a variety or change from the routine, I will try different but simple dishes. This is one of the days, which is different from the daily routine. I prepared Mexican rice, Roasted rotisserie chicken, and mayo cilantro dipping to enjoy my weekend lunch.
Which type of rice is best to use in one pot Mexican rice and beans recipes?
Basmati rice is best as they are aromatic. The long grain basmati gives flavour and the best texture and taste while eating. Good brand basmati rice will yield fluffy and separate rice grains after cooking.
How to make the rice fluffy?
The perfect amount of water and rice ratio will yield fluffy rice. Stir-frying rice with less oil in low heat will ensure the separate rice grains after cooking.
Is Mexican rice and beans is healthy?
As long as the ingredients are not canned, does not contain any preservatives and the produces are fresh and organic the Mexican rice is healthy. This recipe does not include any cheese, cream or butter that adds more calories.