Whenever I crave comforting food other than moong dal payasam and mor kuzhambu, I turn to this Kerala recipe. It's a delicious delicacy that can be served with rice and sambar to enjoy the combination of vegetables. This mild curry dish is popular in Kerala, Tamil Nadu, and Karnataka due to its coconut-rich flavour. Kerala avial, a world-renowned sadhya recipe, is a must-have on special occasions, especially during Onam celebrations.
The color of avial/aviyal may vary depending on the region, with some appearing white or pale and others yellow. This is particularly noticeable in and around Tamil Nadu. Additionally, the consistency of avial also varies based on individual preferences. While some prefer a thick and dry curry, others may prefer a pourable, semi-gravy style. Aviyal/avial is typically served with adai and is best when it has a pourable consistency.
Aviyal is a delicious blend of native vegetables and tubers in a mildly spiced yogurt and coconut curry. The selection of vegetables used in Kerala avial plays a vital role in the taste and visual appeal of the dish.
What are the ingredients of Kerala avial?
According to Wikipedia 13 vegetables are used in Aviyal. Although the ingredients may differ according to the region, a general list of vegetables include
elephant foot yam,
plantain/raw banana,
ash pumpkin,
carrots,
beans,
brinjal,
cucumber,
drum stick,
snack gourd
broad bean
raw mango
cluster beans
potato
and bitter gourd, tomato (in some regions)
What are the Kerala avial ingredients in my recipe?
The aviyal recipe can vary depending on the region and cooking methodology. The sour taste of aviyal is derived from ingredients such as yogurt, raw mango, or tamarind pulp. Personally, I prefer to use raw mango and yogurt in my aviyal recipe and I also like to include jackfruit seeds in my vegetable list.
Tips for best Kerala avial
To avoid ending up with mushy avial, it is advisable to chop the vegetables into moderate thickness. This will not only ensure quick cooking but also contribute to the dish's aesthetic appeal.
For uniform cooking, it's important to chop the vegetables into equal sizes. Additionally, adding salt while cooking the vegetables separately can enhance their taste.
If you're using elephant yam and it tends to cause skin or oral itching, it's best to cook it separately.
Before cooking, peel the skin of the jackfruit seed.
Add salt while cooking the vegetables separately.
Cook the elephant yam separately. This will help to discord the elephant yam if it has the tendency for skin and oral itching.
Add raw banana only after all the other vegetables have been added and cooked halfway through.
If you're using mango, adjust the quantity of yogurt/curd accordingly.
For an authentic taste and flavor, use coconut oil while tempering or add a teaspoon of coconut oil after cooking.
Some more Kerala breakfast dishes
RICE CREPES | EASY NO-FERMENTATION BREAKFAST– A no-fermentation breakfast/dinner recipe that can be made quickly once the batter is ready.
HEALTHY FINGER MILLET PUTTU/STEAM CAKE– A healthy finger millet puttu/steam cake that can be served as a breakfast with curry or with sugar as a snack.
HEALTHY FINGER MILLET/RAGI DUMPLINGS/THIKKADI– A healthy non-veg breakfast/dinner made using finger millet and chicken.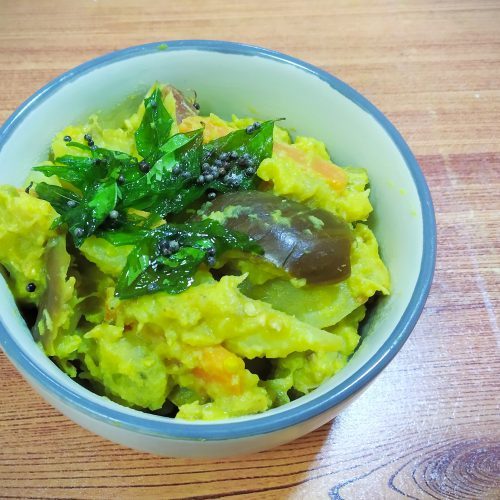 Onam Special- Comforting mixed vegetable yoghurt curry | avial recipe
Ingredients
Raw banana-1/2 cup

Drumstick- 10 to 12 pieces

1/2 cup

Raw mango-1/4 cup

Jackfruit seeds-6 to 8

Brinjal/Eggplant-1/2 cup

Carrot-1/2 cup

Cucumber-1/2 cup

Yam-1/2 cup

elephant foot
To Grind
Coconut-2 to 3 tbsp

Turmeric powder-1/2 tsp

Cumin seed-1/2 tsp

Green chillies-2

Yogurt-1 tsp
For tempering
Mustard seed-1/2 tsp

Curry leaves-3 branches

Oil
Instructions
Chop the vegetables lengthwise.

Cook elephant yam in water separately.

Cook the remaining vegetables in water adding them one by one according to the cooking time they require.

Add carrot and cook for few minutes.

Now add drumstick and cook.

Add chopped jackfruit seeds.

Add brinjal and raw banana and cook.

Add cucumber and mango when the added vegetables are cooked 3/4.
Coconut paste
Add coconut into a blender/mixer.

Add enough water and make a thick paste.

Add the ground paste into the vegetables.

Mix the paste thoroughly until everything blends together.

Add the cooked elephant yam. Check and taste before adding .

Check the salt and add if required.
Tempering
Add mustard seed and fry.

Add curry leaves and fry.

Pour the tempering over the aviyal and serve hot with meals or adai.
Notes
Chop the vegetables in moderate thickness.
Chop the vegetables in equal size for aesthetic beauty as well as to ease up the cooking process.
Cook the elephant yam separately. This will help to discord the elephant yam if it has the tendency for skin and oral itching.
Peel off the skin of the jackfruit seed before cooking.
Add raw banana after all the vegetables are added and cooked.
Adjust the quantity of yogurt /curd if you are using mango.
Use coconut oil while tempering for an authentic flavour and taste.
Some more Kerala delicacies
BUTTERMILK CURRY | MOR KULAMBU-A comforting curry made using curd/yoghurt and simple spices to enjoy with rice.
MOONG/MUNG DAL KHEER | PASI PARUPPU PAYASAM– A Kerala special moong dal payasam enriched with coconut milk.
STUFFED BANANA FRITTERS/ PAZHAM PORI– A Kerala fried snack recipe made using banana and flour.
COCONUT-FREE SARDINE RAW MANGO CURRY– A coconut-free sardine curry includes raw mango enjoy the tangy curry with piping rice.
STEAMED APPLE CAKE– A quick-to-make steamed fluffy cake recipe that includes apples and eggs to enjoy.
SOFT, FLUFFY & MOIST STEAMED JACKFRUIT RICE CAKE-A tropical fruit steamed cake that includes rice flour, and eggs to enjoy the fluffy, spongy jackfruit cake.
Subscribe to my YouTube channel GameOfSpice for more healthy vlogs. For instant updates about new recipes check out my Instagram. For recent updates, check out my Facebook page. You can also go through my pins on Pinterest. Check out my Yummly for healthy recipes.