Whether you're a fan of spicy delights or simply seeking a tantalizing culinary adventure, these Chili Wontons are sure to impress your taste buds and elevate your dining experience. So, roll up your sleeves, and let's dive into the step-by-step process of creating this sensational dish.
Moreover, when it comes to Chinese cuisine, the options are abundant, and I have a particular fondness for wontons, a delightful snack that never fails to satisfy me. Wontons, these small parcels of joy, are traditionally stuffed with delectable fillings, be they savory meat or delightful vegetables. They are perfect for those on the move, allowing for convenient snacking anytime, anywhere. And let me tell you, dipping these little wonders in chili oil takes their already tantalizing flavors to a whole new level. The spicy condiment adds an irresistible kick, heightening the already addictive nature of these dumplings. Plus, you can adjust the heat to suit your personal preference, ensuring a delightful experience for every palate.
What is the meat in wontons today?
When it comes to choosing a filling for wontons, chicken takes the spotlight as a popular and flavorful option. The tender chicken harmoniously complements the delicate texture of the wonton wrapper. And when you combine it with the fiery chili oil, an explosion of flavors dances on your taste buds, leaving you craving for more.
Are wontons fried or steamed?
One of the reasons why wontons have earned such a beloved status in Chinese cuisine is their versatility. You can prepare these delightful morsels in various ways – boiling, steaming, or deep-frying – to experience a range of culinary delights. You can enjoy them on their own as a standalone treat or immerse them in a flavorful soup for a comforting and satisfying meal. And let me assure you, making wontons at home is a breeze. I took the liberty of preparing and relishing them myself, and the process was effortless. The best part? Furthermore, you can freeze these wontons, keeping them handy whenever the cravings strike.
Which cooking method I opted today?
Steaming is undeniably one of the most favored methods to enjoy wontons, as it preserves their delicate texture and enhances their subtle flavors. To create mouthwatering steamed wontons, I opted for store-bought wrappers and filled them with a savory chicken mixture. For added convenience, I utilized frozen wontons that I had prepared beforehand. Once you assemble the wontons, place them in a steamer basket, where they gently cook for a few minutes, ensuring they become fully cooked and tender, ready for you to savor.
So, my fellow food enthusiasts, embrace the timeless delight that is chili wontons. Explore the numerous ways to relish them, and let steaming showcase their delicate nature. With simple ingredients and techniques, you can embark on a culinary adventure that will leave you craving more.
Indulge in Irresistible Wonton Recipes
HOW TO MAKE CRISPY BAKED WONTON CHIPS IN OVEN– Baked wonton chips are a good alternative to regular fried potato chips.
FUSION RECIPE: HOW TO MAKE A SWEET MILK WONTON– A versatile and fusion recipe for a sweet tooth.
FUSION – EASY DINNERS – TOFU, MUSHROOM STUFFED WONTON RAVIOLI PASTA– A tasty quick dinner made with the simple twist of wontons.
EASY TO MAKE HOMEMADE CLEAR TOM YUM WONTON SOUP-A fusion recipe that combines tom yum and wontons in a soup.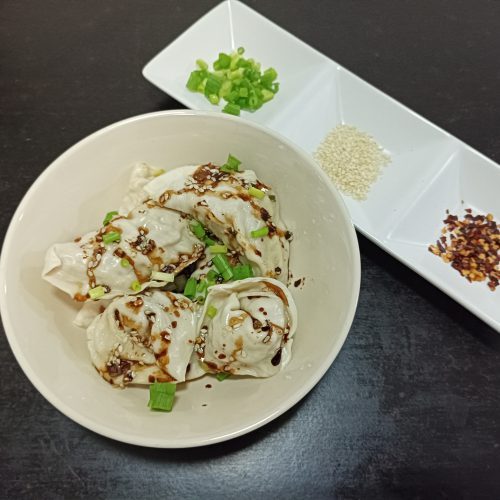 The recipe that'll Make You Drool: How To Make Delicious Chili Wontons
Ingredients
Chili garlic sauce
1

tbsp

Soy sauce

½

tbsp

Sugar

1

clove

Garlic

½

tbsp

Sesame seed

1½

tbsp

Vinegar

½

tbsp

Sesame oil

2

tbsp

Vegetable oil

¼

tsp

Crushed pepper

¼

tsp

Chili flakes
Instructions
For wontons
Place the frozen and thawed wonton in a steamer.

Steam for 20 minutes or until the wontons are cooked.

Keep the wontons in the steamer until we prepare the chili sauce.
For chili garlic sauce
Fry the chopped garlic until you get the good aroma.

In the meantime, take a bowl and add suagar.

Than add sesame oil and mix.

Add fried garli along with the oil.

Add sesame seed and chili flakes.
Chili Wonton
Place the wontons in a serving bowl/plate.

pour the prepaed chili oil on top of the wontons.
Notes
You can fry the chili flakes along with the garlic to get a spicy and rich-colored chili oil.
Overall, whether you're in the mood for a quick snack or a satisfying meal, chili wontons are a great option to consider. With their versatile filling options and the ability to be enjoyed with chili oil, they are sure to satisfy your taste buds and leave you craving more.
Subscribe to my YouTube channel GameOfSpice for more healthy vlogs. For instant updates about new recipes check out my Instagram. For recent updates, check out my Facebook page. You can go through my pins on Pinterest. Check out my Yummly for healthy recipes.