This is a traditional and simple Thai steamed fish dish. In Asia, fish is always steamed whole, but if you prefer to use fillets simply reduce the cooking time. Best of all, steamed fish is one of the quickest and healthiest main dishes to prepare.
Most of the steamed fish recipes call out for chicken broth/chicken stock. I am not using any of them. The marinade we use will ooze out the required amount of water and we are using that while steaming.
We are doing two steps in this recipe. Steaming the fish along with the marinade and serving the fish with the dipping sauce.
If you fancy an Asian fish dish, try this one. Eat it with a bowl of hot white rice and you're good!
Similar International Recipes
High protein breakfast wraps– One of the Middle eastern vegetarian food. Tofu plays the main ingredients in this recipe.
Tofu Japanese Curry– Japanese cuisine does not end without curry. This curry contains apple to sweeten the curry. This is a vegetarian curry.
Stuffed squid fried rice-This fusion recipe includes squid,broccoli and fried rice.
Tofu wonton ravioli pasta– Ravioli pasta made with filled wonton. Homemade pasta sauce is used as a base in this recipe.
Tom yum fried rice– This Thai cuisine recipe is made with store-bought sambal paste, lemongrass and kaffir lime leaves. This dish will be your all-time favourite recipe.
Things needed to make a Thai steamed fish
Fish
I am using Sea bass/Baramundi in this recipe. Pomfret, Trevally, Threadfin works well for this recipe.
Marinade
The dipping sauce contains soy sauce, fish sauce, sugar,lemon juice for tanginess and chilli flakes.
Fresh ingredients
I am using fresh ingredients. Pound lemongrass, julienned ginger, chopped chilli, chopped cilantro and fresh lime juice and salt to season. Add extra chilli if you like spice. The fresh produce gives the real taste and freshness to the dish. Try to include them to get the maximum from them.
You can add the liquid that was formed while steaming when plating the fish. This liquid is flavourful and gives moisture to the fish.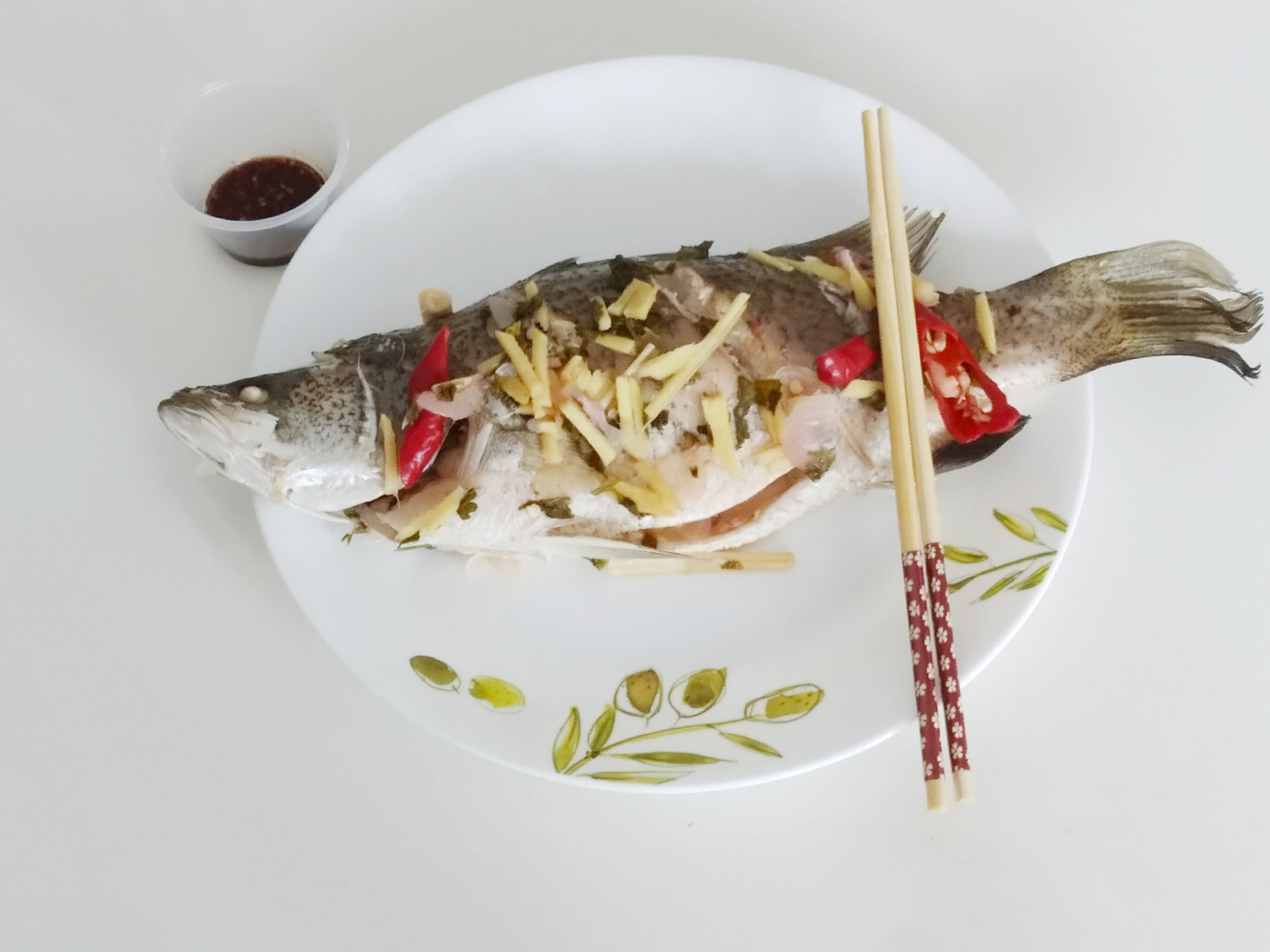 Thai steamed fish with lime and ginger
A steamed fish made is Thai style with lime and ginger and served with a dipping sauce.
Ingredients
2

Lemongrass

1

Chilli

2

tbsp

Ginger Julien

3

tbsp

Cilantro leaves

1½

tbsp

Chopped Shallot

2 to 3

tbsp

Lemon Juice

Salt

800

gm

seabass or Pomfret

whole
Dipping sauce
1

tbsp

Soy sauce

¼

tsp

Sesame oil

¼

tbsp

Fish sauce

¼

tsp

Sugar

1

tbsp

Lime juice

½

tsp

Chilli flakes
Instructions
Marinade
Add chopped or pound lemongrass.

Add chopped cilantro and mix well.

Keep aside for 10 minutes. The water will start to ooze out from the marinade.
Fish preparation
Place the fish on a plate.

Spread the marinade all over the fish.

Top the marinade over the fish.

Place the fish in a lined pan.

Keep the pan in a hot steamer.

Keep covered the steamer and cook for 8 to 10 minutes.

Steamed fish is ready to serve.
Dipping sauce
Mix well.Dipping sauce is ready.
Plating
Serve the steamed fish with the dipping sauce.
Notes
Other than seabass and pomfret, Malabar Trevally and horse mackerel will also work for this recipe.
If your fish is bigger or smaller then adjust the proportions of ingredients according to the size of the fish.
The ginger and lime work wonders and results in an appetising dish.
This is a mild spicy recipe. If you prefer more spiciness add extra chilli.
The steamed fish tastes good as it is. If you prefer more flavours dipping sauce will be helpful.
Similar Thai recipes
Red ruby milk pudding– This traditional and well-known Thai dessert is famous in most Thai restaurants. This recipe has some changes to make it into a low-fat version.
Tom yum fried rice– This Thai cuisine recipe is made with store-bought sambal paste, lemongrass and kaffir lime leaves. This dish will be your all-time favourite recipe.
Spaghetti kaprao– Fusion recipe merges Thai basil chicken and spaghetti. Wholemeal spaghetti is used to make the recipe healthier.
Tom yum wonton– Fusion recipe merges Thai 'Tom Yum' and the Chinese 'wonton' and takes the recipe into the next level.
Tips
Don't forget to fill the cavity of the fish with lemongrass, that will give you so much flavour. Then you can place the fish in a serving dish and pour the sauce on top of it.
The steamed fish is tasty and flavourful as it is. It is absolutely fine if you don't want to include the dipping sauce while serving.
The same recipe can be baked in a pocket.
The aroma from the ginger and lime juice will increase your appetite for sure.
Subscribe to Game Of Spice on YouTube channel for more video recipes. For instant updates about new recipes check out Instagram. Also, go to my Facebook page, for more interesting updates. You can also go through my pins on Pinterest. For Yum updates, go to, Yummly.