Falafel is a traditional Arab food. This delicious food is made of chickpeas or fava beans. This crispy food is prevalent in the Middle East though they are thought to have originated from Egypt. Falafel Middle Eastern snack is a vegan or vegetarian food and a good replacement for meat as they contain the required protein.
This fried food is street food in Egypt and they can be served along with Hummus or Tahini. They are best when served with a salad as they minimize the consumption of carbohydrates otherwise we tend to add the sandwich to our diet. This vegan dish is made with simple everyday ingredients available in our pantry.
I am using coriander powder and cumin in this falafel recipe. Be adventurous to add your favourite herbs and spices to make your own version. This gluten-free protein-rich recipe can fit best as an evening snack for kids.
Positive side
If you like chickpea/garbanzo beans and used to stock them in your pantry then this recipe is for you.This recipe requires the dry chickpeas/garbanzo.The canned chickpea/garbanzo will not crispy end results and the falafel disintegrate while frying.
This freezer-friendly recipe lessens our workload as they freeze well and heating them does not change any taste difference.
I am not using baking powder in this recipe.If you want fluffy falafel you can add baking powder in this recipe.
Similar recipes
High protein breakfast wraps– Let us start the day with high protein ingredients. Middle eastern wrap with chickpea, tofu, capsicum and apple.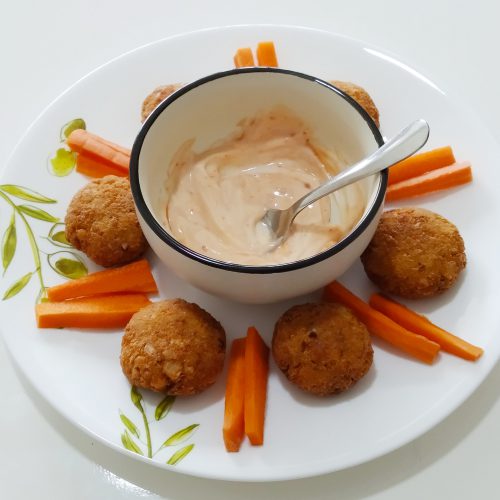 Falafel 2 ways- baked and fried
Middle eastern crispy snack recipe Baked and classic fried versions are shown here. Healthy vegetarian protein rich snack recipe.
Ingredients
400

gm

Chickpeas/Garbanzo beans

1

small

onion

¼

cup

Cilantro leaves

4

cloves

Garlic

1½

tbsp

Chickpea flour

1

tsp

Coriander powder

¼

tsp

black Peppercorns

a pinch of

ground Cardamom

2

tsp

Cumin

Vegetable oil

for frying

Salt
Instructions
Soak the chickpea/Garbanzo beans for 8 hours or overnight.

Add soaked beans in a blender.

Add garlic, cilantro leaves,salt,cumin, coriander powder,cardamom powder, chickepea flour.

Grind it into a coarse texture.

Mix the ground ingredients well.

Use fingers to make them into balls.

Use palm and fingers to flatten the balls and shape them into patties.
Baked Falafel
Preheat the oven into 170 C for 10 minutes.

Place them in a greased tray or a baking paper lined tray.

Bake the falafel for 20 minutes by flipping and turning them every 3 to 4 minutes.

If the falafel is not golden colour on the sides, bake them for 5 more minutes.
Fried falafel
Add oil in a hot pan. Bring the oil into high tempreature.

Low the heat into medium.

Add shaped falafel into the oil and fry.

Turn and flip the falafel while frying to cook them evenly.

Take out and strain the oil from falafel and place them in a paper towel to absorb the excess oil.
Notes
Check out High protein breakfast wraps recipe for mayo dressing preparation.
Use dried garbanzo/chickpea and soak them for overnight or at least 8 hours. Don't substitute canned garbanzo. The result won't be good as we need the coarse mixture.
Tips
Always use dry chickpeas for best result. Soak them for 8 hours or overnight. Don't try to skip this step.
After grinding keep the mixture in the refrigerator for at least 1 hour. This will result in a nice, uncracked shape and the mixture will hold together better and can avoid disintegration while frying.
While frying the falafel make sure the oil is in medium heat to prevent the falafel from falling apart.And make sure the falafels are not crowded while frying.
While freezing the uncooked falafel, freeze them in a tray with enough space between each falafel for 1 to 2 hours or until they are hard enough and not sticky. Then keep them in a zip lock bag or in a food container and freeze them up to 1 month. If you are going to freeze the cooked falafel keep them in a freezer bag and freeze them directly.
For baking the falafel, preheat the oven for 10 minutes. Based on your oven model and heating setting adjust the temperature and timing. Most of the ovens have settings like heating from top, bottom or from both sides. So choose according to your oven.
Similar international recipes
Tofu Japanese Curry– Japanese cuisine does not end without curry. This curry contains apple to sweeten the curry. This is a vegetarian curry.
Stuffed squid fried rice-This fusion recipe includes squid,broccoli and fried rice.
Tofu wonton ravioli pasta– Ravioli pasta made with filled wonton. Homemade pasta sauce is used as a base in this recipe.
Tom yum fried rice– This Thai cuisine recipe is made with store-bought sambal paste, lemongrass and kaffir lime leaves. This dish will be your all-time favourite recipe.
Air fryer tapioca cake– This one is a Malaysian traditional food recipe. Kueh is the common name for these Malay desserts. This is a coconut milk added dessert made in an air fryer.
Pancake cereal | mini pancakes– This miniature food will be always cute and favourite for most. The TikTok famous pancake cereals are everywhere in social media. Imagining tiny freshly cooked pancakes will definitely indulge your eyes as well as your taste buds.
How to serve
These falafels can be served as it is. They are best when served with homemade Hummus or Tahini sauce.
These can be stuffed inside a sandwich as well.
And they can be added with any salad recipe to compensate the protein need.
They are best with tortilla wraps. Include the raw as well as cooked vegetables with hummus and tahini to make perfect breakfast wrap. Add avocado for the creaminess. Apples can also be added to give a crunchy bite.
Subscribe to my YouTube channel GameOfSpice for more healthy vlogs. For instant updates about new recipes check out my Instagram. For recent updates, check out my Facebook page. You can also go through my pins on Pinterest. Check out my Yummly for healthy recipes.