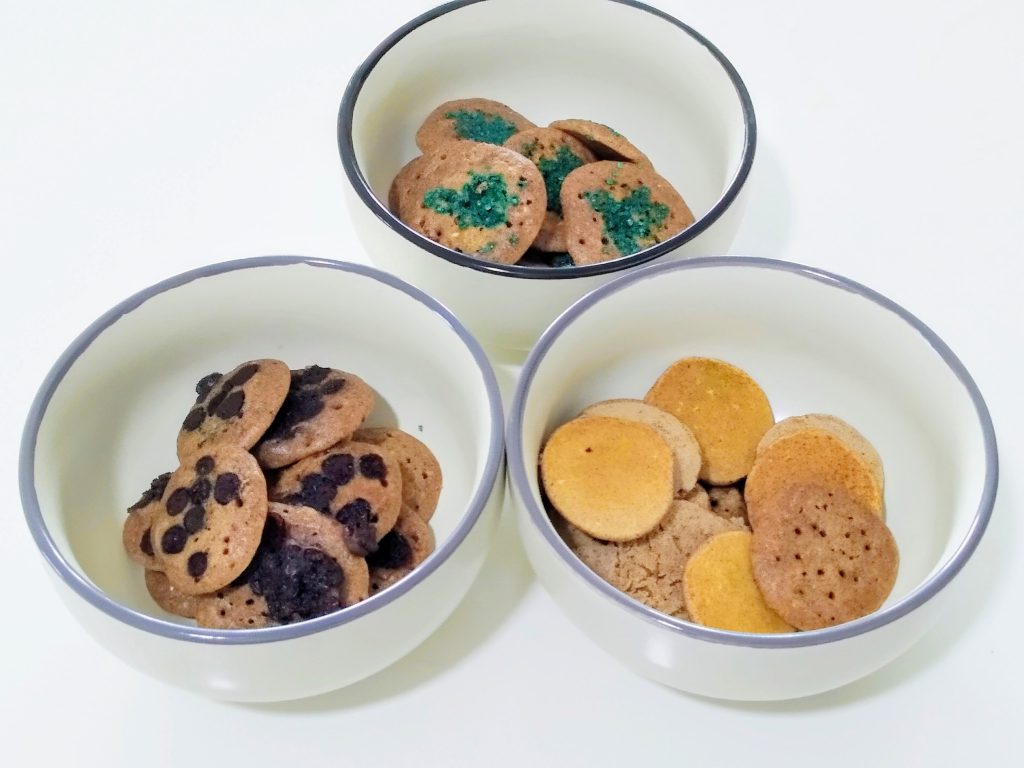 Pancakes are the easiest breakfast for the busy mornings. American style pancake premix packs are famous in supermarkets. Buttermilk pancakes are trendy. Aunt Jemima, Betty Crocker, Morinaga and Bob's Red Mill gluten-free cake mix are famous among in Singapore.
Mini pancakes! This miniature food will be always cute and favourite for most. The TikTok viral pancake cereal is everywhere in social media. So let us try that. This simple pancake recipe will take place in your menu list surely.
Imagining tiny freshly cooked pancakes will definitely indulge your eyes as well as your taste buds.
Similar Healthy Recipes
Pumpkin oats muffin-no flour– I like to make waffles, pancakes and muffins with my homemade mix. This is an eggless jiffy version. This easy pumpkin muffin includes banana as well.
Healthy cranberry waffle-These thick and fluffy waffles contain homemade waffle mix.
What do we need for Tiktok viral pancake cereal
Flours
Generally the pancake we made or pancake premix contains all purpose flour/plain flour.Here,we are adding healthy flours to make the pancakes healthier.Wheat flour,oats flour and finger millet flour are included to get fibre and healthy nutritions which are belong to them.
Eggs
Eggs are added to make the pancake soft and moist otherwise the flour we include make the pancake hard and thick.
Milk
The moisture is retained through adding milk in the pancake recipe.
This cereal can be eaten as it is. There is no need to add any honey or maple syrup. We are adding sugar in the batter itself. And we are adding chocolate chips and sprinkles too. If you have a sweet tooth consider adding honey or maple syrup.
Add some strawberries or marshmallows, or cinnamon sugar, or nuts, add Oreo for Oreo pancake cereal, bananas go wild with your toppings.
I am using a non-stick pan for cooking these pancakes. Cook the pancakes in medium heat to avoid burning or over browning.Pipe out small pancakes or drop the batter by the 1/4 teaspoon and cook until small bubbles form on the surface and at the edges. Flip and continue cooking until golden brown, about 30 seconds more.
Add the toppings before the bubbles form so the topping will stick in the batter. Add oil to grease the pan as the butter has low heat point it will burn. Pour a very little amount of batter as the batter tends to spread.
I am using whole wheat flour,oats flour and finger millet flour to make the pancakes healthier.
Make pancakes in small batches to get a perfect pancakes.
Pancake Cereal | Mini Pancakes
Tiktok viral pancake cereal with a healthy twist.This recipe contains whole wheat flour,oats and finger millet to make the pancake healthier.
Ingredients
Dry ingredients
1

cup

Wheat flour

½

cup

Finger millet flour

½

cup

Oats flour

1½

tsp

Baking powder

⅛

tsp

Salt
Wet Ingredients
3

Eggs

1

cup

Milk

¼

cup

Oil

1

tsp

Vanilla extract/paste

5

tsp

Sugar
Instructions
For dry ingredients
Add wheat flour in a bowl.
For wet ingredients
Add vanilla extract/paste.

Add oil and mix well until everything blends together.
Batter preparation
Add egg mixture into the flour. Mix well.

Pour a small amount of batter in a hot greased pan.

Add your favourite toppings.

Add chocolate chips to favour the chocolate lovers.

Serve the pancakes as it is or with butter or honey.
Notes
Use a blender to powder the oats.
I am using rolled oats.
Be generous with your toppings. Try sprinkles, desiccated coconut, chocolate rice, grated nuts to excite the kids.
If you have oats flour in your pantry this will reduce the preparation time.
Finger millet flour will be available in organic stores or Indian shops.
Subscribe to my YouTube channel GameOfSpice for more healthy vlogs. For instant updates about new recipes check out my Instagram. For recent updates, check out my Facebook page. You can also go through my pins on Pinterest. Check out my Yummly for healthy recipes.