Mango lovers will not be ready to miss this exciting dish. You must try this mango mousse recipe right away. You must have tried some of the mango recipes like mango milkshake, mango smoothies, mango jam, mango lassi, mango pudding, mango sorbet.
One of the best and easy mango recipe to try in this mango season. This is the best dessert recipe for parties too. You can make ahead and refrigerate. This dessert best suits dinner dessert.
This light and airy textured dessert have cream as the base ingredient. Mousse usually contains pureed fruits, chocolate, herb(green tea, matcha), flavours (mint, vanilla).
I am using mango puree in this recipe. I am using a blender to puree the mango. I am using Thai honey mangoes. When you puree the mango make sure the puree is smooth and does not contain any chunks. Add sugar based on the sweetness of the mango. One of the very simple recipe but makes kids very excited if you engage them in making this dish.
This recipe does not contain any gelatin and egg.I used agar-agar strips to set the mango puree which I am layering above the cream.
Similar Mango Recipes
Mango Sago– This is a Hong Kong-based dessert recipe. The original Hong Kong version includes Pomelo (fruit). But it is prevalent in most of the South-East Asian countries with some variations.
Mango Jelly– Simple jelly recipe made with agar-agar strips. This recipe does not contain gelatin.
This mango dessert fits as a alternative dessert for the regular chocolate desserts. Tropical fruits do wonders when using them in desserts with their strong flavours and fragrance.
Whip the cream to soft peaks. This recipe does not need stiff peaks. Make sure the bowl you are using is cold enough or keep the bowl in the freezer for 15 to 20 minutes before using it. Otherwise keep the bowl in cold water along with ice cubes to avoid getting heat while whipping the cream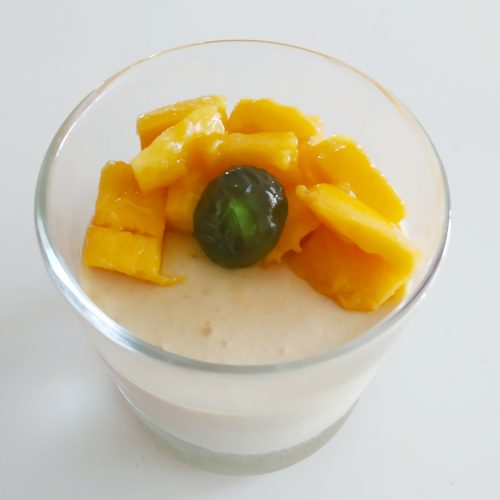 4 ingredients mango mousse
A mango mousse recipe with only 4 ingredients. A simple recipe that kids will love and this recipe will stay on your dessert recipes list.
Ingredients
1

cup

Whipping cream

1

Mango

ripe

7

strips

Agar-Agar

½

cup

Water
Instructions
Puree the mango in a blender.

Add cream in a cold bowl. Beat the cream in low speed using a hand blender.

Add mango puree and sugar until the swirls form thick enough.

Keep this in the refrigerator.

Meanwhile, heat a pan with 1/2 cup of water.

Add agar-agar strips and boil until the strips dissolve in water completely.

Add mango puree and cook for 3 more minutes until everything blends together.

Keep this aside for cooling.

Pour 3 tbsp of cream in a glass bowl/cup. Pour the agar-agar mixture above the cream wait for some time until the agar-agar sets.

Pour the cream again on top of the agar-agar.

Keep this refrigerated for at least 4 hours.

Serve chilled.
Notes
Keep the bowl we are going to use for beating in the refrigerator for at least for 15 minutes.
When the agar-agar mixture is warm enough to pour, pour it over the cream. Otherwise, it will set before pouring if we keep it out more time.
I am using whipping cream in this recipe. If you prefer thick stiff cream use heavy cream.
The time for preparation and cooking is less in this recipe. Only the setting time for this recipe is longer. The mousse has to be kept in the refrigerator at least for 6 house for a good result.
If you are planning for this dessert for dinner try to prepare in the morning and keep this in the refrigerator.
The mango mousse stays in the refrigerator for 2 days. Weight watchers are to be cautious about this recipe as mango is a calorie-rich and sweet fruit.
Similar desserts
Boba custard pudding-Steamed milk and yogurt based pudding topped with homemade boba/bubble tea pearls.
Sweet milk wonton-This fusion recipe includes wonton and bengal gram and infused in sweet milk.
Milo Jelly-Simple milo jelly using agar-agar strips.
Red ruby milk pudding– This traditional and well-known Thai dessert is famous in most Thai restaurants. This recipe has some changes to make it into a low fat version.
Subscribe to my YouTube channel GameOfSpice for more healthy vlogs. For instant updates about new recipes check out my Instagram. For recent updates, check out my Facebook page. You can also go through my pins on Pinterest. Check out my Yummly for healthy recipes.