Prawn tofu laksa from scratch
Today I am planning to make an Asian soup- prawn tofu laksa from scratch. One of the best parts of the soup is it retains all the nutrients from the ingredients unlike the other cooking methods like frying, steaming or boiling. Soups are very common nowadays, and everyone in my home happily says 'OK' for soups for a weeknight dinner. The soups are the best food as they are very easy to finish for my younger one. They seem to be light with nutrient value and simple to make too. They seem to be filling as well when added with noodles or pasta. Be it a Chinese egg drop soup or Shark fin soup, Japanese Miso soup or Ramen, Indonesian Soto or Bakso they are variant in taste and the ingredients they add.
The prawn tofu laksa from scratch origins lie in Peranakan cuisine, also known as Nyonya cuisine, which combines Chinese and Malay culinary influences.

What is Laksa?
Laksa is a spicy noodle soup popular in the Peranakan cuisine of Southeast Asia. Laksa includes rice noodles or vermicelli and sometimes egg noodles with chicken, prawn or fish, served in spicy soup based on either rich and spicy curry coconut milk or on sour asam (tamarind ) soup base.

How to make authentic laksa from scratch
Authentic laksa includes freshly ground laksa paste. The flavourful soup base is the key ingredient for the laksa. The perfectly ground fresh ingredients give the correct amount of fragrance, taste and spiciness to this aromatic soup base. I am using fresh ingredients to make a homemade paste to obtain freshness.
Types of laksa
There are mainly two types of laksa based on the soup base curry and Asam(sour). Curry laksa is a coconut milk curry soup with noodles, while Asam laksa is sour, most often tamarind-based, soup with noodles. And today I am making curry laksa.
How to make Prawn Tofu Laksa from scratch
Laksa paste
Laksa paste is a blend of lemongrass, dried chillies, shallots, galangal, turmeric, garlic, spices, dried shrimp and shrimp paste (Belacan), all blended up in the food processor, then sautéed in a little oil to deepen the flavour.
Soup base
The soup base includes laksa paste, coconut milk, laksa leaves and the flavour will immerse in the soup base to increase your appetite.
Prawn stock
Prawn heads and shells are used to make the prawn stock usually. I am using dried shrimp to make the stock.
Other ingredients
Laksa noodles, beans sprout, and calamansi are the ingredients we are adding.You may add
Chicken
Egg
Tofu puffs
Fish cakes
Sambal chilli
Egg noodles
Pan-fried eggplant
Fried vegetable wontons
King oyster mushrooms
Long beans
Bok choy
and ramen noodles for the curry ramen laksa or La Mian noodles for Laksa La Mian (Lamian is a type of soft wheat flour Chinese noodle).
Check out my channel Game Of Spice on YouTube for a detailed video description
Vegetarian laksa
The same recipe can be converted into a vegetarian version by simply avoiding shrimp paste (Belacan), dried shrimp, fish sauce and the prawn. You can add salt instead.
Ingredients to add in a vegetarian laksa
White mushrooms
Carrots
Peppers,
Zucchini,
Broccoli
Spinach
Instant laksa paste
If you don't have enough time or ingredients for laksa paste you can substitute the store-bought laksa paste. Prima taste, Dancing chef, Sing long, HAI's, BT wang are the well-known brands available to try the laksa paste.
Laksa varieties by region
Sarawak Laksa
The Sarawak laksa broth is made with sambal Belacan chilli, coconut milk, sour tamarind, garlic, galangal, and lemongrass. It is served with rice vermicelli noodles and topped with sliced egg omelette, chicken strips, peeled boiled prawns, and chopped coriander leaves.
Johor Laksa
Johor Laksa uses spaghetti instead of rice noodles and egg noodles.
Curry laksa
The curry laksa is also known as curry mee. It is either served in rice noodles, egg noodles or a mix of both in coconut-based curry broth.
Penang Asam laksa
The Penang Asam laksa (Asam means sour in Malay) has a sour and spicy fish broth. Mackerel is mostly used as the broth base.
Laksam
Laksam can be found in Kedah and Terengganu. It is served with thicker bite-sized noodles.
Nyonya laksa
Nyonya laksa has a rich coconut-based broth, cooked with chicken bones and prawn shells. This dish from Melaka is known as laksa lemak.
Similar Malay Recipes
Air fryer tapioca cake– A Malay dessert made with fresh coconut milk and tapioca root.A high energy snack recipe for the kids.
Stuffed squid fried rice– A squid recipe stuffed with fried rice.Broccoli, egg fried rice with soy sauce, sesame oil and egg.
Mango sago-A mango dessert recipe with sago and coconut milk.A low-fat dessert with the goodness of coconut milk.
Pandan coconut cake-A coconut cake recipe with fresh pandan juice.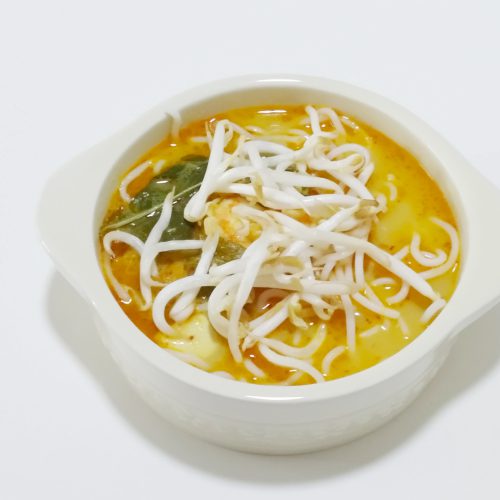 How To Make Prawn Tofu Laksa From Scratch |Asian Cooking
A prawn, tofu laksa made using fresh ingredients and homemade laksa paste.
Ingredients
Laksa paste
8 to 10

pieces

Galangal/Ginger

2

Lemongrass

2

Dried chilli

medium spiced

1½

tbsp

Belacan

3 tbsp

Dried shrimp

small

6 to 8

Shallots

8

Garlic

1

Bird's eye chilli
Soup base
5

cups

Water

1

tsp

Dried shrimp

Laksa paste

Deveined prawns

1

block

Firm tofu

Fish sauce

Turmeric powder

1

tsp

Sugar

65

ml

Coconut milk
Other ingredients/condiments
½

cup

Beansprout

2

Calamansi

420 to 600

gm

Laksa noodles
Instructions
Laksa paste
Add the ingredients mentioned under the laksa paste in a blender.

Grind with enough water and make into a thick smooth paste.

Add the ground paste and saute until it cooked well and there is no raw smell.
Soup base
Add 2 cups of water in a pan.

Bring the soup into boil.

Add cleaned, deveined prawns.

Add coconut milk or cream.
Serving
Place boiled /cooked laksa noodles or any rice noodles in a serving bowl.

Pour soup and cover the noodles.

Add beansprout and serve.
Notes
Cook the noodles if you are using the dried ones.
Store-bought, pre-cooked rice noodles need to be boiled in hot water before using it.
If you can't find galangal you can substitute with ginger.
Lemongrass and laksa leaves cannot be substituted with any other ingredients.
If fresh turmeric root is available you can add while making the laksa paste along with other ingredients.
DO NOT cook your noodles directly in the soup broth. they will absorb all the soup liquid and you will be left with very little broth. Cook them separately, then add them to the soup when you're ready to serve.
Similar curry recipes
Tofu Japanese curry– A Japanese curry dish made using fresh homemade curry paste. A vegetarian tofu and vegetable curry with mild sweetness.
Simple chicken curry-A no coconut and yoghurt curry chicken with simple ingredients. A kampung chicken is used in this curry.
Sardine mango curry– Healthy omega-3 rich sardine curry with mango.
Prawn masala-A tasty prawn masala with simple ingredients.
Subscribe to my YouTube channel GameOfSpice for more healthy vlogs. For instant updates about new recipes check out my Instagram. For recent updates, check out my Facebook page. You can also go through my pins on Pinterest. Check out my Yummly for healthy recipes.