Baked stuffed shells?
Cooking Italian food is really an entertaining way to get engaged in something worth a try. I love to cook Italian food whenever I get a chance. Be it a Pasta soup, ravioli, or arrabbiata, they are extremely delicious and healthy too if you go for low-fat.
Pasta bakes never used to be on my list as I used to get rich, heavy creamy pasta baked with a load of cheese from restaurants. I like cheese but to some extent only. Oven baked rice dishes overloaded with cheese will make me sick halfway through.
I was planning to bake a pasta recipe almost for a month. I postponed the recipe and I finally decided to give it a try. Sometimes we will get the urge to buy some products and only later will we think about how to use them or include them in our recipes.
The same thing happened to me when I was buying this shell pasta. So I wanted to included the shell pasta in my recipe somehow. I never tried shell pasta at home. So, I was curious to know how big the shell will be after cooking and how much filling it'll hold.
Why should the pasta always be with minced meat, meatballs or seafood? Why can't it be a vegetarian one? So I decided to make this dish a vegetarian one. So I thought tofu, mushroom and asparagus will get along together.
Try these cheesy veggie stuffed shells for weekend special dinners and surprise your kids and family.👍🏻
Please go through GameOfSpice on YouTube for interesting video recipes.
What do we need to make baked stuffed shells?
For filling
I am making a vegetarian filling and I tried tofu, mushroom and asparagus as a filling along with salt and pepper seasoning.
Pasta sauce
I am not using any store-bought ready to use pasta sauce. I am concerned about the preservatives used to maintain the long and shelf life of canned and bottled foods. I use it only when there is no alternative or there is no substitute for that particular ingredient. Otherwise, I will try to substitute with a better option or just leave that ingredient if it does not much difference to the dish. Here, I am using homemade pasta sauce from scratch.
Shell pasta
I got the medium-sized shell pasta though the label says large shells. I think I should have chosen some other brand or searched for really large shells. I felt that the size is too small to stuff the filling generously.
Similar pasta recipes
Tofu wonton ravioli pasta– A fusion recipe includes ravioli made using wonton wraps.
Pasta arrabbiata- A simple pasta arrabbiata recipe made using homemade pasta sauce.
Hearty pasta soup– A simple and healthy pasta soup recipe along with hearty vegetables and homemade tomato sauce.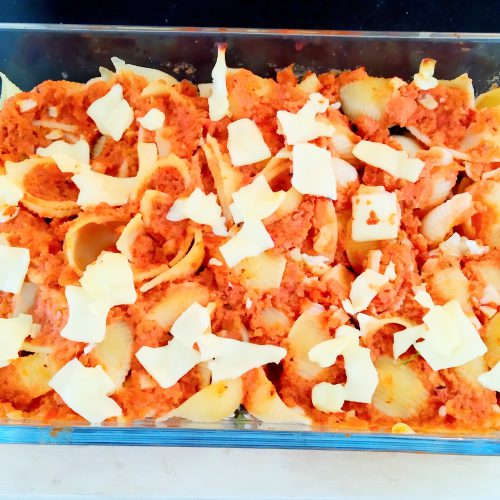 Simple Pasta : Baked stuffed shells | Make easy pasta from scratch
A tomato-based baked stuffed shell pasta with the goodness of tofu, asparagus and mushrooms.
Ingredients
2

cups

Pasta shell

2

cups

Tomato puree

6

cloves

Garlic

2

tsp

Pasta seasoning

Italian herbs

½ to ¾

cup

Milk

½

tsp

Oregano

Salt

4

slices

Mozarella cheese
Shell filling
½

block

Tofu

6

Mushroom

8

Asparagus

small

Salt

Pepper
Instructions
Pasta sauce
When the oil is hot enough add chopped garlic and saute for a while.

Add tomato puree and cook.

Add Italian herbs and mix well.

Now it is the time to add milk.
For pasta
Meanwhile, boil water in a pan.

Add pasta and cook until ¾th of the pasta is cooked.

Strain the water and rinse with normal water.
For filling
Add chopped asparagus and saute for a while.

Add chopped mushrooms and cook for few minutes until the mushroom turns colour slightly.

Add mashed/scrambled tofu.

Season with crushed pepper and salt.
Assemling
Preheat the oven for 180 C for 10 minutes.

Place the shells in a plate.

Stuff the filling carefully. Make sure the filling is not overflowing.

Place a piece of cheese if you prefer or leave it as it is.

Pour the pasta sauce in a glass baking dish.

Arrange the shells in a way that the top of the shell portion is facing upward to prevent spilling.

Pour sauce on top of the shells and cover.

Sprinkle the grated/ sliced cheese on top of the pasta to decorate.

Bake the pasta for10 minutes.

Now baked pasta shell is ready to serve.

To experience the best taste,¾ serve immediately.
Notes
Make sure to cook the pasta 3/4 as we are going to bake them again.
When stuffing the filling inside the shell make sure they are not overflowing.
Handle the shells carefully while stuffing the filling as they tend to tear when force is used.
Assemble the pasta in the sauce and cooked immediately. Otherwise, the sauce we use will be absorbed by the pasta and becomes soggy.
Serve the pasta immediately for a better taste. If you keep for longer the pasta will absorb the sauce and will become soggy.
Some more tips to know
I used regular shell pasta. If you prefer to make a healthier choice go for wholemeal or whole wheat. Even buckwheat pasta is also available in the supermarket.
You can substitute any shaped pasta if you can't find the shell type. Add the filling along with the pasta sauce and bake.
Store-bought pasta sauce will also work for this recipe. You may need 1 1/2 to 2 jars of pasta sauce for this recipe.
I am using Italian seasoning for the herbs along with oregano. If you have herbs separately you can use them too. You can use the below-mentioned seasoning mix measurement to make your own.
Italian seasoning mix
1 1/2 teaspoons dried oregano
1 teaspoon dried marjoram
1 teaspoon dried thyme
1/2 teaspoon dried basil
1/2 teaspoon dried rosemary
1/2 teaspoon dried sage
Subscribe to my YouTube channel GameOfSpice for more healthy vlogs. For instant updates about new recipes check out my Instagram. For recent updates, check out my Facebook page. You can also go through my pins on Pinterest. Check out my Yummly for healthy recipes.