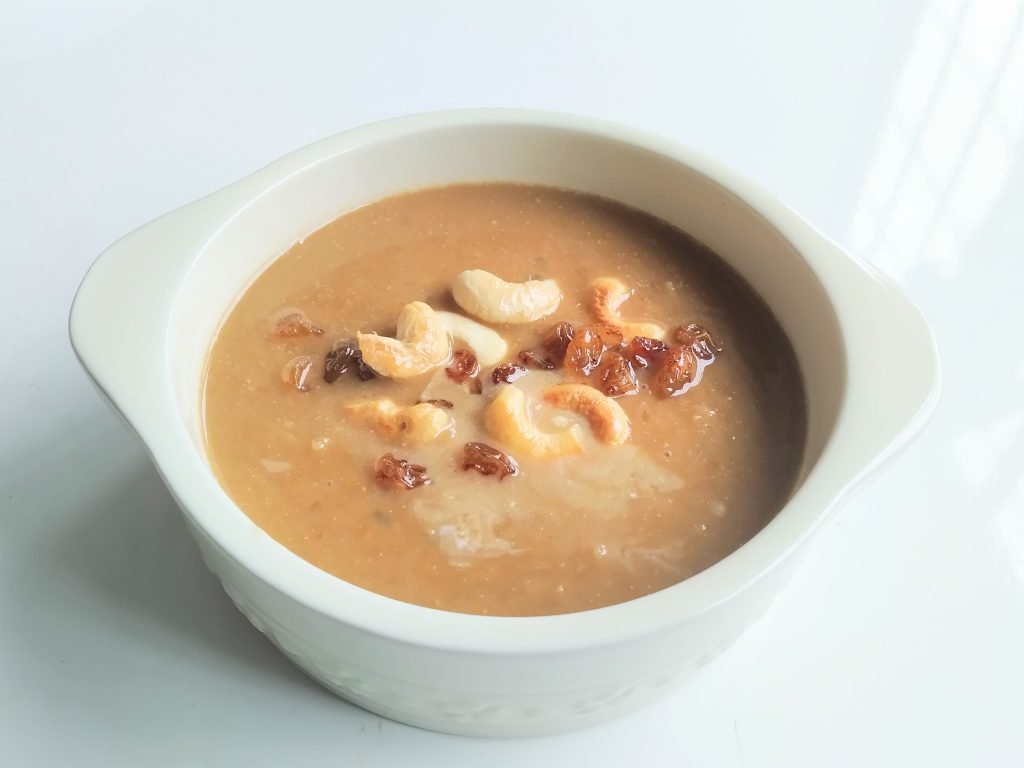 What is onam special- mung dal kheer | pasi paruppu payasam?
Today I am making one Onam Sadhya dish – the Onam special Mung dal kheer/moong dal kheer/ paruppu Payasam. A protein-rich sweet dish nicely blends together with coconut milk and jaggery. Not to mention my childhood days always blends with this kheer /payasam. Any festival or birthday celebrations usually end sweeter with this sweet dish.
Onam Sadhya is the most visually appealing and delicious meal anyone would love to experience. The coconut rich curries with mild spices and flavours will entice everyone. Onam Sadhya includes a multi-course vegetarian meal that features over 24 dishes on a banana leaf. Nowadays, a traditional Sadya has around 26 items. but there are some places where you can still find the Sadya with 64 items.
Onam special items include
Upperi-fried banana chips
Sharkara Varatti- A sweet thick version of banana chips.
Manga Curry-mango pickle
Cherunaranga curry-Lime pickle
Naranga Curry-citron curry
Erissery-pumpkin and beans curry
Pulissery-curd or buttermilk curry
Kaalan- yam or raw banana curry with coconut
Olan-ash gourd and red bean with coconut milk curry
Pachadi-yoghurt curry with pineapple
Chenna Mezhkkupuratti-fried yam curry
Inji Curry/Inji Puli-sweetened ginger and tamarind curry
Parippu curry-moong dal/mung dal curry
Chorus-boiled rice
Sambhar-a lentil-based vegetable-rich curry
Pappadam- crispy fried flatbread
Avial-Mixed vegetables with grated coconut and yoghurt
Rasam-A peppery tamarind soup with tomato
Kootu curry-Raw bananas and black chana curry with grated coconut
Inji Thayir-sliced ginger, yoghurt, black sesame seeds and spices
Thoran-Stir-fried vegetable usually made with cabbage or carrot
Pazham-ripe banana
Palada prathaman- Payasam or kheer made using milk, dry fruits and rice ada
Pazham prathaman-Payasam or kheer made using nendhram pazham & coconut milk
Paruppu payasam- payasam or kheer made using mung dal/moong dal and coconut milk
Kadala prathaman-Payasam or kheer made using chana dal/split garbanzo lentils, jaggery and coconut milk
Chakka prathaman- Payasam or kheer made using Jack fruit, coconut milk and jaggery
Gothumbu prathaman-payasam or kheer made using broken/cracked wheat, jaggery and coconut milk
Paal payasam-payasam or kheer made using creamy, rice and milk pudding with cashews and raisins
Things needed for onam special mung dal kheer | pasi paruppu payasam
Mung dal/moong dal
Mung dal/moong dal/ Pasi Paruppu is the main ingredient in this kheer/payasam. This dal is available in different sizes and so the cooking time varies based on the size of the dal.
Coconut milk
Coconut milk is one of the unavoidable ingredients. I am using coconut cream in this recipe. Homemade coconut milk will also be used.
Sugar
Jaggery, an unrefined sugar product is used to sweeten the kheer. Palm sugar, brown sugar and any unrefined sugar will give the benefits of the nutrients.
Ghee
The clarified butter is used to enrich the kheer/payasam to the next level.
Cashew nuts and raisin
The cashew nuts and raisins are fried in clarified butter/ghee to garnish the kheer/payasam
Cardamom powder
The whole cardamom can be crushed and used. But I don't prefer to use the whole cardamom when serving the kheer to kids as they may not like to bite the cardamom while eating kheer.
Similar kerala recipes
Healthy finger millet Puttu– A traditional Puttu/steamed cake is made using healthy finger millet along with Kerala banana/Nendran banana to make a sweet treat.
Bread Nendran banana pudding- A Kerala banana/Nendran banana pudding recipe made along with bread and eggs to satisfy the hunger pangs.
Steamed apple cake– A soft and fluffy steamed cake that includes apples, eggs and cake flour.
Sardine mango curry– A healthier coconut-free fish curry that includes omega-3 rich sardines and raw mango.
Kerala style buttermilk curry- A comfort food that includes yogurt, coconut, and mild spices to enjoy along with rice.
Onam special- Make mung dal /moong dal kheer | Pasi Paruppu Payasam
A most relished recipe among the Onam Sadhya. A sweet dessert served in banana leaf among with Onam Sadhya recipes.
Ingredients
Moong dal-1/2 cup

Water

Jaggery-3/4cup

Cardamom powder-3/4 tsp

Coconut milk-1 cup

coconut cream-dilute with 1/2 cup of water-1/2 cup

Cashew nut-6 to 8

break into pieces and 5 for decorating

Raisins-10

Fried/roasted vermicelli-4 tbsp

Sago/tapioca pearls-3 tbsp

Ghee-2tsp
Instructions
Boil the water until it boils and add sago/tapioca pearl until the sago becomes translunet.

Dry roast mung dal/moong dal/Pasi Payaru in a pan until it turns into golden colour.

Add water to the mung dal and cook until it cooks 3/4.

Meanwhile, boil water in a pan.

Add jaggery/Nattu Sakkarai and mix well until it dissolves.

I am going to strain the jaggery syrup to get rid of the sand or dust.

Keep aside the jaggery syrup.

Add salt to the mung dal.

Add fried vermicelli and cook along with mung dal.

Strain and add the jaggery syrup into the mung dal.

Add cardamom powder and mix well.

Add boiled sago/tapioca pearls and mix until everything blends together and absorbs the jaggery syrup.

Add diluted coconut cream or coconut milk.

Add ghee in a pan and heat.

Add cashew nuts and fry till it turns into slight golden brown.

In the same ghee fry the raisins.

Now add the cashew nuts and raisins along with the ghee in the kheer/payasam.
Notes
Ghee is clarified butter.
Be cautious when dry roasting the dal/ Payaru to avoid burning. If it is over-roasted the kheer/payasam will be bitter.
I am using coconut cream so I am diluting the cream with 1/2 cup os water. If you are using homemade coconut milk the consistency should be medium thick neither too watery nor too thick.
I like to eat the kheer/payasam when it is at normal room temperature and chilled ones are tastier. Serve the chilled Kheer/payasam as a dessert.
Subscribe to my YouTube channel GameOfSpice for more healthy vlogs. For instant updates about new recipes check out my Instagram. For recent updates, check out my Facebook page. You can also go through my pins on Pinterest. Check out my Yummly page for healthy recipes.