The traditional food of Kerala includes many authentic recipes. Kerala recipes not only include Puttu and Parotta. It has vast varieties of food based on the region. Each region has its own type and categories of food based on socio-cultural, religious influences.
Many specialities including Pathiri, chattipathiri, muttamala from the Malabar region in North Kerala, this is a part of the famous Moplah cuisine of the Muslims of Kerala. And there is one more celebrity food relished by all and undoubtedly one of the mass favourites of Keralites. Yes, Malabar chicken biryani.
Avial, a healthy mixed vegetable dish cooked with coconut paste
Golden and crunchy Banana chips are made from raw plantains which are thinly sliced, left to dry in the sun, and then deep-fried.
A deep-fried banana fritters/pazham pori is easily available in small tea shops around Kerala and border areas.
From the Malabar region of North Kerala, Unnakaya is a rich and heavy snack made by mashing ripe bananas, flattening them into patties and then filling them with a mixture of grated coconut and jaggery.
Kappa /tapioca is a staple food along with boiled rice in Kerala. Many recipes are available using tapioca roots. They are boiled, shredded and boiled and served as it is and with curries to complete the meal.
Theeyal– A curry made with roasted coconut and spices with tamarind juice sometimes with shallots alone and sometimes with vegetables
Kuttanad region and Central Kerala style Ularthiyathu is a dry meat-based recipe mostly chicken, mutton.
Ginger, garlic, fennel based masala is used to fry the Thiruvananthapuram-Style Kozhi Porichathu
Rice Ada based Paal Ada Payasam is famous around Palakkad-Thrissur-Ernakulam. A middle east influenced tea named Sulaimani is a routine in their tea time in Kozhikode.
Buttermilk curry | Mor Kulambu Onam Special
Onam Sadhya recipe includes 24 to 64 varieties of dishes, including curries, pickle, payasam/kheer, stir fry. One of the dishes is Buttermilk curry | Mor Kulambu | Moru Curry | Pulissery. A buttermilk based curry that includes coconut paste along with spices. The curry is tempered with chillies, curry leaves and mustard seeds. The traditional food of Kerala includes this curry is simple home-style meals. The curry is sometimes made without any vegetables. The generic vegetables used are okra, yellow pumpkin, drumstick, peas and potato, taro roots, brinjal, chow chow, Manathakali Vatral, Sundaikkai Vatral.
This is one among the dishes which will warrant less time and simple methods. Healthy and comfortable food is usually prepared on hot sunny days to cool down the heat. Most of the vegetables used in this curry also help to beat down the hot weather. I prefer to add Okra and ash gourd, chow chow and cucumber. This curry made with curd is very comforting and smooth to your stomach with mild spices and less oil. The same recipe is also made around Tamilnadu with little variations based on the regions. In some places of Tamilnadu, roasted dals are powdered and added to the curry. I am making the curry in Kerala style with coconut paste.
What do we need to make Buttermilk curry | Mor Kulambu Onam Special
Yoghurt/curd
A sour Indian style curd yoghurt is the main and important non-compromisable ingredient. If the curd/yoghurt is not sour enough the curry won't taste good.
Coconut
Fresh/frozen coconut needs to be ground into a smooth paste along with cumin, chilli, turmeric. I added the turmeric separately in this recipe.
Spices
The major spices we use are mild in their spiciness and we used chilli, curry leaves and mustard for tempering.
Vegetables
I used Okra in this curry. Ash gourd, cucumber, chow-chow (Chayote) can also go well along with this curry because of its water content.
Kerala recipes to try on
Moong/mung dal kheer/Pasi Paruppu payasam– An Onam special item served on Onam Sadhya which includes coconut milk, jaggery and mung dal as the main ingredient.
Sardine mango curry– A healthier coconut-free fish curry that includes omega-3 rich sardines and raw mango.
Steamed apple cake– A soft and fluffy steamed cake that includes apples, eggs and cake flour.
Bread Nendran banana pudding- A Kerala banana/Nendran banana pudding recipe made along with bread and eggs to satisfy the hunger pangs.
Healthy finger millet Puttu– A traditional Puttu/steamed cake is made using healthy finger millet along with Kerala banana/Nendran banana to make a sweet treat.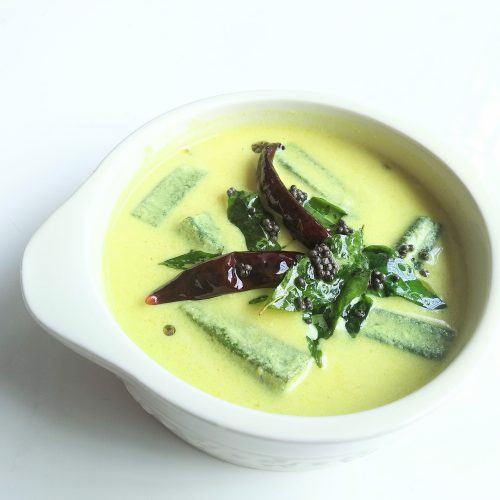 Onam special – How to effortlessly make Buttermilk curry | Mor Curry
A comfort curry made using yoghurt/curd, coconut and mild spices to make a simple curry to accompany the boiled rice
Ingredients
Okra- 8 to 10

small

Curry leaves-12 to 15

Mustard seeds-1 1/2 tsp

Ginger- 1 1/2 tsp

Garlic-1 1/2 tsp

Fenugreek seeds-1/2 tsp

Onion-1/2

Dried chillies-3

Sour curd/yoghurt-100 ml

Oil/coconut oil-3 tsp
Ingredients for masala paste
coconut-3 tbsp

Turmeric powder-1/2 tsp

Cumin seeds-1 tsp

Green chilli-1
Instructions
For the paste
Add ingredients to grind in a blender and paste adding little water.
For Buttermilk curry
Whip the yoghurt in a blender with 1 cup of water.

Add Mustard seeds and fry until it splutter.

Add Onion and fry until it become golden brown.

Now it is time to add chopped ginger. Fry for a few seconds.

Add chopped okra and fry until they shrink and the colour darkens.

Add coconut paste and mix well.

Add enough water, turmeric powder and cook the lady's finger.

Cook covered for faster cooking.

Add yoghurt/curd and mix well.

Cook the curry in low heat to avoid curdling of the curry. keep aside from heat when the curry is done.
For tempering
When the oil is hot enough add mustard seeds and fry until it splutters.

When all the ingredients fried evenly pour on top of the curry and serve.
Notes
Cook in a low heat after adding the curd/yoghurt to avoid the curdling of the curry.
Spluttered mustard will give nice aroma and taste to the curry. Be patient.
Subscribe to my YouTube channel GameOfSpice for more healthy vlogs. For instant updates about new recipes check out my Instagram. For recent updates, check out my Facebook page. You can also go through my pins on Pinterest. Check out my Yummly page for healthy recipes.