We may encounter at least one of the very famous fried rice varieties in our daily life. Pineapple fried rice, vegetable fried rice, Thai fried rice, Sambal fried rice and Indo-Chinese chicken fried rice are a few examples. Nowadays brown rice is replacing white rice in many fried rice varieties. And fried rice mixes and seasoning packets are available in the market commonly. Stuffed squid fried rice is the recipe we are going to make today.
Calamari vs Squid
The word calamari comes from the Italian for "squid." In the United States, it generally refers to a battered and deep-fried appetizer served in restaurants and bars, though some people use it interchangeably with the main ingredient, the squid. The calamari recipes normally include calamari rings battered and deep-fried, grilled calamari, fried calamari.
The squid is also cooked in different varieties like baked squid, fried squid, curried like dry and semi-dry squid curries are famous among. Other than grilling and banking the squid is used in pasta and noodles. Seafood pasta arrabbiata, seafood marinara and seafood tom yum, seafood nasi goreng, seafood Maggi Goreng to name a few.
Stuffed squid contains a vast category of varieties like bbq stuffed squid, baked stuffed squid, curried stuffed squid, stuffed calamari rice.
Dried squid ink pasta is available at speciality markets and some large grocery stores, as well as online. The squid ink is what gives the pasta it's gorgeous black colour, it also gives it an amazing flavour. Squid ink pasta has a rich, briny flavour with the faint hint of sea saltiness, which makes it absolutely perfect for pairing with seafood.
Vegan fried rice is very popular nowadays. The vegetarian sauces are decorating the supermarket shelves to choose from. Easy fried rice recipes include egg fried rice and vegetarian fried rice. We are making broccoli fried rice to increase the nutrient content. Egg and broccoli fried rice give the filling effect with nutrient values.
Sauces and condiments
Fried rice won't come without sauces. A lot of sauces fills the condiments section in supermarkets. Teriyaki sauce, BBQ sauce, hot sauce, chipotle sauce are famous among consumers. Here, I used soy sauce. The same recipe can be modified by adding tom yum sauce or cajun seasoning according to your taste buds and preference. I added broccoli to increase the vegetable intake. This vegetable has easily been incorporated in fried rice.
Stuffed squid fried rice requirements
Squid or Calamari
You can use squid or calamari for this recipe. Squid and calamari are two different beasts. Squid is cheaper and tougher; calamari is more tender and expensive. I am using squid in this recipe. I removed the skin and cleaned the squid and washed several times.
Medium grain rice
I used the medium-grain rice for this recipe. Long grain/ basmati rice can also be used. If you prefer jasmine rice that can be substituted. The golden rule of stir-frying rice successfully is to always make sure the cooked rice is absolutely cold. Whichever rice you use to make sure you cook the rice 2 to 3 hours before and make sure it is not sticky for the best-fried rice.Best if you can cook and refrigerate the day before.
Spring onion
The unavoidable one more ingredient in fried rice is spring onion. We can use the white and green parts of the green onion.
Sesame oil
The choice of oil for fried rice plays an important part to create the authentic Asian flavour. Oils suitable for stir-frying are peanut oil, sesame oil, vegetable oil. Here, I am using sesame oil for this recipe.
Sauce
I am using soy sauce in this recipe. I am using the light soy sauce to retain the colour of the fried rice. You can use dark soy sauce if you prefer so.
Vegetables
Broccoli is the only vegetable used in this recipe.You can use
Asparagus
Broccolini
Brussels sprout
Carrot
Baby corn
Similar seafood recipes
Thai steamed fish with lime and ginger– A steamed fish with the freshness of lime and ginger.A sea bass recipe made in Thai style.
Tom yum fried rice– Tom yum fried rice with prawns.Homemade tom yum paste is used.
Dill weed salmon– The best combination of the dill weed and salmon is tried out.Best suitable dinner or lunch recipe.
Simple fish fry– Simple fried fish with pantry masalas.An Indian style fish fry with fewer ingredients.
Sardine mango curry– Omega 3 rich sardines paired with mango for the tangy taste.
Prawn masala– An Indian style prawn masala with simple pantry masalas and fresh produces.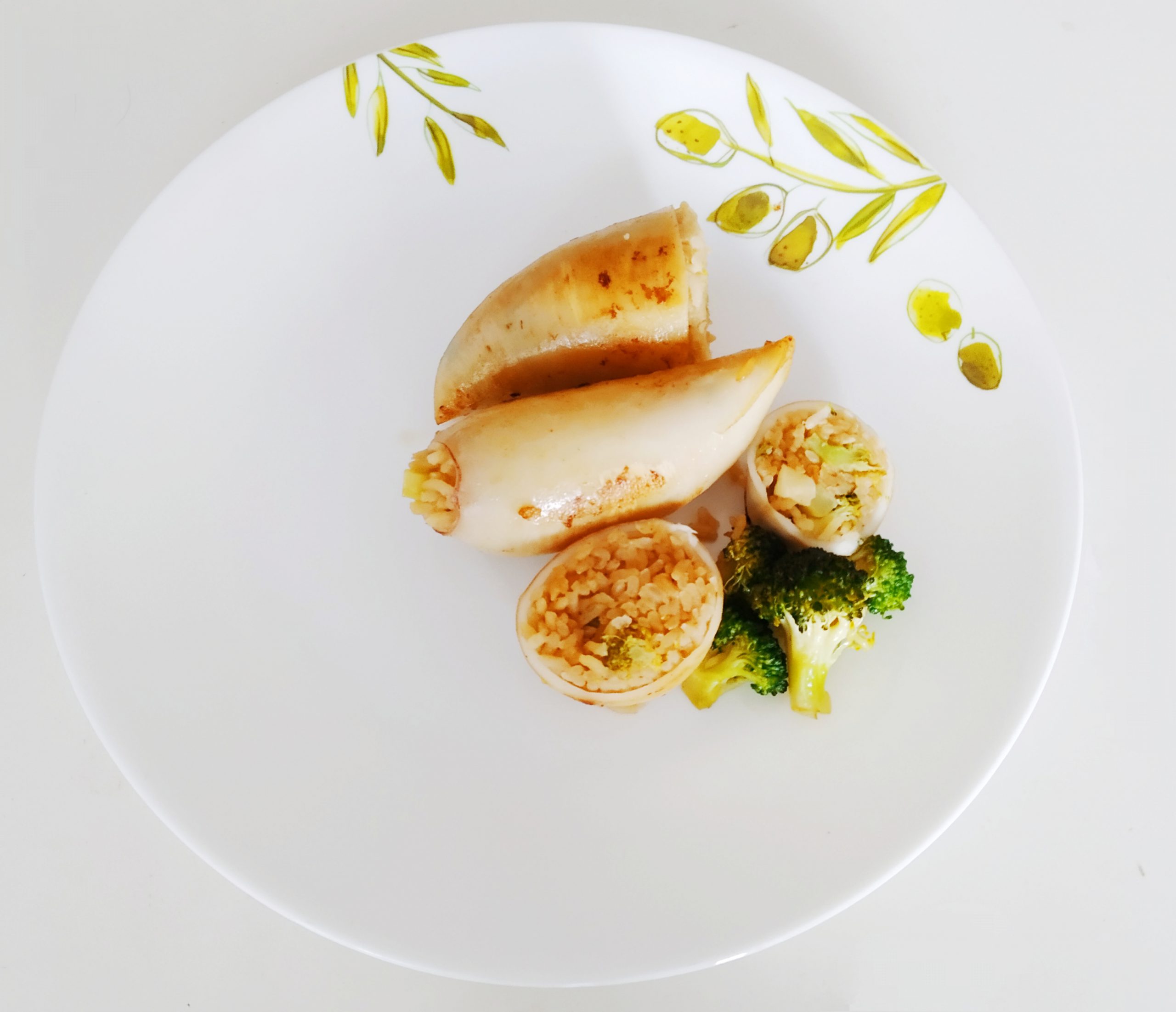 Stuffed squid fried rice
A stuffed squid recipe with broccoli fried rice.
Ingredients
Squid-5

Cooked and Medium grain rice-200 gm

Broccoli-1/3 of full

big-sized

Spring onion

Light soy sauce

Garlic-4 cloves

Eggs-2

Sesame Oil-2 tbsp
Instructions
Spread the cooked rice in a tray and put it under a fan for one hour.

Clean and wash the squid. Remove the tentacles, chop them and keep aside.

Heat oil in a wok. Add chopped garlic and saute. Add the tentacles with little water to cook.

When the water has evaporated, add broccoli and cook till it becomes half cooked in medium heat.

Increase the heat to high. Add the rice, soy sauce and mix them well until the sauce coats all the rice.

Meanwhile, add oil in a hot pan and scramble the egg. Keep aside.

Now add the scrambled egg, spring onion and toss well to get a good mix. Add pepper to taste.

The fried rice is ready now. Stuff the fried rice in the squid.

Fill the squid till it reaches 3/4 of it.

Add oil in a pan and place the squid. Sprinkle salt and pepper.

Now add 1/4 cup of water and close with a lid. Cook for 10 to 15 minutes. Check in-between and add water if necessary to avoid sticking in the pan.

The same squid stuffing can be steamed.

Heat water in a steamer

Now steam the squid by placing them with enough gap.

Slice thickly before serving.

Serve with a little soy sauce and some green onions to crunch up or serve with tomato ketchup or chilli sauce
The same recipe can be modified by reducing the rice and adding more seafood and chicken to make it keto-friendly.
Subscribe to my YouTube channel Game Of Spice for more video recipes. For instant updates about new recipes check out Instagram. Also, go to my Facebook page, for more interesting updates. You can also go through my pins on Pinterest. For Yum updates, go to, Yummly.