Seafood is the primary source and everyday food ingredient in many parts of the world. As we all know seafood has a lot of brain development and immune-building nutrition.
Prawn or Shrimp has an important role in seafood platters. Prawns are a rich source of selenium, one of the most effective antioxidants at maintaining healthy cells. They also contain high levels of Zinc, which is important to develop a healthy immune system. Eating prawns helps build strong bones because they contain phosphorous, copper, and magnesium.
Compared to fish, prawns, shellfish, and squid have a lesser fishy smell(odor) while cleaning and cooking. This makes more people consume these seafood varieties.
This is one healthier version of Prawn masala which doesn't have any coconut or cream.
Can I use frozen prawns in a curry?
Yes, You can use frozen prawns in this curry. Fresh prawns yield a flavorful sweet taste to the curry.
How do you thicken a curry?
This curry is of semi-thick consistency. Generally, coconut paste, cornstarch, lentils, and mashed potatoes are used to thicken the curry. If you want a thicker curry, you can grind the onion and tomato separately into a paste and cook.
Try these prawn recipes
SINGAPORE STYLE FRIED VERMICELLI– A Singapore-style fried vermicelli recipe that includes prawns, and fish cake.
PRAWN TOFU LAKSA FROM SCRATCH– A Malaysian famous laksa made from homemade laksa paste, prawn, and tofu.
TOM YUM FRIED RICE FROM SCRATCH– A Thai favorite Tom Yum fried rice is made using homemade Tom Yum paste and prawns.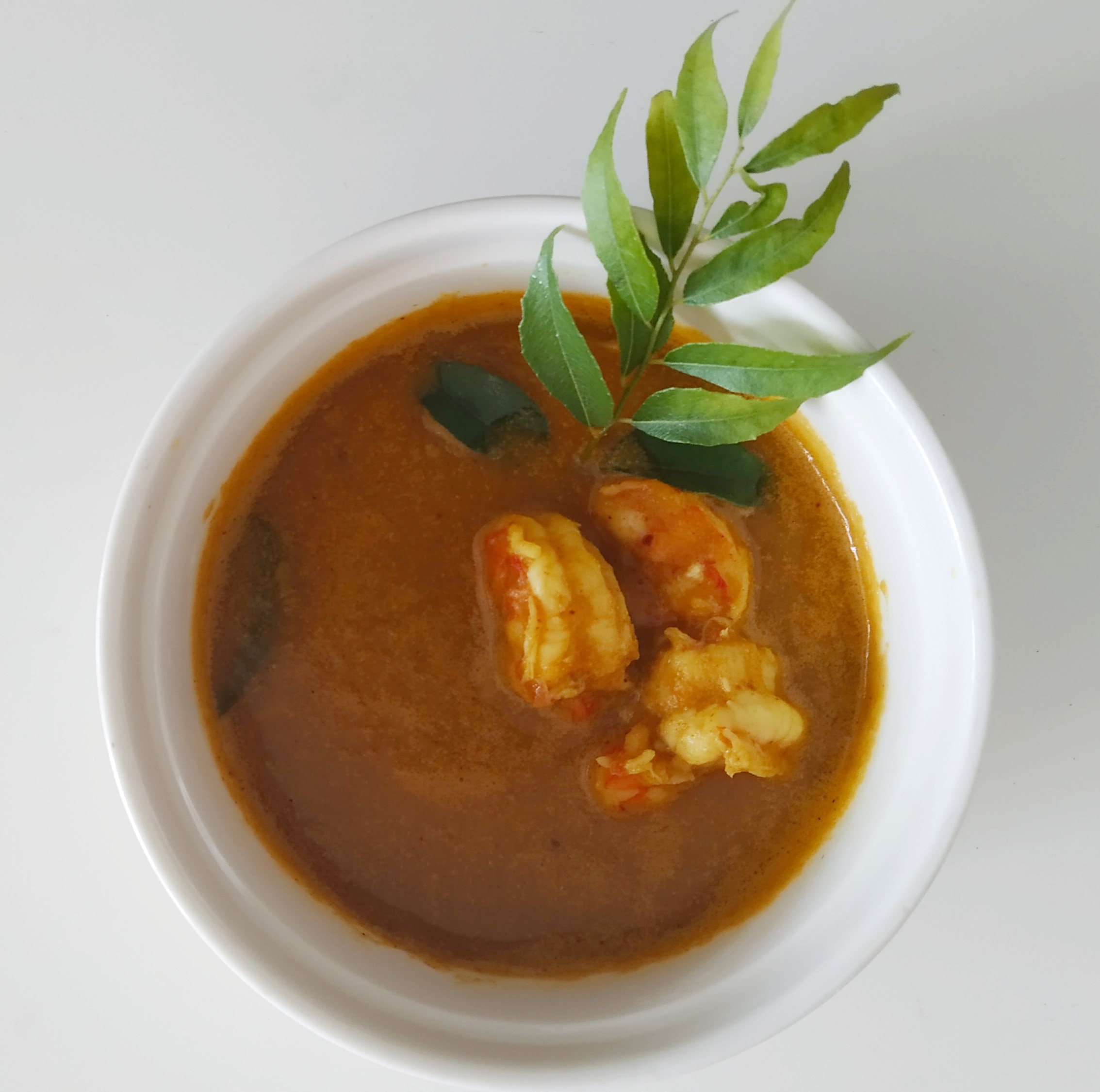 How to make coconut free Prawn masala | Prawn Recipes
Ingredients
Prawn

medium-sized-500 gm

Chopped ginger -2″ piece

Chopped garlic

big-sized-4 cloves

Chopped onion

medium-sized-2

Chopped tomato

small-sized-2

Coriander powder-3 tbsp

Turmeric powder-1/2 tsp

Cumin Powder-1/2 tsp

Garam masala-1 tsp

Chilli powder-1 tsp

Pepper powder-1/2 tsp

Curry leaves-4 springs

Salt

Oil
Instructions
Add chopped onions, and fry till it becomes soft.

Now add garlic, ginger and cook for some more minutes.

Add tomato, salt and cook covered till the tomatoes become mushy. Keep this aside for cooling.

Meanwhile, clean and wash the prawns.

Use a blender to grind the cooked onion-tomato mixture into a smooth paste.

In a hot pan, add oil. Next, add the ground paste and cook for 5 minutes.

Now add all masala powders mentioned in the ingredients and saute.

Add enough water to make it into a curry.

Finally, add curry leaves and serve hot.
Notes
Use coconut or cream to make this Prawn masala richer.
Adding curry leaves in the final stage of the cooking will make the recipe more flavourful and tasty.
Prawn masala can be accompanied with White rice, Chapathi, Idli, Dosa, Ghee rice, Kerala appam, and Pathiri.
Check out my YouTube channel GameOfSpice for more healthy vlogs. For instant updates about new recipes check out my Instagram. For recent updates, check out my Facebook page. You can also go through my pins on Pinterest. Check out my Yummly for healthy recipes.