Tofu is a staple food in Southeast Asia and a popular ingredient in vegetarian and vegan diets. Made from curdled soy milk, tofu is a versatile source of protein that can be prepared in many different ways. It is low in calories and fat but high in protein and essential nutrients, making it a healthy addition to any diet.
Tofu is the main ingredient in this recipe. Yes, simple pepper tofu stir-fry is the recipe on the plate today. A simple, quick yet tasty tofu stir-fry that can be accompanied by rice and curry.
By the way, how the tofu is made?
They press curdled soy milk into solid blocks and cool it down to make tofu.
Types of Tofu: Which One to Use?
There are many types of tofu available, each with a different texture and level of firmness. Silken tofu is soft and smooth, while medium tofu is slightly firmer. Firm and extra-firm tofu have a denser texture and can hold their shape when cooked. Tofu skins are made by boiling soy milk until a film forms on the surface, which is then dried and rolled into sheets. Fermented tofu has a strong flavor and is often used in sauces and stews.
Why do you need Pepper with turmeric?
This recipe contains two well-renowned spices, pepper, and turmeric.
Many people know about the benefits of these spices when they consume them separately. However, when consuming them together, the effects are magnified several times. As a polyphenol, curcumin, which is found in turmeric, has several health advantages. But the greatest downfall is that it is not absorbed easily into the body. However, consuming piperine, found in pepper, boosts the absorption of curcumin.
In conclusion, people can prepare tofu in many different ways as it is a versatile and nutritious ingredient. The combination of pepper and turmeric provides a flavorful and healthy addition to any dish, including pepper tofu stir-fry. Whether you are vegetarian, vegan, or simply looking for a healthy and tasty meal option, this recipe is sure to please.
What to make with tofu?
BAKED STUFFED SHELLS | MAKE EASY PASTA FROM SCRATCH– A vegetarian baked pasta recipe that includes tofu, and asparagus stuffed shells.
PRAWN TOFU LAKSA– A laksa made from scratch that includes prawn, tofu, beansprout, and homemade laksa paste.
HIGH PROTEIN BREAKFAST WRAPS– A high-protein vegetarian breakfast wrap loaded with vegetables and tofu.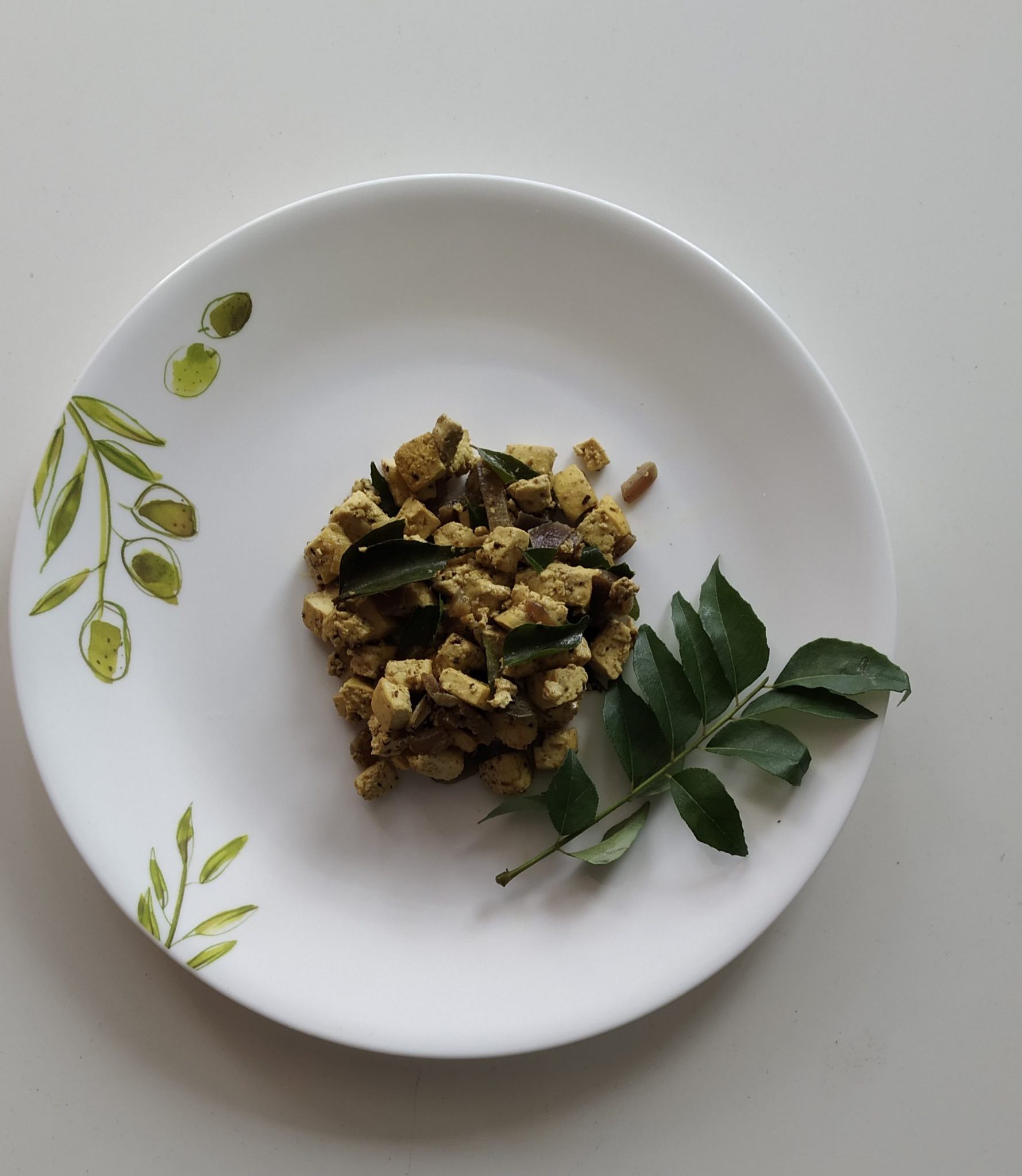 How to make this pepper tofu stir fry | Side dish
Ingredients
Firm tofu-2 block

medium size

Onion-1

big

Crushed pepper-2 to 3 tsp

based on the spiciness

Turmeric powder-1/2 tsp

Curry leaves-3 springs

Oil

Salt
Instructions
Cut the tofu into small chunks.

Fry the onion in oil till it becomes translucent.

Add tofu and fry for few minutes.

Next, add turmeric powder, and fry for another 3 minutes.

Now, add the crushed pepper.

Add curry leaves and cook covered to get nice golden brown color on and around tofu.
Notes
Firm tofu must be used to get the exact results.
Crushed pepper can be replaced by pepper powder. However, freshly crushed pepper gives more fragrance and taste to the recipe.
Some more tofu recipes
TOFU VEGETABLE JAPANESE CURRY– A vegan/vegetarian Japanese curry that includes tofu and vegetables and mild curry.
TOFU, MUSHROOM STUFFED WONTON RAVIOLI PASTA– A ravioli pasta recipe that includes tofu and mushroom stuffed wontons.
Subscribe to my YouTube channel GameOfSpice for more healthy vlogs. For instant updates about new recipes check out my Instagram. For recent updates, check out my Facebook page. You can also go through my pins on Pinterest. Check out my Yummly for healthy recipes.