One more healthy, yet tasty hearty pasta soup recipe for the soup fans. Let's welcome the cold season with this heartwarming soup. Soups are many people's favorite and soothing choice. Soups are consumed worldwide. We are aware of clam chowder, Tomato soup, sweet corn chicken soup, and traditional mutton soups.
Other than this there are many types and specialties of soups available. Some soups are common worldwide and some of them are still famous only in particular countries and they retain the traditional method.
Nowadays, we get many types of soups. When we think about hearty tomato soup, it comes in the pureed soups category. The mutton soup and the sweet corn chicken soup come in the clear soup category. Clam chowder comes in the cream/thick soup category.
This soup comes under the hearty pureed soup category. Chicken stock is playing a key role in this recipe.
How do you keep the pasta from getting mushy in soup?
Add oil to the boiling water and cook the pasta. Once the pasta is cooked, drain and rinse with room temperature water to avoid the pasta sticking to each other. Drizzle oil and keep aside.
Can you leave noodles in soup?
Add pasta only before serving the soup give it a thorough stir and serve hot. If you keep the soup for long after adding the pasta the starch will absorb the soup.
Not to miss soup recipes
LOW-FAT 3-MUSHROOMS POTATO SOUP– A low-fat mushroom soup that contains 3 types of mushrooms.
PRAWN TOFU LAKSA FROM SCRATCH– A Malaysian laksa that includes tofu, prawn, and homemade laksa paste.
LOW-FAT BROCCOLI SOUP FROM SCRATCH– A low-fat broccoli soup for a hearty dinner.
CLEAR TOM YUM WONTON SOUP-A clear tom yum soup that includes chicken stuffed wontons.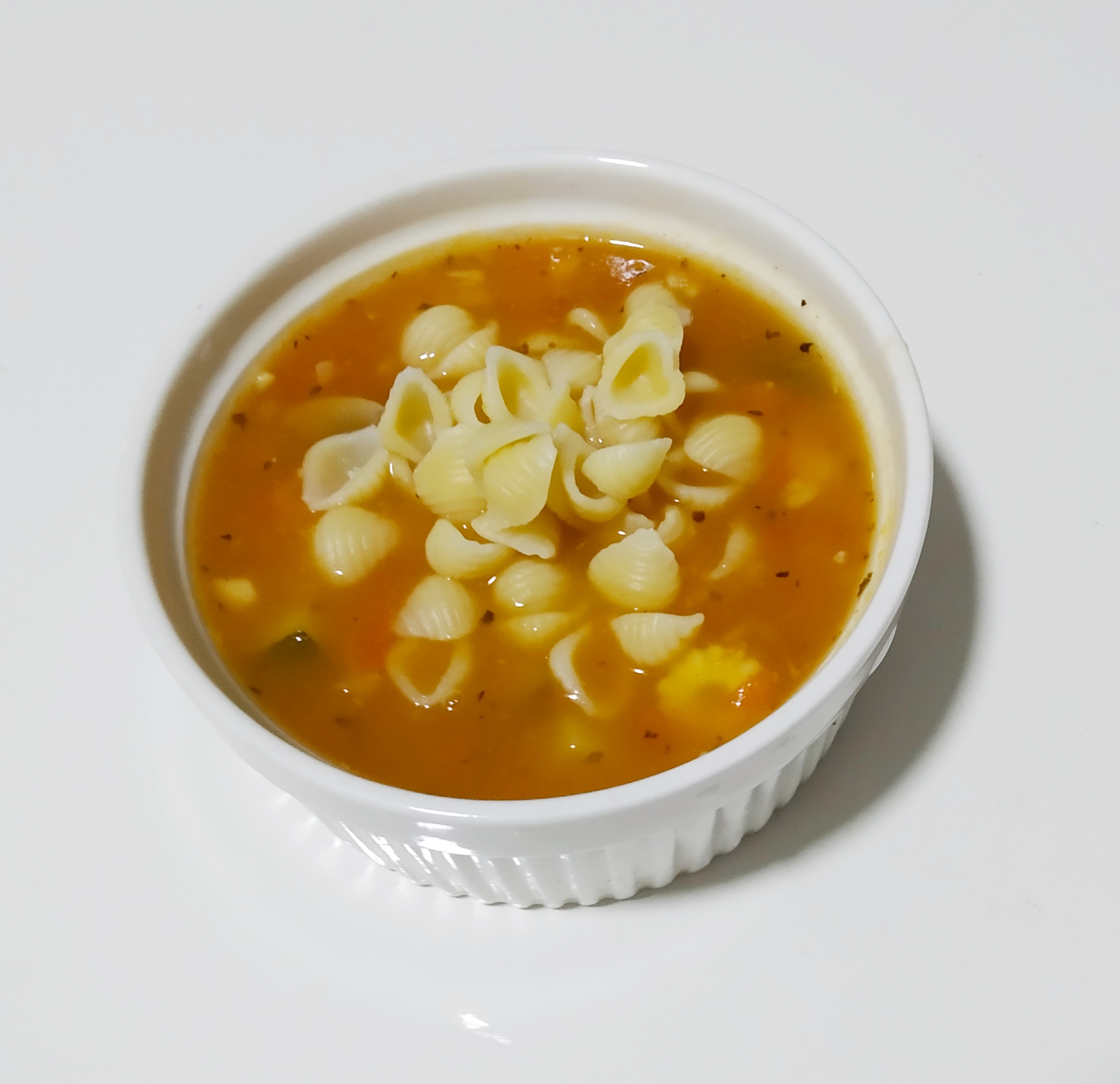 Hearty pasta soup | Easy Vegetable Pasta Soup Recipe
A healthy and hearty vegetarian tomato based soup that includes soup pasta and loaded with vegetables.
Ingredients
Tomatoes-5

Chicken stock-2 cups

Chopped capsicum-1/2

Soup pasta-120 gm

Chopped celery-1stalk

White button mushrooms-120gm

Chopped potato-2

Cornstarch/cornflour-1 tsp

Chopped carrot-1

Salt

Pepper

Italian seasoning-1 tsp

Oregano powder-1/2 tsp

Garlic-4 cloves
Instructions
Grind the tomatoes in a blender till the tomatoes become into puree.

Cook pasta in enough water. Drain and keep aside.

Add oil in a hot wok/Pot and add garlic. Fry the garlic till the colour changes.

Add carrot, potato, celery and saute for a few minutes.

Add tomato puree and cook for few more minutes and add salt.

Now add chicken stock(Refer chicken stock Recipe) and cook for 10 minutes. Add water according to your preference.

Next, add mushrooms and capsicum.

Now, add Italian seasoning and Oregano.

This is the time to add seasoning(pepper).

Add water to the cornstarch and make it into a paste.

When the soup is thick enough, add the cooked pasta.

Serve hot with garlic toast or a breadstick.
Notes
Adding vegetables to this recipe is purely based on your preference.
This recipe should be consumed immediately. If kept for more time the pasta may absorb more soup and will become soggy.
If you prefer the soup to be watery, avoid cornstarch/cornflour.
For a richer version, add cream or go for low-fat cream in the final stage.
Famous soups and their origins
Bak Kut Teh-Indonesia, Malaysia and Singapore
Bakso-Indonesia
Bird's Nest Soup-China
Brown Windsor Soup-England
Canh Chua-Vietnam
Consomme-France
Chowder-United States
Crab Bisque-France
Dalithoy-India
Dashi-Japan
Fish Soup-Singapore
Hot and Sour Soup-Asia
Laksa-Indonesia, Singapore, and Malaysia
Minestrone-Italy
Miso Soup-Japan
Pumpkin Soup-United States
Shark Fin Soup-China
Soto-Indonesia
Tom yum-Thailand
Italian delicacies to try
TOFU, MUSHROOM STUFFED WONTON RAVIOLI PASTA– A ravioli pasta recipe that contains tofu and mushroom stuffed wontons in a tomato-based sauce.
TORTILLA LASAGNA ON THE STOVETOP-A stovetop tortilla lasagna made using chicken, mushroom, and homemade sauce.
SPAGHETTI KRA PAO– A fusion recipe that includes spaghetti and Thai-infused kra pao.
MAKE-AHEAD HOMEMADE SAUCE FOR A QUICK FIX PASTA ARRABIATA– A pasta arrabbiata recipe that includes homemade pasta sauce.
Subscribe to my YouTube channel GameOfSpice for more healthy vlogs. For instant updates about new recipes check out my Instagram. For recent updates, check out my Facebook page. You can also go through my pins on Pinterest. Check out my Yummly for healthy recipes.