As circuit breaker measurements took place in SG, we may have to spend the whole month at home with kids. We may go out for essential services only. Like most, I try to include more whole foods. We can find wholemeal, whole wheat, multigrain, 8 grains, Rolled Oats and organic foods in supermarkets. Some supermarkets dedicate separate shelves for organics. We made a whole wheat yeast banana bread for the coming week's.
So the weekends with kids passed by watching movies, making food and playing board games. This is something I did last Saturday's evening with kids. Here I used Bob's Red Mill 100% stone-ground whole wheat flour and I followed the two-time proofing method here.
Things for Whole wheat yeast banana bread
Whole wheat
The nutrient-rich(fibre, protein, and vitamins) grounded flour from whole wheat makes the dense bread. The white wheat and red wheat gives different results in the outcome of the bread.
Banana
Ripe bananas are most suitable for the banana bread. If you have very ripe bananas then freeze them. They will work for banana bread. Among the banana varieties of Manzano Banana, Burro Bananas, Barangan Banana, Goldfinger Banana, Saba Banana, Blue Java Bananas, Red Bananas, Pisang Raja, Baby Bananas, I am using Cavendish Bananas.
Eggs
I am using kampung eggs. The term kampung chicken refers to a breed of chicken found in Malaysia and Indonesia.
Milk
When you shop for dairy, the primary types of milk available are whole milk (3.25% milkfat), reduced-fat milk (2%), low-fat milk (1%) and fat-free milk, also known as skim milk. You can choose any of the type you prefer based on the preference.
Yeast
I am using the instant type yeast for easy usage. Instant yeast is a dry yeast that comes in smaller granules than active dry yeast, absorbs liquid rapidly, and does not need to be hydrated or proofed before being mixed into the flour.
Similar yeast recipes
Red velvet yeast donut– A yeasted red velvet donut topped with chocolate ganache.
Steamed bun-A sweet and savoury versions of steamed buns tried with whole wheat and cake flour.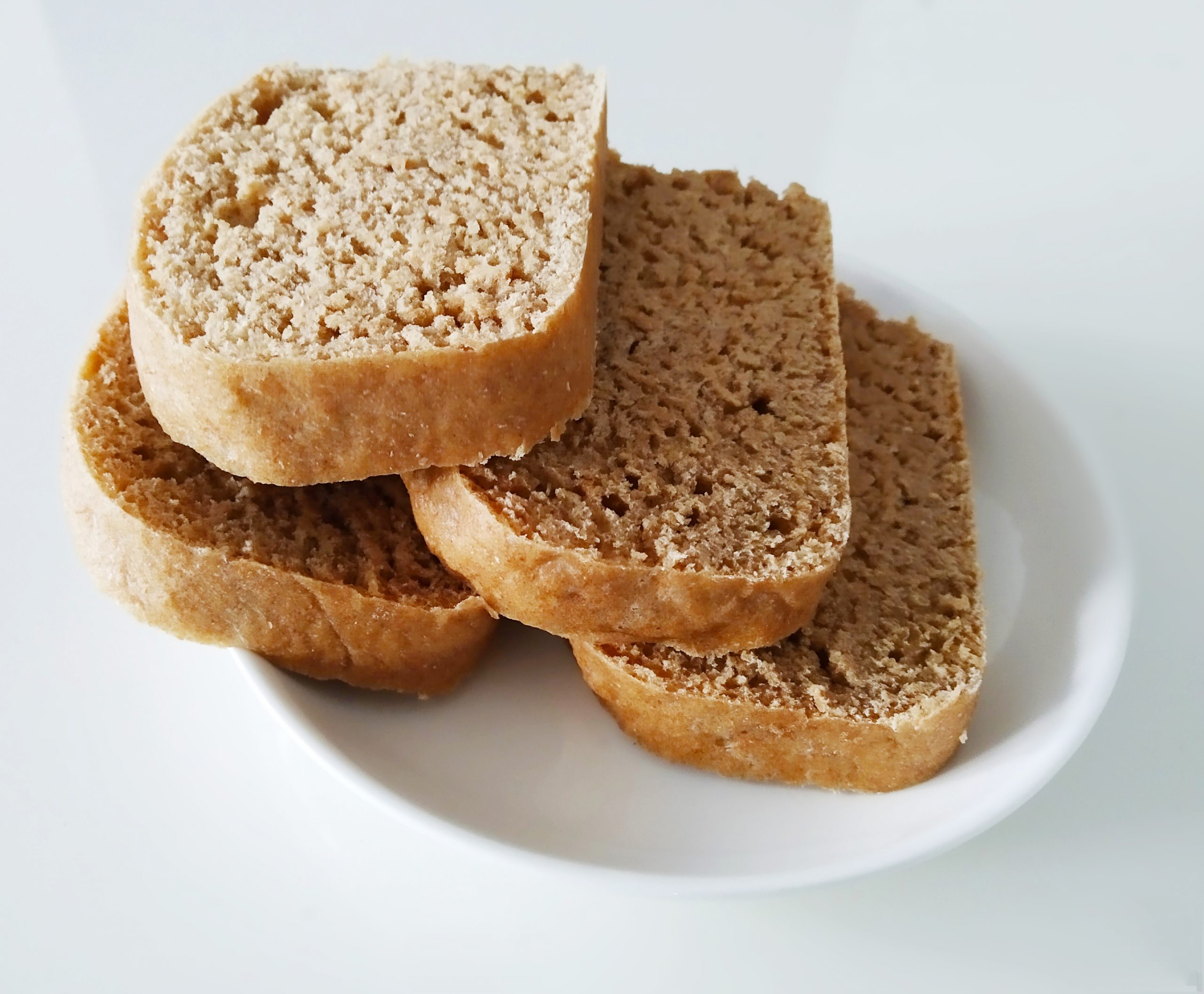 Whole wheat yeast banana bread
A fail proof banana bread recipe using yeast.
Ingredients
3

Ripe Banana

2

Egg

6

cups

Whole wheat flour

14

gms

Yeast

½ to 1

cup

Raw sugar

½

tsp

Salt

¾

cup

Milk
Instructions
Warm the milk. Add the yeast mix. Keep aside for 5 minutes.

In a blender add banana and eggs. Blend them together until you get a smooth paste.

In a mixing bowl, add flour, salt, sugar and mix them well.

Now add yeast mixture and banana-egg mixture to the flour and mix well.

Knead until it forms into a dough. Keep this aside covered for 45 minutes. This will ensure the proofing.

After 45 minutes, divide them into 3 portions and knead one more time.

Keep them in the lined loaf tins. Keep aside covered for 45 minutes.

Steam cook in a steamer for 30 minutes.

Allow it cool down to normal temperature in a wire rack.

Slice them with a sharp knife.

Serve with your favourite jam, spread.
Notes
Sugar quantity can be increased as need.
The bread can be eaten as alone as it contains enough sweetness from sugar and banana.
The eggs can be replaced with egg replacer or flaxseed meal for a vegetarian version.
3 cavendish bananas are used in this banana bread recipe.
I used banana bread tin to steam cook.
The whole wheat can be replaced with whole wheat pastry flour, artisan flour.
The whole wheat flour makes the bread dense.
Recipes using bread
Mushroom cheese french toast– A savoury and chocolate filled french toast recipe using bread slices.
Savoury bread waffle– A savoury bread waffle added with egg,vegetables and bread slices.
Custard bread pudding– A pudding recipe made using bread slices and custard sauce.
Did I miss anything?
Now I would like to hear from you!
Let me know how you make this recipe and if you have any tricks and improvements.
Subscribe to my YouTube channel GameOfSpice for more healthy vlogs. For instant updates about new recipes check out my Instagram. For recent updates, check out my Facebook page. You can also go through my pins on Pinterest. Check out my Yummly for healthy recipes.