Today I am going to make steamed buns with different combinations. First I tried the sweet version of chocolate and kaya paste stuffings. I will update the recipe If I try new combinations. This a simple and satisfying recipe if you like to bake. A better and healthy version of baked snack compared to the bakery made ones.
Most of the Food courts will have Bao buns, Popiah, Rojak, and Carrot cake. Dim sum is a Hong Kong/ Shanghai-inspired type of food. This is not exactly one dish, but a set of small dishes to be savoured in a group – a typical Chinese dining sharing custom.
What is Bao bun?
Steam buns or Bao buns share the same cooking approach ie, steam cooking. These Bao buns normally use plain flour. They come in many different varieties. Some are vegetarian and some contain meat. Red beans, Lotus paste, yam paste, salted egg yolk custard, chicken, pork are the most used fillings.
What can we fill the bun with?
I am using kaya paste and chocolate sauce as fillings. The savory filling recipe is available below.
Some more filling options:
Pizza stuffing
shredded chicken with cajun seasoning
masala corn
Whole wheat flour is used to make the recipe healthier. I am using vanilla essence to lower the yeast flavour in the bun.
What do we need to make steamed buns
Whole wheat flour is the type of flour used. You can replace it with all-purpose flour/plain flour for a light version. Instant active yeast is used to obtain the spongy texture of the bun. Any brand of baking powder will do the needful to make the buns fluffy. Milk is the liquid I am using here. I am using low-fat dairy milk. If you want to make the bun rich you can add full-fat milk. Unrefined raw sugar is the sweetener I prefer. You can use brown sugar, refined sugar if you prefer so. The pure vanilla extract gives a nice aroma when added. Give it a try.
I used the store-bought kaya paste which usually goes well with kaya toast. The pandan flavoured and Nonya kaya are notable ones to refer to. Any type of oil works well here. I prefer to use olive oil in this recipe.
Steamed goodness to try
Thai-style steamed fish– A Thai-style steamed with lemon, lemongrass and ginger.
Stuffed wonton ravioli pasta– A tofu, mushroom stuffed wonton infused the Italian style makes the ravioli.
Healthy finger millet steam cake/puttu– A finger millet steam cake can be served as a sweet snack or breakfast.
Sweet milk wonton– A dal, coconut filled wonton served with sweet milk.
Buns need not be only baked!
Whole wheat buns stuffed with kaya, potato masala and chocolate and steamed.
Ingredients
Whole wheat flour-500gm

Instant dry yeast-11 gm

Salt-1/2 tsp

Baking powder-1 tsp

Fine raw sugar or powdered raw sugar-30 gm

Milk-250 ml

Vanilla essence-1tsp

Oil-30 ml

Store-bought pandan kaya paste
Instructions
In a mixing bowl, add wheat flour, salt, yeast, baking powder, sugar, milk, vanilla essence, and oil.

Mix them well and make into a soft dough. The dough will be initially sticky.

Turn onto a floured surface; knead until smooth and elastic, 8-10 minutes. Place in a greased bowl. Cover and let it rise in a warm place until doubled about 1-1/2 to 2 hours.

Take out the dough and knead one more time. Make the dough into a log shape. Cut the dough into equal size.

Take one dough and make it into a ball shape. Do the same with the remaining doughs.

It is time to fill the stuffing. Flatten the dough using hands and fill it with kaya paste. The recipe for Chocolate Sauce is below the Notes. Cover the stuffing with the dough and make sure there are no openings left.

Arrange the doughs on pieces of baking paper or wax paper and keep them separately. Do the same with the remaining doughs.

Keep them aside to rise for 30- 40 minutes.

Arrange them in a steamer. Now cover the lid with a cloth and tie it on the handle to hold the lid conveniently. Now the dripping water can be absorbed by the cloth the lid is covered with.

Steam the buns for 8-10 minutes.

Serve hot with your favorite hot drink.
Notes
I am using kaya jam for the stuffing. Any meat stuffing, vegetable masala, potato masala, and any fruit jam can be used as stuffing.
Here, I am using Bob's Red Mill whole wheat flour. All-purpose flour, Artisan flour, bread flour can be used too.
Butter can be used instead of oil.
If you are using active dry yeast, follow the manufacturer's instructions for activating the yeast.
Cooking chocolate can be used as a filling.
I tried one variation with the dough. I used cake flour to replace the whole wheat flour in the same recipe. I made a savory filling using vegetables.
Chocolate Sauce Filling
Cocoa powder-1 tbsp
Butter-1 tsp
Condensed milk-3 tbsp
Sugar-2 tsp
Method
Boil water in a wide pan. In a smaller pan, add cocoa powder, butter, condensed milk, and sugar.
Keep this small pan in boiling water and keep stirring until it blends together. Keep this aside to cool to room temperature.
I tried one more variation with the dough. I used cake flour to replace the whole wheat flour in the same recipe. I filled the bun with a savoury filling I made using vegetables.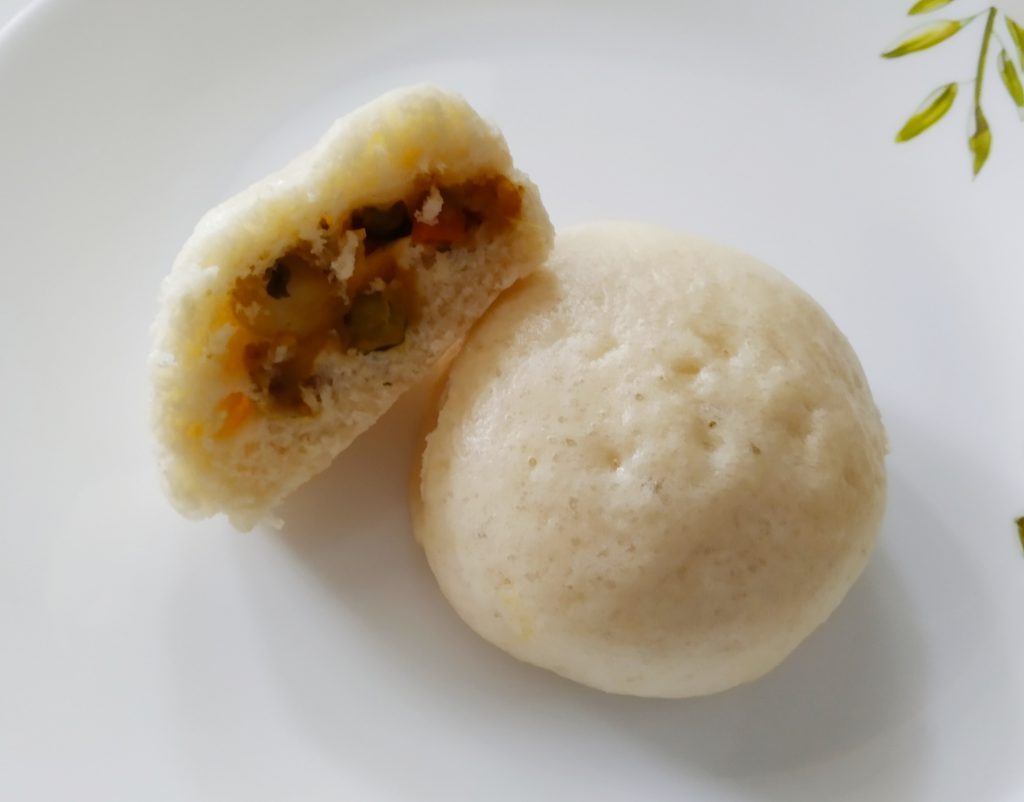 Potato filling
Boiled potatoes-2(big sized)
Chopped Onion -1(medium-sized)
Ginger-garlic paste-1 tsp
Chicken curry powder-1 tsp
Turmeric powder-1/4 tsp
Coriander powder-1/2 tsp
Chilli powder-1/4 tsp
Cilantro leaves
Salt
Oil
Method
Remove the skin of the potatoes. Chop them into small pieces.
In a hot pan, add oil. Now, add onion and fry till the colour of the onion turns golden brown. Add ginger-garlic paste and saute for a while.
Add the powders and saute till you get a nice aroma.
Add the potatoes, salt, and cilantro leaves. Add 3 tbsp of water and mix well. Cover the pan with a lid and cook for 3 minutes till the masala blends together.
Steamed sweetness
Red velvet chocolate glazed donuts– A yeasted red velvet donut glazed with chocolate sauce.
Pumpkin oats muffin– A healthy flour free nutritious oats, pumpkin muffin.
Durian muffin– Fluffy, moist muffin made using fresh durian and cake flour.
Steamed banana pudding– A steamed banana pudding made using wheat flour, cavendish banana.
Steamed apple cake– A steamed apple cake made using eggs, cake flour, cardamom, milk powder.
Custard bread pudding– A quick bread pudding made using bread and custard.
Subscribe to my YouTube channel GameOfSpice for more healthy vlogs. For instant updates about new recipes check out my Instagram. For recent updates, check out my Facebook page. You can also go through my pins on Pinterest. Check out my Yummly for healthy recipes.