Are you planning for a Friday dinner? Why not try Pasta Arrabbiata with steamed vegetables and fish? Today I am going to make a pasta arrabbiata recipe made using homemade pasta sauce with fresh tomatoes. The main recipe is a veg pasta arrabbiata recipe served along with pan-roasted salmon and steamed vegetables.
This was my Friday dinner platter, which is my kid's favourite too. I try to include vegetables along with pasta for the complete meal fulfilment. Let's talk about the Italian sauces commonly used and commonly available on the shelves of supermarkets. Store-bought Italian tomato sauce is the easiest way to include it in any recipe.

Creamy pasta sauces include cream, butter, and milk to make a thick and rich white sauce. Alfredo sauce is a very common and favourite sauce among creamy sauces. Like creamy pasta sauces, red sauce pasta recipes are equivalently tasty and common among Italian food chains. Although Bolognese sauce, spaghetti sauce, and marinara sauce are red in colour the texture, thickness, and ingredients we add are different other than tomato. Bolognese sauce is rich in its meat content. Marinara is a mild and light tomato sauce with olive oil and garlic. Arrabbiata literally means "angry" in Italian; the name of the sauce refers to the spiciness of the chilli peppers.

The pasta comes under Italian cuisine and is classified as dried or fresh. The three main categories are pasta with sauce, soup-style pasta, and pasta baked along with other ingredients. Pasta salads are served as a light lunch or first course. Broccoli, carrot, cauliflower, beans, asparagus, and artichoke are commonly used in steaming. Steamed fish, battered fish, chips style fish or Dill weed salmon can accompany the pasta arrabbiata.
What is al dente?
Pasta is cooked at the same time firm and does not lose its shape.
How to cook al dente?
Make sure there is enough water to cover the pasta.
Add pasta when the water is boiling.
Drain the water from the pasta immediately once you turn off the heat.
Wash the pasta and drain to remove excess starch.
Whole wheat or Wholemeal vs Regular
The regular pasta is easy to handle as it does not have gluten. The regular pasta makes the cooking process easier and it blends together with the sauce that we use as they are bland in taste and colour. On the other hand, the whole wheat or wholemeal pasta has its own flavour, colour and they are chewy when eating makes little hesitation when starting to add this healthier choice. And they need more flavours and spices to lessen their strong flavour.
What do we need to make pasta arrabiata
I am using the homemade pasta sauce which I prepared. Ripe, red and pulpy tomatoes yield the desired taste and colour of the pasta sauce. Black and green olives will serve their purpose with their tangy taste. Chilli flakes will yield the required spiciness to the sauce. I am using the regular store-bought Italian seasoning to flavour the sauce. Oregano gives a nice aroma and flavour to the sauce. Powdered oregano or dry oregano leaves will do the purpose. Garlic fried in olive oil will do the magic as it will do with any other recipe. Penne is the type of pasta I am using in this recipe. You can go for your favourite one to enjoy this simple hearty pasta recipe.
Similar Pasta recipes
Baked stuffed shells– A vegetarian stuffed shell recipe baked in a tomato-based sauce.
Stuffed wonton ravioli pasta– An Italian based recipe with a twist of mushroom and tofu stuffed wontons.
Hearty pasta soup– A light and hearty soup contains a tomato base and is loaded with vegetables to increase the nutrients intake.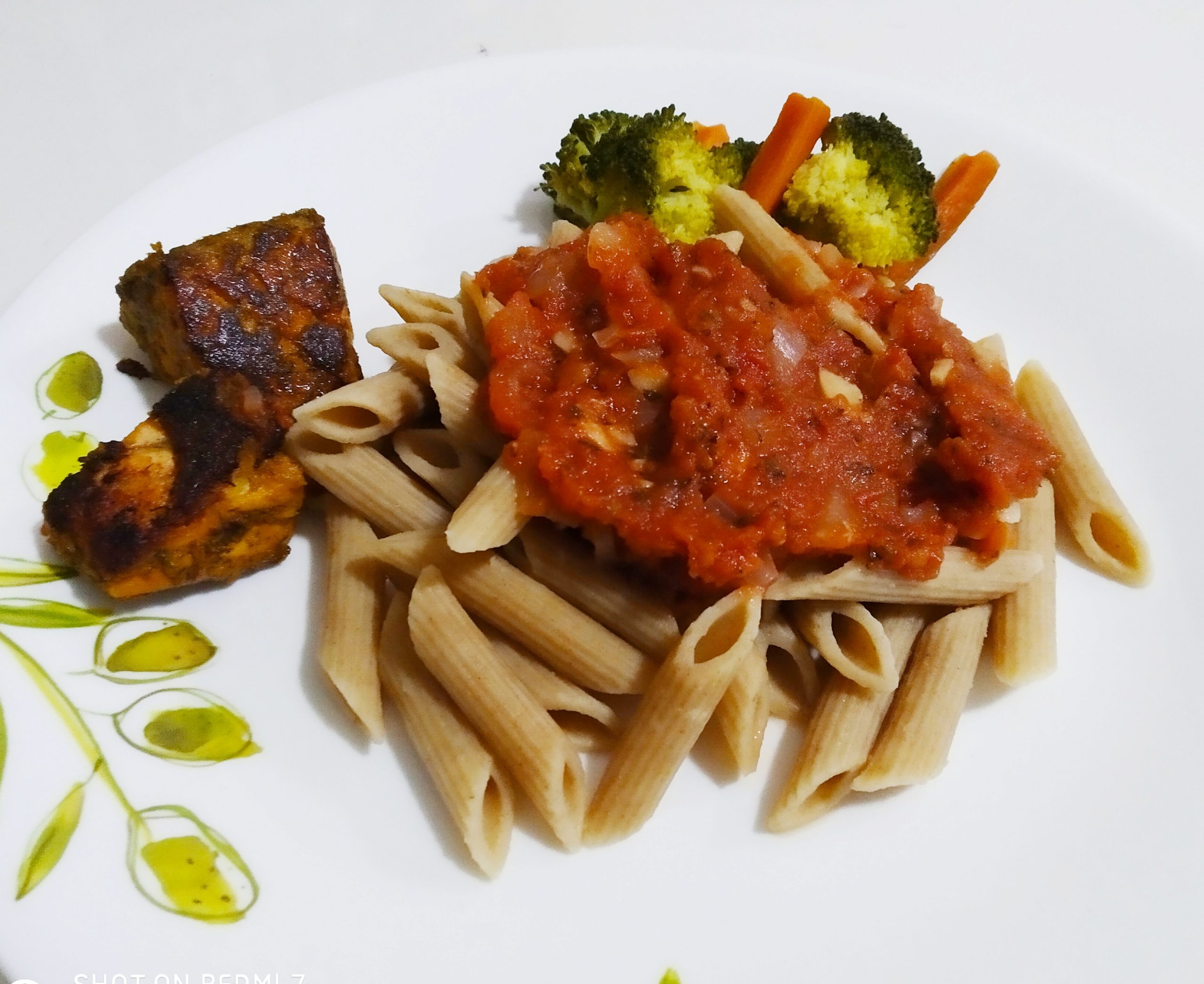 Make-ahead homemade sauce for a quick fix Pasta arrabiata
A pasta arrabiata recipe made using homemade tomato based pasta sauce.
Ingredients
Penne Pasta-200 gm

Oil-1 tsp

Salt -1/4 tsp

Water as required
For sauce
Tomatoes-8(medium-sized)

Italian seasoning-1tbsp

Powdered oregano-1tsp

Olive oil-2 tsp

Chopped garlic-5 cloves

Onion-1

Chilli flakes-1/2 tsp

Salt for taste

Pepper for taste

Sliced olives-5-6

Cheese (optional)
Instructions
Boil water in a pot. Add pasta, salt, and oil. Allow it to cook.

Strain the water. Rinse the pasta in cold water and strain it again. Add little oil and toss the pasta to apply the oil evenly. Keep aside.

Meanwhile, put tomatoes in a blender and make a smooth tomato puree.

In a hot wok or pan add oil, add garlic and onion. Saute until the onion becomes translucent.

Now, it is time to add the tomato puree. Then, add salt, oregano, Italian seasoning, and chilli flakes. Cook well until the tomato puree thickens into a pulp. Add olives.

Add pepper according to your preference.

Mix the pasta with sauce before serving.

Serve hot with steamed vegetables for a complete meal.
Notes
I am using wholemeal Penne Pasta. Try to use wholemeal or whole wheat pasta in your daily food to make the recipe more nutritious.
I am using store-bought Italian seasoning.
If you want the recipe to be less spicy, avoid chilli flakes.
If you don't want to add the tomatoes with skin on them, put the tomatoes in hot water. Then cover it and let it sit for 5 minutes. Now it is easy to remove the skin from tomatoes.
If you prefer to add cheese, parmesan and cheddar cheese are good options.
Best pasta types and sauce combinations
Spaghetti, Linguine, Angel hair- tomato sauce, cream or oil-based sauce, mild seafood sauce.
Lasagna, Fettucine- rich meat sauce, creamy sauce
Orzo, Farfalle, Rochetti, Tripoline- soups, stews, pasta salads, casseroles
Fusilli, Rotini- mild smooth sauces(pesto)
Pipe Rigate, cavatelli- heavy cream or meat sauce
Penne, elbow macaroni, Bucatini, Ziti -hearty vegetable sauce, ragu, bolognese
Tortellini, ravioli- light butter or oil sauce
International recipes to try
Tofu prawn laksa– A Malay dominant laksa that includes tofu and prawn.
Air fryer tapioca cake– An air fryer dessert/pudding recipe made using tapioca, coconut milk and egg. A rich and dense cake to try.
Japanese Sushi– A simple vegetarian /vegan sushi to try.
Japanese curry– A sweet-toned vegetarian curry made in Japanese style.
Kunafa– A low-fat baked dessert/sweet entice with its crispy outer and soft, gooey inner layers
Falafel– A Crispy mild snack made using garbanzo beans and simple spices.
Subscribe to my YouTube channel GameOfSpice for more healthy vlogs. For instant updates about new recipes check out my Instagram. For recent updates, check out my Facebook page. You can also go through my pins on Pinterest. Check out my Yummly page for healthy recipes.