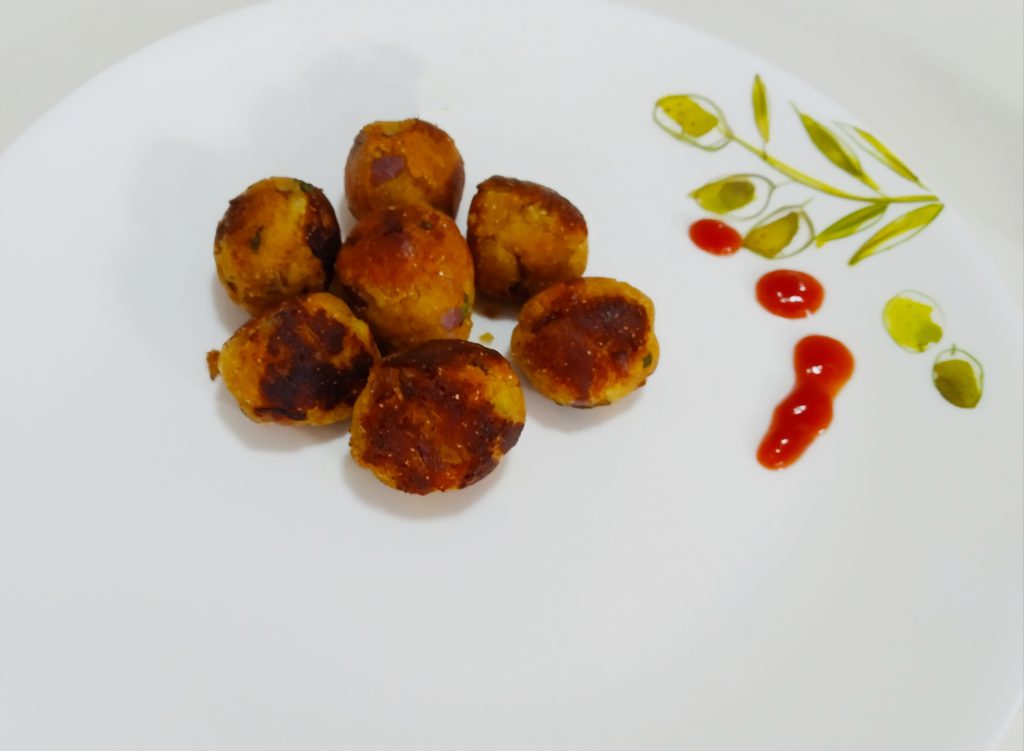 Today, I made a quick evening snack recipe made using paneer as the main ingredient. This crispy paneer balls recipe is a non-fried snack recipe. Paneer is a fresh cheese. It is available in all Indian grocery stores. Most of the time paneer is homemade in Indian houses. Famous curries are made using paneer. To name a few, Paneer butter masala, Kadai paneer, Palak paneer, Paneer tikka masala.
Paneer is calcium and protein-rich substitute for vegetarians. It is a versatile ingredient which merges easily and can be substituted in most of the meat recipes.
Paneer is a favourite of my kids too. This recipe is a snack item. Paneer merges with bread and potato in this recipe to enhance the taste. Potato is used as a binding agent in this recipe.
This recipe is a healthy appetizer/snack can be best served even for sudden parties or visitors.
How to make paneer at home
Paneer is a fresh cheese made by curdling the milk by lemon juice, curd, vinegar or citric acid. If the curdling ingredient is getting more the flavour or taste of the paneer will differ. If the quantity of yoghurt is more than required the outcome ie.paneer will be more likely to get the taste of yoghurt rather than paneer.
Boil the milk until it reaches the boiling point. Add the curdling ingredient and mix well. Once the curdling started mix until the water separates from the solid completely. Turn off the heat and strain the whey from the solids using a muslin/cotton cloth. Press and squeeze the water from the solid as much as possible. Tie and hang the cloth for 30 minutes to drain the water if anything left.
After 30 minutes loosen the knot and place along with the cloth in a flat place which holds enough the paneer. Square/circle plate will work fine. Keep a flat plate/ board which fits perfectly inside the plate we kept the paneer. Place a heavy object on top and leave for 3 to 4 hours.
You can cut the paneer into the required size and shape. The below recipe yield 200 to 250 gm of paneer.
Requirements
Milk-1 litre
Yoghurt/curd-1/4 cup or
Vinegar-2 to 3 tbsp or
Lemon Juice-2 to 3 tbsp
What do we need to make crispy paneer balls
Paneer
Homemade/store-bought paneer can be used. I am using 1 cup of paneer which is equivalent to 250 gm of paneer.
Bread
Any type of bread like wholemeal/wheat/oat bread will work fine. If you have breadcrumbs you can use that as well.
Vegetables
Chopped onion,boiled potatoes and cilantro leaves are the vegetables I used.
Semolina
Semolina gives a crunchy outer for the paneer balls.
Spices
Turmeric powder and chilli powder along with salt gives required spiciness to the recipe.
Similar paneer recipes
Crispy Hawaiian tortilla pizza– A vegetarian Hawaiian pizza made using tortilla and topped with pineapple chunks, paneer and cheese.
Snack Ideas: How to make crispy Paneer balls quick
A quick snack/after school snack includes paneer, bread and potato.
Ingredients
Paneer-1 cup

Bread-4 slices

Potato-1

medium-sized

Chopped Onion-1

Cilantro leaves- a few

Semolina-1 tbsp

Turmeric powder-1/4 tsp

Chilli powder-1 tsp

Salt

Oil
Instructions
Boil the potato with enough water until it becomes soft. Peel and mash the potato.

Meanwhile, crumble the bread slices in a blender.

Grate the paneer using a grater or use a blender to crumble the paneer.

In a mixing bowl, add potato, paneer, onion, cilantro leaves, semolina, turmeric powder, chilli powder and salt.

Next, add crumbled bread and give it a good mix.

The mixture should be blended well together.

Hot oil in an Appe pan. Make the mixture into small balls and place them in each cavity of Appe pan.

Turn frequently to avoid burning. Cook till the balls get a golden brown colour.

Serve hot with tomato ketchup.
Notes
When frying the paneer balls, the heat should be low to avoid burning the food.
Turn the paneer balls frequently to avoid burning and as the paneer balls cook faster and have the tendency to stick in the cavity of Appe pan.
The bread and semolina give crispiness to the paneer balls.
Similar protein-rich recipes
Tofu vegetable Japanese curry– A vegetarian/vegan mild Japanese curry includes tofu and vegetables.
Stuffed french toast-A mushroom and paneer masala stuffed french toast for an alternative to the sweet version.
Subscribe to my YouTube channel GameOfSpice for more healthy vlogs. For instant updates about new recipes check out my Instagram. For recent updates, check out my Facebook page. You can also go through my pins on Pinterest. Check out my Yummly page for healthy recipes.