I wanted to use leftover khoya that was in the freezer for a week. So I decided to make milk Kova. I was craving for chocolate at that time. When I had searched the refrigerator, I had found out that my hungry kids had finished all the chocolates. Some cooking chocolate was left. Tried this Khoya stuffed chocolate recipe, and it came out well. So I thought of sharing this.
Khoya/mawa is a evaporated , thickened milk solid till all its moisture evaporates. Khoya is prevalent in Indian, Nepal, Bangladesh and Pakistan. Khoya takes place in many dessert and sweet around Northern parts of India.
Khoya can be found in the freezer section of the Indian shops/marts. They will come in blocks.
Khoya can be used to make burfi,peda, Gulab Jamun, carrot halwa, deep-fried khoya dumplings.
Khoya /Kova/Mava
Different names for the same product.Different parts of India uses these names to identify the milk solids.In southern part they call kova/paal kova.
Mainly khoya is available in two types either sweetened or unsweetened.
What do we need to make khoya stuffed chocolate
Khoya
Khoya is a thickened milk solid. Milk is boiled in low heat to evaporate the moisture for a long time to thicken it. Khoya which I used is an unsweetened version.
Cooking chocolate
The sweetened cooking chocolate works fine here. If you prefer dark chocolate adjust the sugar level when you add.
Dairy
Other than Khoya, butter and milk are the dairy products I used. I prefer to use low-fat milk. If you prefer you can choose full-fat milk.
Nuts
Chopped nuts like almonds and pistachio suits well for this chocolate for a crunchy bite along with smooth khoya filling.
Sugar
Any type of sweetner works in this recipe.I am using raw sugar here.
Similar kid friendly recipe
White chocolate mango cups-A fresh mango dessert set and served in a white chocolate cups.
Millet pancake cereal| TikTok viral– A tiktok viral pancake cereal made using healthy millet, wheat flour and oats.
Mango jelly without gelatin– A refreshing homemade jelly recipe made using fresh mango and agar-agar.
Red velvet chocolate glazed donut-A chocolate glazed red velvet donut made using the steam cooking method.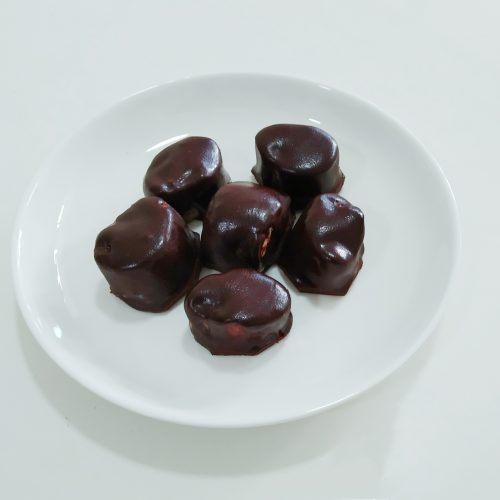 How to make homemade Khoya stuffed chocolate
Homemade chocolate stuffed with khoya /milk solids to entertain the variety seeking kids.
Ingredients
Khoya-150 g

Butter-1/2 tsp

Milk-1 tbsp

Cooking chocolate-100gm

Sugar-7 tsp

Chopped nuts

almond,pistachio-3 tbsp
Instructions
Add khoya and sugar in a pan. Cook this in low heat until everything blends together. Add nuts and cook for a few minutes. Keep this aside to cool it.

When it is warm, mash it and make some dough. Roll into a log shape using hands and cover it in parchment paper. Keep this in the refrigerator for 30 minutes.

Boil water in a wide pan or pot. Take a small pot or pan which fits inside the large pot.

Melt the cooking chocolate along with butter in the small pan in low heat.

Add milk and cook until its consistency becomes sauce-like.

Check if the khoya mixture is hard enough to cut.

Cut it into 1/2 inch pieces. When the chocolate sauce is warm enough, dip the khoya pieces in it and keep them in a parchment paper with enough space between them to avoid sticking together.

Keep this in the refrigerator for 30 minutes.

Serve chilled to avoid melting if you are in a warm country.
Notes
Khoya can be available in many Indian stores. Mava is a sweetened version.
I am using raw sugar in this recipe.
Roasted nuts give good flavour and crispiness.
If you are in diet and wanted to avoid butter, just add milk and continue with the rest of the steps.
Subscribe to my YouTube channel GameOfSpice for more healthy vlogs. For instant updates about new recipes check out my Instagram. For recent updates, check out my Facebook page. You can also go through my pins on Pinterest. Check out my Yummly page for healthy recipes.