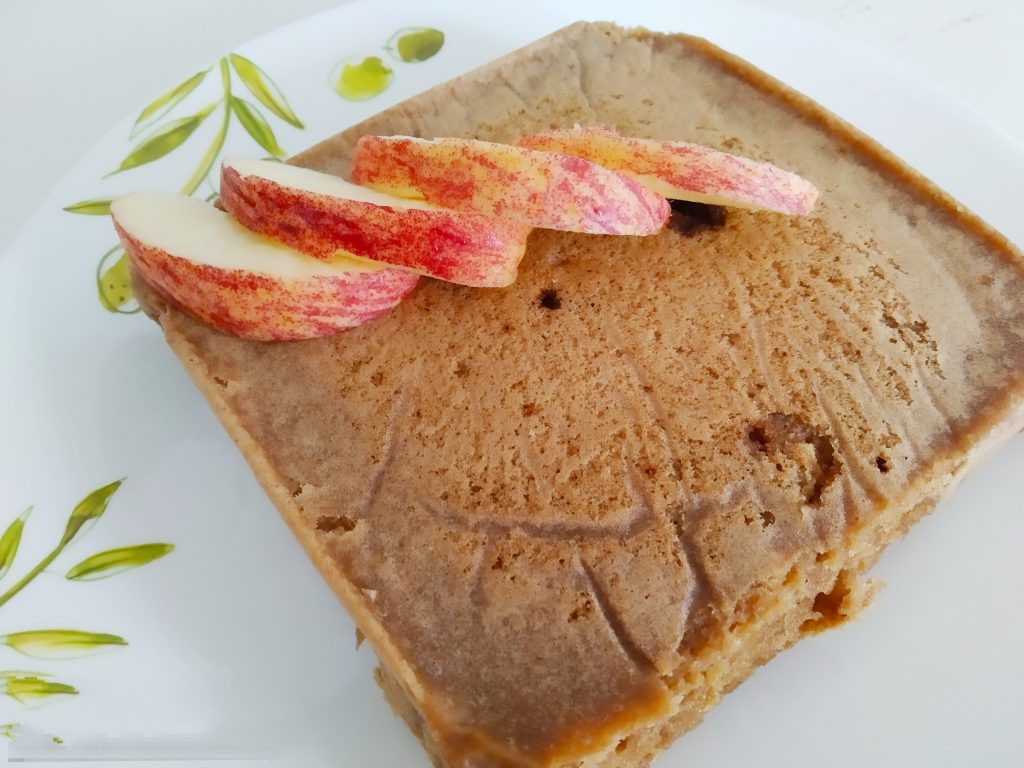 One more steamed banana pudding recipe for the hungry kids who just arrived from school. This dish is not a planned one. I saw few bananas ready to shed from its bunch. So I thought of making a snack and ended up in this recipe.
We all know banana is a healthy fruit. And it has fibre which aids in digestion. Potassium-rich banana helps in controlling blood pressure. Vitamin c is an added advantage.
Weight watchers should limit the consumption of banana as it is a high-calorie fruit. I am using wheat flour in this recipe. The pudding will be in a dark colour as I am using brown sugar.
What do we need to make steamed banana pudding
Banana
Among many types of banana Ilike to use cavendish for cooking cakes/pudding. The sweetness from the banana makes the perfect steamed or baked goods.
Wheat flour
Regular wheat flour or whole wheat flour can be added to balance the flour requirement.
Egg
I used brown kampong eggs to retain the moisture and fat requirement of the steamed pudding.
Baking powder
A regular raising agent to get a fluffy and soft pudding. Any brand of baking powder will work in this recipe.
Sugar
I generally avoid white sugar in my cooking. I used raw sugar in this recipe.
Vanilla essence/extract
I used brewed store-bought vanilla extract in this recipe instead of artificial vanilla essence. Add 1/2 tsp additionally if you use the natural one.
Similar pudding recipes
Low-fat,alcohol-free pina colada pudding– A low-fat pina colada pudding includes fresh pineapple and coconut cream.
Red ruby milk pudding-A Thai recipe includes water chestnut as the key ingredient. A refreshing coconut cream included milk pudding.
Custard bread pudding– A quick and easy to make custard pudding made using bread.
Boba custard– A yogurt based steamed custard topped with boba/bubble tea pearls.
How to make a steamed banana pudding
Steamed banana pudding made using wheat flour,egg and banana for a simple evening snack.
Ingredients
Banana-2

big-sized

Egg-1

Wheat flour-200 gm

Vanilla essence-1 1/2 tsp

Brown sugar-5 tbsp

Baking powder-1 tsp

Salt-1/4tsp
Instructions
In a bowl, add wheat flour, salt, sugar and mix them well.

In a mixing bowl add egg and vanilla essence. Use a hand blender to mix them well. The mixture can be fluffed to get a smooth texture.

Meanwhile, mash the banana either using a blender or a hand blender.

Now add the flour mixture and banana into the wet mixture. Beat the mixture for 2 minutes until everything mixes well together.

Now the batter is ready to cook. Pour the batter into a pan. Use a parchment paper to make sure it doesn't stick to the pan.

In a steamer, cook the batter for 3o minutes.

Use a toothpick to check in the middle part of the batter is cooked.

Remove the pan from the steamer. Remove the pudding from the pan. Allow it cool down.
Notes
Mash the banana before adding. It will become dark because of oxidation.
Parchment paper will reduce the batter from sticking in the pan.
Cover the lid of the steamer with a cloth to reduce the dripping of steam into the pudding.
Similar banana recipes
Whole wheat yeast banana bread– A fail-proof whole wheat banana bread made using yeast to retain the fluffy texture.
Eggless whole wheat banana bread-A simple steamed eggless banana bread made using wheat flour, apple sauce.
Bread nendran banana pudding– A banana bread pudding made using nendran/Kerala banana, egg and bread to make a quick snack.
Healthy finger millet puttu/steam cake-A healthy puttu made using finger millet flour along with rice flour to make a nutritious snack or breakfast.
Subscribe to my YouTube channel GameOfSpice for more healthy vlogs. For instant updates about new recipes check out my Instagram. For recent updates, check out my Facebook page. You can also go through my pins on Pinterest. Check out my Yummly page for healthy recipes.