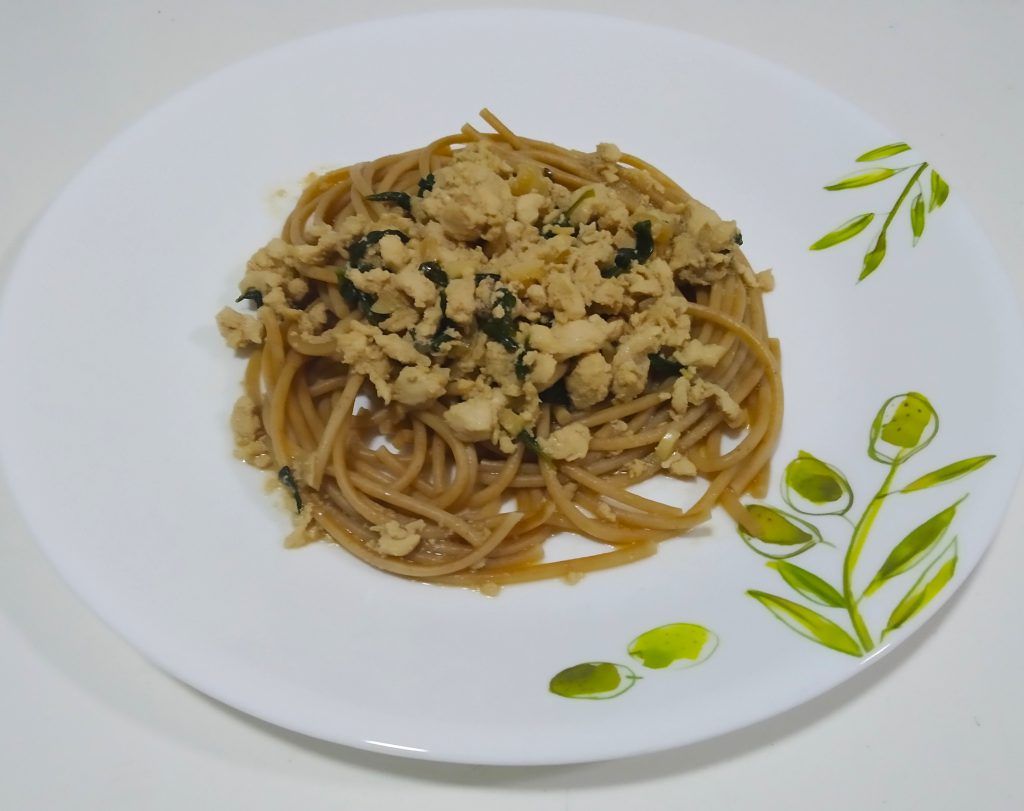 Kaphrao/kra pao/kra pow chicken is one of my favourite Thai recipes. My kids like spaghetti. So, I thought of combining these two recipes to satisfy our taste buds. I decided to make Spaghetti kra pao an Italian Thai fusion recipe.
Kra pao is the name for basil leaves. This recipe is mildly spiced and aromatic and the flavourings and salt come from fresh basil and sauces we use. This one dish is enough to complete a meal as it is flavourful and satisfying. This is one among the most well known and favourite recipe among Thai food lovers. I tried this recipe while replacing the regular rice which takes part usually in this recipe to a spaghetti to make a difference.
I am using chicken in this recipe. Any kind of meat can be used in this recipe.
Thai basil or holy basil
Two main categories of basil leaves are sweet basil and holy basil leaves. We can identify the difference by the appearance and taste. The holy basil has pointed, small and flat leaves. The stems are purple in colour, aromatic, sturdy and have a peppery bite of cloves. And they are in green colour and when you eat you will get the numbing effect on the tongue. In contrast, sweet basils are sweet and soft. Thai basil has a liquorice flavour in it.
What do we need to make spaghetti kra pao
Spaghetti
I used Italian Spaghetti made with durum wheat semolina. You can opt for any variety of pasta. Be cautious and follow strictly the instructions by manufacturers for cooking the pasta.
Chicken
Minced boneless chicken is the best to use.
Basil leaves
Thai basil cannot be substituted/replaced with any other herb in this recipe otherwise the outcome of the recipe will be different.
Vegetables/aromatics
Thai bird's eye chilli, garlic and shallots are used in this recipe to make the aromatic taste and fragrance.
Liquids
Chicken broth or water are liquids I used to moisten the recipe.
Spices & Sauces
Along with fish sauce and soy sauce, sugar is added to give a mild sweetness and to balance the spiciness.
Similar Fusion recipes to try
Boba custard– A steamed custard recipe made using yogurt and condensed milk topped with boba/bubble tea pearls.
Sweet milk wonton– A sweet dish made using wonton wraps and bengal gram/channa dal.
Stuffed squid fried rice– A fried rice stuffed inside squid and shallow fried to accommodate the younger ones.
Fusion recipe: How to make Spaghetti kra pao
A fusion recipe uses Italian spaghetti and infused the Thai basil chicken/kaprao
Ingredients
Oil-3 tbsp

Chopped Thai bird chilli-2

Sliced shallots-3

Sliced Garlic-5

Minced chicken-400 gm

Sugar-2 tsp

Soy sauce-2 tbsp

Fish sauce-1 tbsp

Chicken broth or water-1/3 cup

Thai basil leaves-1 bunch

Spaghetti-250 gm
Instructions
In a hot pan, add enough water to boil. Once it reaches the boiling point, add oil, spaghetti and enough salt to cook.

When it is cooked, strain the hot water from spaghetti.

Rinse the spaghetti in water and strain one more time. Add some oil and keep aside.

Heat a wok. Add chillies, shallots, garlic and fry.

Add the chicken and fry for some more time. Try to break the chicken in order to not get the clumpy ones.

Add sugar, soy sauce and fish sauce. Cook for 1 more minute.

Now add the chicken broth or water to make the dish moist as we are cooking the chicken in high heat.

Now add the basil leaves and cook for 2 more minutes. Serve hot with spaghetti.
Notes
I used a wok in this recipe. The wok is best to make Chinese recipes, fried rice, saucy recipes as it is easy to turn them over frequently. It is also perfect to cook food at high temperature.
This recipe calls for Thai red chilli. Thai bird's eye chillies are spicier than normal chillies. So adjust the number of chillies according to your spice level.
We are not adding salt in this recipe. The sauces already contain enough salt. So add salt after checking the saltiness of the recipe.
I used Wholemeal pasta to make the dish nutrient.
I used light soy sauce in this recipe. If you prefer a dark colour, use dark soy sauce.
If you are not going to eat this recipe immediately, then keep the chicken and spaghetti separate. Mix before eating.
Chicken recipes to try
Clay pot chicken rice in a pressure cooker– A claypot chicken rice recipe made using a pressure cooker. A mild spiced Chinese recipe to try.
Simple chicken curry– A home-style coconut-free,yogurt-free mild chicken curry.
Cilantro lemony chicken– A cilantro, lemon flavoured mild yet tasty chicken recipe tastes better than a kebab.
Homemade chicken stock– Homemade basic chicken stock made along with celery and carrot.
Subscribe to my YouTube channel GameOfSpice for more healthy vlogs. For instant updates about new recipes check out my Instagram. For recent updates, check out my Facebook page. You can also go through my pins on Pinterest. Check out my Yummly page for healthy recipes.