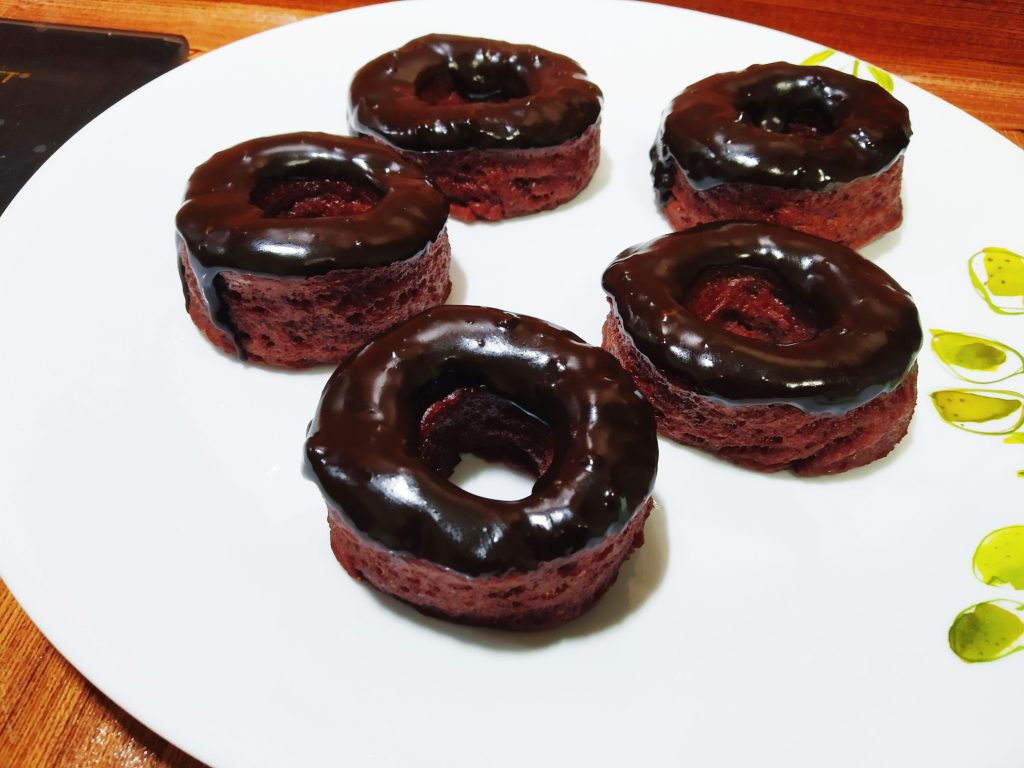 Donuts. Red velvet yeast donut 🤩
My kids are asking for donuts from last week. Due to the circuit breaker enforced in SG, like everyone else, we avoid going out as much as possible. Nowadays birthday parties are filled with donuts, pizza and burgers to lessen the burden of the food preparation. Dunkin Donuts, Jco and Crispy creme are famous among kids.
I like the mini donuts way more than the normal ones as it minimizes the sugar intake. It also gives us the opportunity to taste more flavours when buying in dozens. The glazed donuts are available in many flavours, from simple chocolate, tiramisu to avocado.
The donuts are normally fried ones and some healthier options are baking and steaming.
I wanted to make red velvet cake once more as my daughter was asking for it. For her birthday I made a red velvet cake and she liked it a lot. I planned red velvet yeast donut for an evening snack and the preparation started around afternoon. I have Bob's red mill whole wheat flour. I like to add whole wheat wherever possible and I don't buy all-purpose flour.
Yeasted donuts are fail-proof to try. I made beetroot powder to replace the artificial red colour. I used brown sugar as this will easily blend chocolate together and the flavour adds more taste. I steamed the red velvet yeast donuts to make it healthier.
Similar kid's friendly recipes
Crispy Hawaiian tortilla pizza– A crispy pizza made in Hawaiian style.A vegetarian pizza made using store bought multigrain tortilla.
White chocolate mango cups– A fresh mango pudding placed in the white chocolate cups.
Kunafa-Middle Eastern dessert– A low-fat Middle Eastern dessert recipe includes fried vermicelli/pheni.A crispy and crusty outside and a smooth creamy filling makes the recipe palatable.
Pancake cereal | Mini pancakes– A Tiktok viral pancake cereal made using healthy wheat flour,oats flour and finger millet flour.
Mango jelly– Simple jelly recipe made with fresh mango and agar-agar strips. This recipe does not contain any gelatin.
Energy bar-An energy bar recipe made using healthy lotus seed, oats, nuts and seeds.
Red velvet yeast donut
A fool proof yeast red velvet donut topped with chocolate glaze.
Ingredients
3

cups

Whole wheat flour

2¼

tsp

Yeast

½

cup

Brown sugar

1

Egg

½ to ¾

cup

Milk

3

tsp

Cocoa powder

3

tsp

Beetroot powder

¼

tsp

Red food colour

½

cup

Oil

¼

tsp

Salt
For chocolate glaze
250

gm

Sweetened cooking chocolate

¼

cup

Milk
Instructions
In a mixing bowl add egg, brown sugar, warm milk, yeast, cocoa powder, beetroot powder or red food colour and oil.

Add salt, flour and mix well.

Make a smooth dough using palm and fingers.

Keep this dough covered for 2 hours.

After 2 hours punch down the dough and give it a good knead.

Flatten the dough to a 1/2 inch thickness. Use the doughnut cutter to cut.

Keep the doughnuts covered for 1 more hour for proofing.

Steam the doughnut for 15 to 20 minutes.

Keep the cooked doughnuts for cooling down in a wired rack.

Meanwhile, double boil the cooking chocolate. Add milk and cook until the chocolate melts and blends together with milk to make a sauce.

Dip the top side of the doughnut in chocolate sauce and keep aside.

Keep the doughnuts with enough space to wait until the glaze is set enough.
Notes
Pay attention while placing the dipped doughnuts to prevent them from sticking to each other.
I like doughnut holes for a small sweet treat. Creme filled doughnuts are a kid's favourite.
Subscribe to my YouTube channel GameOfSpice for more healthy vlogs. For instant updates about new recipes check out my Instagram. For recent updates, check out my Facebook page. You can also go through my pins on Pinterest. Check out my Yummly page for healthy recipes.