Pina Colada. The name itself reflects the refreshing taste of pineapple and coconut. This simple, quick dessert will attract the kids too. This simple and tasty recipe can be made quickly. This Pina Colada pudding does not contain alcohol or gelatin. I added the agar-agar strips to maintain the recipe as a vegetarian.
I wanted to make Pina colada with less fat. So, I added milk and reduced the coconut cream. This is a vegetarian recipe. To make the recipe more skinny I used low-fat milk.
Similar agar-agar recipes to try
White chocolate mango cups– A mango dessert made using fresh mango and white chocolate.
Red ruby milk pudding-This traditional and well-known Thai dessert is famous in most Thai eateries. This recipe has some modifications to make it into a low-fat version.
Milo jelly-Simple kid's friendly make ahead milo jelly using agar-agar strips.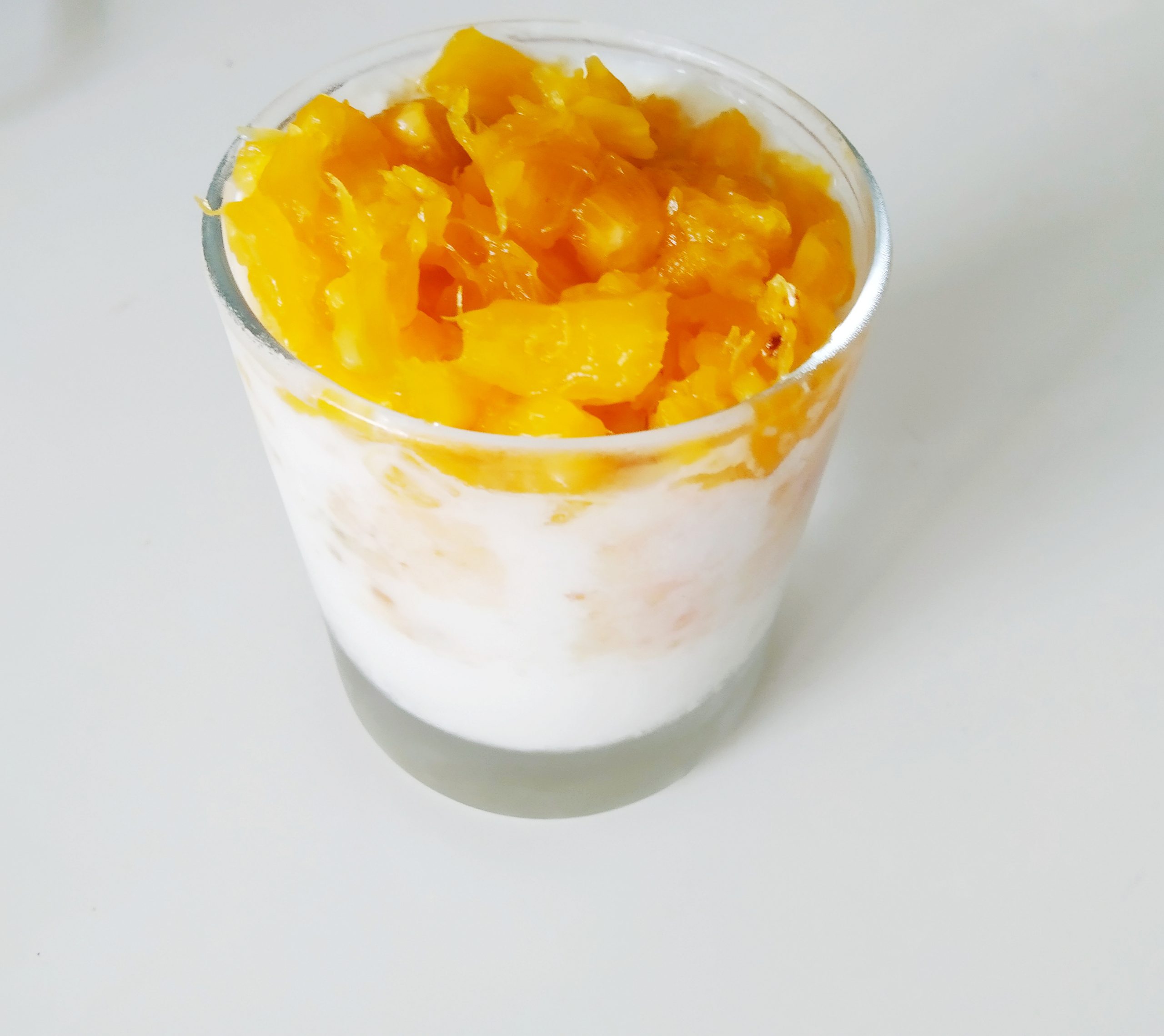 Pina colada pudding
A low-fat alcohol free pina colada pudding made with fresh pineapple.
Ingredients
¼

cup

Coconut milk

½

cup

Pineapple chunks

5 to 6

slices of

fruit cake

5

strips

Agar-Agar

2

cups

Milk

5

tsp

Raw sugar
Instructions
Bring 5 tbsp of water to boil.

Add agar-agar strips in boiling water. Cook it until it dissolves in water thoroughly.

Meanwhile, add milk and bring it to boil. Add sugar and mix well until the sugar dissolves.

Add the agar-agar mix and mix well to blend them together.

Add coconut milk and cook it in low heat.

Keep the mix aside for cooling down until it is warm enough.

Pour the mix into the 1/3 of a glass or bowl. Keep this in the refrigerator for the setting.

When the top of the milk mixture is firm enough, arrange the chunks of cake slices above the milk mixture.

Pour the milk mixture above the cake chunks. Place pineapple chunks above the mixture.

Refrigerate the Pina colada for 1 hour for a cool dessert.
Notes
This recipe can be frozen.
Best when served chill.
More coconut cream can be added to this recipe for a refreshing Keto diet. This recipe can be frozen.
Subscribe to my YouTube channel GameOfSpice for more healthy vlogs. For instant updates about new recipes check out my Instagram. For recent updates, check out my Facebook page. You can also go through my pins on Pinterest. Check out my Yummly for healthy recipes.