Curry is the most used word in many countries. Indonesian and Malaysian curries use local ingredients such as chilli peppers, kaffir lime leaves, lemongrass, galangal, turmeric, Tamarind, Shrimp paste, cumin, coriander seed, and coconut milk.
Rendang is a famous curry blend with meat in Singapore, Malaysia, Indonesia.
Thai curry uses chili peppers, kaffir lime, galangal, basil leaves, lemongrass. The famous red curry, yellow curry, and green curry are distinct not only in their colors. Their ingredients are also different.
In Chinese curry, White pepper, soy sauce, hot sauce, or hot chili oil may be applied to the sauce to enhance the flavour of the curry.
Japanese curry is less spicy and seasoned with Indian and Southeast Asian spices, being more of a thick stew than a curry.
We cannot conclude the topic of curry without mentioning the country named India. India has many languages, many states, many cultures, and many food varieties, many curries. To name a few: Rajasthani Kadhi, butter-rich Punjabi rajma, coconut rich Konkani delicacies, Gujarati kofta curries, Goan vindaloo, Kashmiri rogan josh.
Mild chicken curry without any coconut and cream makes the curry a healthier and frequent eating dish.
What do we need to make chicken curry
Chicken
I am using the kampong chicken here to get the skinny chicken. Any type of chicken will work here.
Spices
Cardamom, cloves, cinnamon and bay leaf are the whole spices I use.
Masala powders
Coriander powder, chili powder, cumin powder, turmeric powder along with garam masala are used to make the delicious yet simple coconut-free chicken curry.
Vegetables
Potatoes are used to make this chicken curry. Onion and tomato are used to make the curry thick and tasty. Ginger-garlic paste is used to get the flavorful curry.
Chicken recipes to try
Roasted rotisserie chicken– A roasted rotisserie chicken made in an electric oven using simple spices.
Claypot chicken rice in a pressure cooker– A clay pot style chicken rice that includes mushroom as well and cooked in a pressure cooker to make the process easier.
Cilantro lemony chicken– A simple yet flavorful chicken recipe that includes cilantro freshness and lemony citrus.
Stovetop tortilla lasagna– A tortilla lasagna recipe that includes chicken, mushrooms, taco seasoning, and olives along with homemade pasta sauce for an Italian touch.
Clear tom yum wonton soup– Tom yum clear soup is the base of this recipe. Chicken filled wontons are served with the tom yum soup.
Spaghetti kra pao– A fusion recipe that merges Thai kra pao and the Italian spaghetti.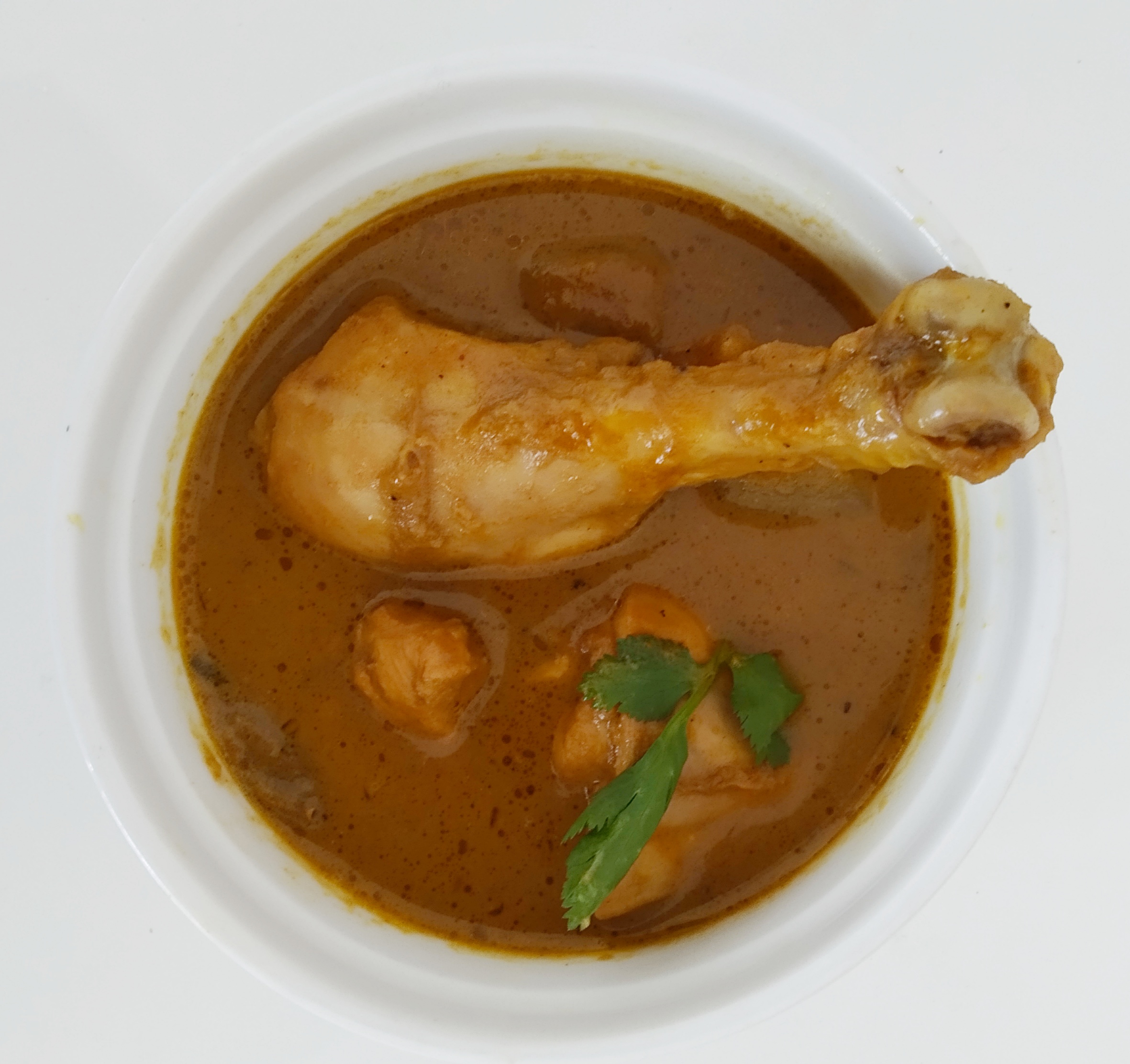 Simple chicken curry with pantry ingredients
A simple chicken curry made using Pantry Indian spices that does not require coconut.
Ingredients
Kampong Chicken-750 gm

Chopped onion

big-sized-1

Chopped Tomato

big-sized-1

Diced potatoes-2

big-sized

Chopped Ginger-2inch piece

Chopped Garlic-5-6 cloves

Cinnamon -2 inch

Cardamom-4

Cloves-6

Bay leaf-1

Coriander powder-4 tsp

Chilli powder-1 tsp

cumin powder-1/4 tsp

Turmeric powder-1/2 tsp

Garam masala powder-1/2 tsp

Chopped cilantro leaves

Oil

Salt
Instructions
Add oil to a hot pan. Add onion and saute till it becomes soft and translucent. Then, add ginger and garlic saute for a while.

Add tomato and season with salt. Cook till the tomato becomes mushy.

Now, keep this aside and wait till it cools down to room temperature.

Grind the onion-tomato mixture into a smooth paste with little water.

Add oil in a hot pot, add cardamom, cinnamon, bay leaf, cloves and saute for a while.

Now, add the ground masala paste and cook for 3 more minutes.

Add coriander powder, turmeric powder, chilli powder, cumin powder, and garam masala. Fry till the masala blends together with the powders.

Add the chicken pieces, potatoes and mix well. Cook covered in low heat for 3 minutes. There is no need to add water. The chicken itself will release water to cook.

Now, add enough water for the curry. Add salt. Add chopped cilantro leaves and cook covered until the chicken is tender.
Notes
Kampong chicken is used in this recipe. Normal chicken can be used instead of kampong chicken.
Kampong chicken is not a free-range chicken. It is a particular breed of chicken native to Malaysia and Indonesia.
I am adding whole spices in this recipe to get a mild curry.
Red skin potatoes or russet potatoes can be used.
This chicken curry can accompany Rice, Chappathi, Appam, Idiyappam, Prata, Ghee rice, Palada, Rice Jala.
Indian dishes to try
Finger millet/ragi dumpling/thikkadi– A finger millet/ ragi dumpling combined with Indian spiced chicken masala for breakfast or dinner.
Buttermilk curry– A Kerala style coconut-based buttermilk curry that includes lady's finger. The best comfort food can be served with rice.
Brinjal/eggplant chops– A side dish to be served along with biryani and other variety rice dishes.
Vegetarian dalcha– A side dish to be served along with biryani and ghee rice includes vegetables to increase the fiber intake.
Finger millet/ragi puttu/steam cake– A Kerala style steam cake/puttu recipe made using ragi/finger millet and coconut. A sweet recipe that includes Kerala banana/Nendran banana.
Steamed apple cake– A soft recipe named steamed apple cake includes eggs, milk powder along with apples to enjoy as an evening snack.
Homemade khoya stuffed chocolate– A homemade chocolate stuffed with milk solid/khoya.
Subscribe to my YouTube channel GameOfSpice for more healthy vlogs. For instant updates about new recipes check out my Instagram. For recent updates, check out my Facebook page. You can also go through my pins on Pinterest. Check out my Yummly for healthy recipes.