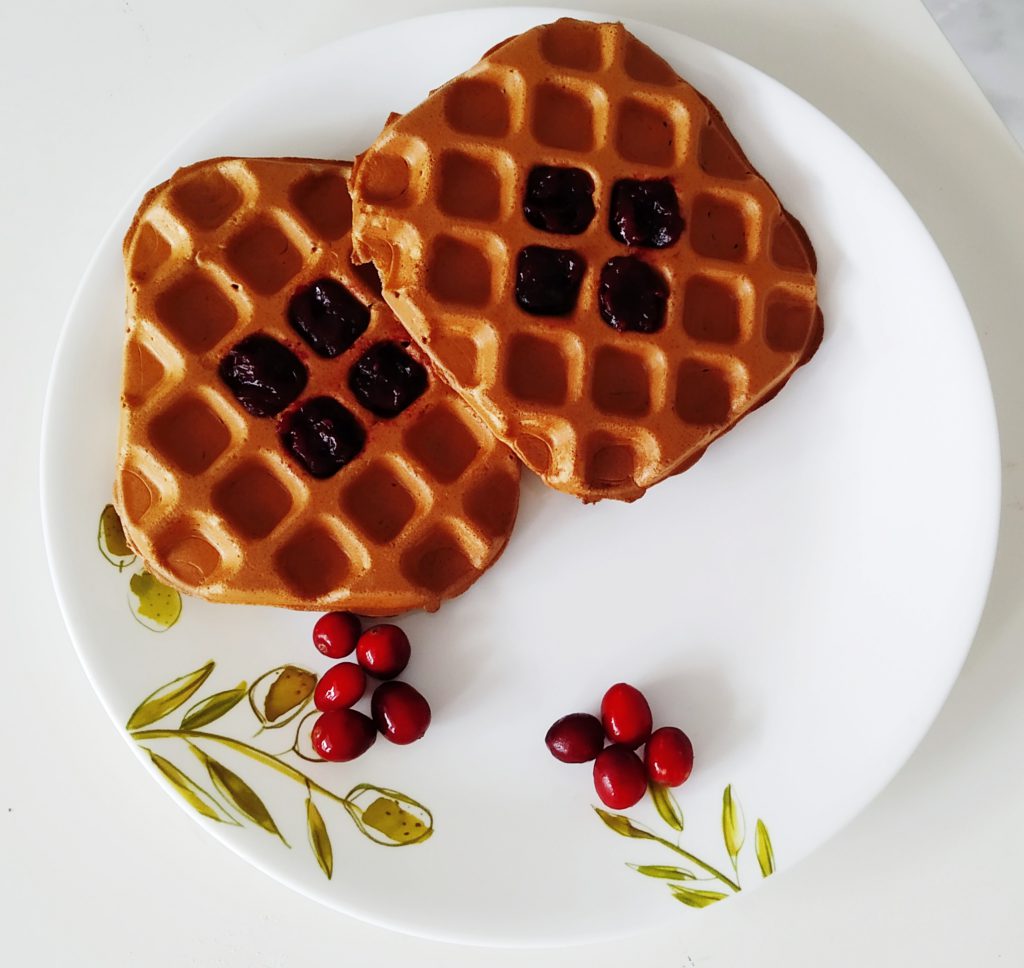 Are you tired of eating the same old plain waffles for breakfast? Looking for a way to spice up your morning routine? Consider making a healthy millet cranberry waffle! Furthermore, cranberries are a great addition to any breakfast dish because they add a pop of tartness and vibrant color. The purpose of this recipe is to provide you with a delicious and unique breakfast option that will make your mornings more enjoyable. By using fresh cranberries in your waffle batter, you'll get a burst of flavor in every bite.
Using fresh cranberries in my waffle batter is a great way to enhance the flavor and texture of my breakfast. Moreover, the tartness of cranberries balances out the sweetness of the waffle, and they are also rich in antioxidants and other nutrients that offer numerous health benefits. By making a healthy millet cranberry waffle, I can enjoy a tasty and unique breakfast that energizes my day. Additionally, the vibrant color of the cranberries makes my waffles visually appealing and ideal for sharing on social media platforms like Instagram.
How I made the healthy millet cranberry waffle?
Throughout history, waffles have evolved from their humble origins of grain flour and water in the Middle Ages. Today, waffles are a beloved breakfast food that can be prepared in countless ways to satisfy various tastes and dietary needs. However, while waffles are a popular staple food in America, ready-made frozen waffles may not always be the healthiest option. To make them more nutritious, I swapped some ingredients for gut-friendly finger millet and fresh cranberry pulp.
It's a wonderful feeling to see my kids' faces light up when they see the colorful cranberries and taste the delicious spread. This breakfast dish is a perfect example of how a few simple ingredients and creativity can result in a meal that brings happiness and satisfaction to the whole family.
HOW TO MAKE HEALTHY MILLET PANCAKE CEREAL | TIKTOK VIRAL-A Tiktok viral pancake cereal with a healthy twist of millets.
MILLET MAGIC |ONE-POT RECIPES| HEALTHY FINGER MILLET/RAGI DUMPLINGS/THIKKADI– A traditional one-pot chicken and millet flour dumpling with a masala.
BREAKFAST/SNACK IDEAS: HOW TO MAKE HEALTHY FINGER MILLET PUTTU/STEAM CAKE– A healthy steamed breakfast recipe made using finger millet flour.
HOW TO MAKE KODO MILLET IDLI FOR A HEALTHY BREAKFAST-A healthy and gut-friendly and simple breakfast made using Kodo millet.
How to make healthy millet cranberry waffle
Ingredients
For waffle
½

cup

Whole wheat flour

¼

cup

Finger millet flour

¼

cup

Oats flour

2

Egg

1

cup

Milk

¼

cup

Oil

1

tsp

Baking powder

¼

tsp

Vanilla extract

2

tsp

Sugar

a pinch

Salt
For cranberry sauce
1

cup

Cranberry

2 to 3

tsp

Raw sugar/Palm sugar

½

tsp

Orange zest
Instructions
Cut the cranberries in half and deseed them. Wash them and pat them dry.

Cook cranberries in a pot along with raw sugar.

Grind the cranberries into a sauce and add orange zest.

In a bowl, add wheat flour, oats flour, finger millet flour, and baking powder. Mix and sieve to separate the coarse particles.

In a mixing bowl, blend egg, milk, oil, and sugar till the sugar dissolves.

Add the flour and blend together to get a batter consistency.

Cook in an electric waffle maker/stovetop waffle pan.

Spread the cranberry sauce on top and serve hot.
Notes
Here, I used rolled oats flour. Quick oats can also be used.

Brown sugar can be substituted for raw sugar.

Egg Replacer can be used instead of an egg.

Egg Replacer proportion: 1 egg=1 tbsp egg replacer+3 tbsp water
Subscribe to my YouTube channel GameOfSpice for more healthy vlogs. For instant updates about new recipes check out my Instagram. For recent updates, check out my Facebook page. You can go through my pins on Pinterest. Check out my Yummly for healthy recipes.