The recipe is called "Healthy ghee rice", which provides a general idea and some specifics about the dish. However, the recipe does not actually use ghee; instead, I am substituting it with my favorite, olive oil, resulting in a fragrant dish called "ghee rice". I used brown basmati rice for this recipe.
By using olive oil instead of ghee, you'll be making your ghee rice much healthier. Olive oil is a good source of heart-healthy monounsaturated fats, which can help lower your risk of heart disease. It also contains antioxidants that can protect your cells from damage caused by free radicals.
Overall, healthy ghee rice using olive oil is a delicious and nutritious dish that you can enjoy guilt-free. Give it a try and see how easy it is to make your favorite Indian dish healthier!
Initially, when I served this dish to my children, they were put off by the brown rice. However, after trying it, they asked for seconds. This recipe has the ability to change one's perception of brown rice. The ingredients used in this recipe offer a satisfying and guilt-free eating experience when consumed frequently.
Healthy traditional recipes
HEALTHY PROTEIN-PACKED BLACK GRAM RICE FOR A COMFORTING LUNCH– A healthy and traditional protein-packed black gram rice.
MAKE HIGH PROTEIN NUTRITION-DENSE VEGETARIAN DALCHA IN A PRESSURE COOKER-A protein-packed side dish served along with ghee rice, and biryani.
MILLET MAGIC |ONE-POT RECIPES| HEALTHY FINGER MILLET/RAGI DUMPLINGS/THIKKADI– A savory one-pot millet recipe that includes masala chicken.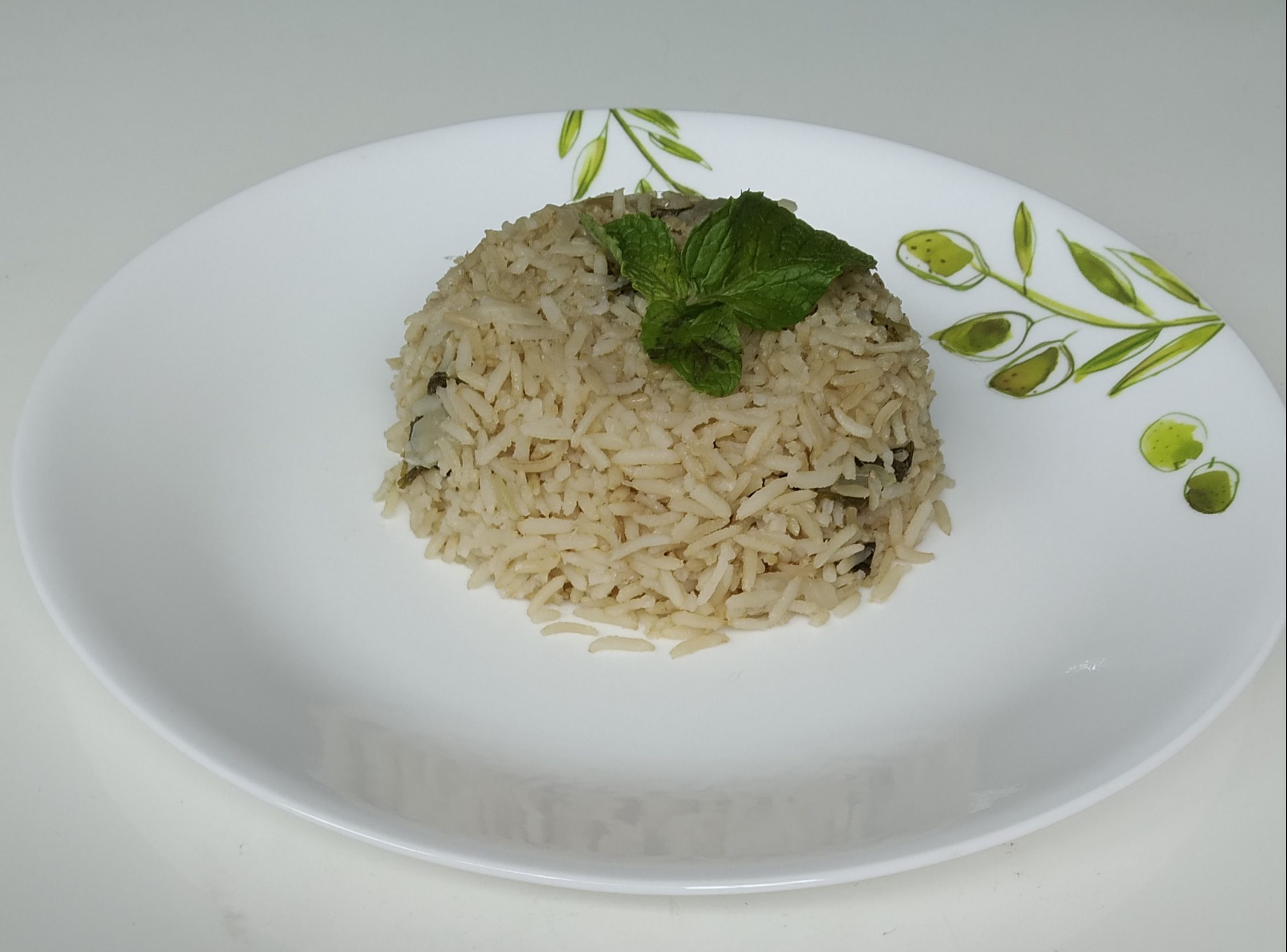 Healthy ghee rice | How to make ghee rice | Nei choru
Ingredients
Daawat brown basmati rice-1 1/2 cups

Sliced onion-2

big

Ginger garlic paste-2 tbsp

Coriander leaves-1 handful

Mint leaves-1 handful

Cardamom- 4

Bayleaf- 2

Cinnamon- 4 inch

Cloves-6

Olive oil- 2 tbsp

water- 2 1/4 cups

Salt
Instructions
Wash the basmati rice and soak for 20 minutes.

Heat oil in a pressure cooker. Then, add bay leaf, cardamom, cinnamon, cloves.

After it has fried enough, add onion and fry till it turns into a slight golden colour.

Now, add ginger garlic paste, wait for some time till the raw smell goes away.

Add mint leaves, coriander leaves and saute well.

Now add the drained rice and saute for 3 minutes.

Add water and salt. Now close the cooker with the lid and put on the whistle.

Switch off the stove after you get 2 whistles.
Notes
Daawat basmati rice works well in this recipe. If you want to use any other brand's basmati rice, refer to the manufacturer cooking instruction on the pack.
Chicken curry can be the perfect accompaniment. For vegetarian preferers, Kadai vegetable, Kadai paneer, paneer butter masala, Chettinad veg curry can go along with this recipe.
Kerala recipes to try
HOW TO EFFORTLESSLY MAKE BUTTERMILK CURRY | MOR KULAMBU– A mild yogurt curry added with mild spices and coconut.
COMFORT MIXED VEGETABLE YOGHURT CURRY | AVIAL RECIPE– A coconut-based side dish adds many vegetables to increase the nutrient value.
ONAM SPECIAL – MAKE MOONG/MUNG DAL KHEER | PASI PARUPPU PAYASAM– A sweet kheer/payasam made using protein-rich mung dal.
Subscribe to my YouTube channel GameOfSpice for more healthy vlogs. For instant updates about new recipes check out my Instagram. For recent updates, check out my Facebook page. You can also go through my pins on Pinterest. Check out my Yummly for healthy recipes.