A bakery-style coconut bun is on our plate today. Our bakery visits won't end without buying a coconut bun most of the time. Our childhood memories are tied with such memories as shopping at the nearby mom and pop shops for chocolates, coconut buns, and milk buns from nearby home-based or small bakery shops. Coconut buns are one of the favourites that have a special place in the hearts of the '80s and 90's kids.
Most bakeries are making these coconut buns. I wanted to try this recipe at home for a long time. I didn't add any butter, ghee, margarine to make this recipe one with less fat.
This recipe took place in our evening snacks list due to the ease with which we can make it and the consistency it gives every time we make it. My kids love to help while making these coconut buns.
What we need to make a bakery-style coconut bun
Flour
I am using high-protein flour, Artisan flour that is perfect for baguettes, pizza crust, dinner rolls, sandwich loaves, no-knead bread, salt-rising bread, pretzels, bagels, and more. I am using enriched, unbleached flour to make these coconut buns.
Coconut
Frozen grated coconut is handy when you run out of fresh coconut. Keep the coconut outside for 20 minutes before using it. It needs to be at normal temperature to use as a stuffing.
Sugar
Raw sugar works fine in most of my cooking which can be perfectly substituted for regular white sugar. I am using raw sugar.
Yeast
This is one of the important ingredients for this coconut bun. I am using instant yeast for the proofing of the buns.
Honey
Honey is used in the dough. Honey works well and blends together easily in these buns.
Milk
Milk is the liquid I am using to moisten the buns. I am using low-fat milk to make the recipe less fat.
Dry fruits
Tutti frutti is the dry fruit I am using along with coconut as the stuffing. You can add nuts, dates, raisins as well.
Flattened rice
Flattened rice gives volume to the stuffing. Thin flattened rice gives the optimum result.
Similar baked goods
Baked stuffed shells– A stuffed shell pasta filled with mushroom, asparagus, and tofu.
Crispy Hawaiian tortilla pizza– A tortilla pizza topped with cottage cheese and pineapple.
Kunafa- Middle Eastern dessert– A baked low-fat Middle Eastern dessert.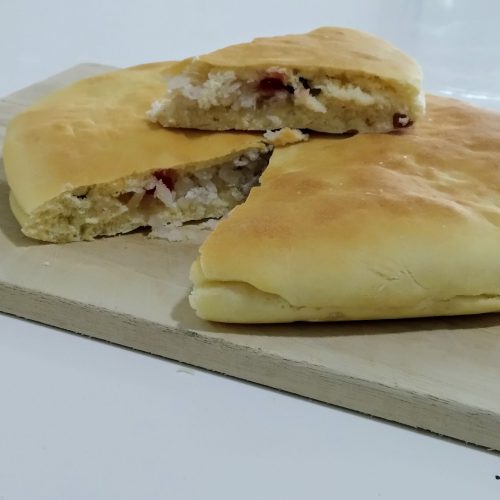 How to make bakery-style coconut bun | Thengai bun
A bakery-style coconut bun stuffed with flattened rice, sugar and tutti frutti.
Ingredients
Artisan flour-2 cups

Yeast-2 tsp

Honey-2 tbsp

Milk-1 cup

Sugar-1/2 tsp

Oil-2 tbsp

Salt-2 pinches
Filling
Coconut-1/2 cup

assorted cherries-1/4 cup

Sugar-5 tsp

Flattened rice-1/2 cup
Instructions
Add sugar and yeast in3 warm milk. Keep aside for 5 minutes or until you see a frothy top.

Mix flour along with other ingredients mentioned for making the dough.

Make a pilable soft dough. Keep the dough covered.

Keep aside for 2 hours or until the dough doubles in its size.

Roll half of the dough and divide it into two parts.

Flatten the dough by hand or with a rolling pin. Place the filling and cover with the other flattened dough.

Press and seal all the sides. Keep aside the stuffed dough for 1/2 an hour for proofing.

Preheat oven at 180°C for 10 minutes.

Bake them for 14 minutes or until the top layer is golden brown.
Notes
You can use butter or oil if you want a moist bun while preparing the dough.
You can egg wash the top of the bun for a shiny golden color.
Snacks to try
Stuffed banana fritters– A stuffed banana fritters snack commonly served in tea time around Kerala.
Falafel-A baked and fried Middle Eastern protein-rich snack.
Red velvet chocolate glazed donut-A steamed yeast red velvet donut glazed with chocolate.
Check out my YouTube channel GameOfSpice for more healthy vlogs. For instant updates about new recipes check out my Instagram. For recent updates, check out my Facebook page. You can also go through my pins on Pinterest. Check out my Yummly for healthy recipes.