Rice crepes | Palada no fermentation breakfast or Paalada is a traditional Kerala breakfast or dinner recipe. The name itself implies the meaning of Palada. This is one of the recipes I like to eat in my childhood. Palada will be present along with other special recipes for most special occasions.
The soft texture of this dish will tempt you to eat more. Palada grabs the attention by looking at and feeling the texture of it: the softer the better. The consistency of the batter is the key to soft Palada.
Palada is one of the make-ahead recipes. You can prepare the Palada batter early and stored it in the refrigerator for up to 3 days. Morning breakfast preparation can be hassle-free with this batter. This easy to prepare batter does not need any fermentation and can be used immediately.
This soft Palada is a common dish around Trivandrum and the border areas.
What we need to make Rice crepes | palada no fermentation breakfast
Raw rice
Raw rice is the rice that excludes the boiling process. The main ingredient, raw rice cannot be replaced or substituted by other kinds of rice. Any type of raw Rice like Sona Masoori, Ponni can be used here.
Egg
I used kampong brown eggs. You can use white eggs as well.
Coconut/Coconut milk
I like to add the grated coconut while grinding the batter. You can add coconut milk/coconut cream after grinding the batter.
Kerala recipes to try
Stuffed banana fritters– A fried snack made using stuffed banana filled with coconut, flattened rice and sugar.
Buttermilk curry|Mor Kulambu- A mild curry made using yoghurt and simple spices.
Moong dal| Pasi Paruppu kheer|payasam– A sweet dessert recipe made using moong dal, jaggery and coconut milk.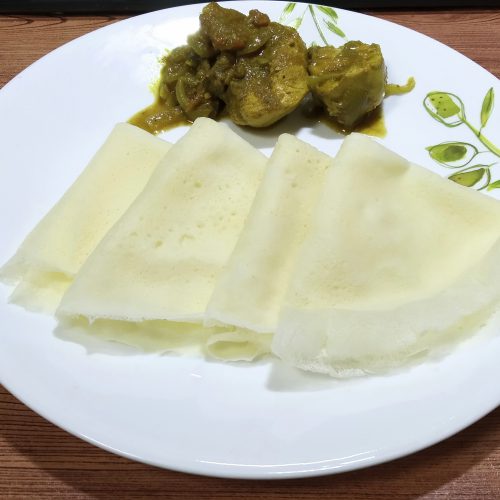 Rice crepes | Easy no fermentation breakfast
A no fermentation breakfast recipe made using rice,egg and coconut.
Ingredients
2

cup

Raw rice

2

Egg

6 to 8

tbsp

Coconut

Water

Salt
Instructions
Preparation
Soak the raw rice for 3 hours.
Method
Put the raw rice in a blender.

Add water and grind into a smooth paste.

Add egg and grind until everything blends together.

Add enough water to make the batter into a thin pourable consistency.

Add a ladle of batter in the appam pan's centre and take the pan and swirl in a circular motion to one direction to make thin Palalda.

Keep the appam pan covered.

Continue the same process for the rest of the batter.

Serve the Palada with your favourite curry.
Notes
Add egg after grinding the rice into a smooth consistency. Otherwise, the egg will start curdling or become lumps because of the heat of the blender.
The consistency of the batter should be thin and watery to achieve a thin and soft palada.
The heat of the appam pan should be medium heat to get the paldada without cracks. 
I am using a non-stick appam pan.
No need to flip the palada and cook. The palada is very thin enough and it does not require to flip and cook the other side. 
The palada is very thin and even kids can eat uptpo 4 palada so calculate accordingly when you plan this recipe for any party or guests.
I prefer to eat  palada with chicken curry.
Some breakfasts to try
Healthy finger millet steam cake|puttu– A healthy steamed cake|puttu made using finger millet flour along with rice flour. A sweet puttu steamed with Nendran/Kerala banana.
High protein breakfast wraps– A high protein breakfast wraps is loaded with vegetables and tofu.
Prawn tofu laksa– A Malay delicacy made using homemade laksa paste.
Subscribe to my YouTube channel GameOfSpice for more healthy vlogs. For instant updates about new recipes check out my Instagram. For recent updates, check out my Facebook page. You can also go through my pins on Pinterest. Check out my Yummly page for healthy recipes.