I wanted to try the claypot chicken rice. But when I was invited by the smell in a hawker centre I realized they add chorizo(a type of pork sausage). I added dry shitake mushroom in this recipe. The dried shitake mushroom will absorb the water and become large in size.
This is one of the famous Asian recipes in Singapore. Food courts accommodate this recipe. Ginger juice and spring onion work together to make the magic in this recipe just like it does in wonton filling. This simple Chinese recipe can be made without any clay pot. I used a pressure cooker to make this recipe. Instant pot can also be used for this recipe. Pressure cooker claypot chicken rice is a must to try the recipe at home.
Things needed for Pressure cooker claypot chicken rice
Long grain rice
Long grain rice is suitable for the clay pot chicken rice. If you prefer brown long grain rice the aroma and taste will be slightly different from white rice. I am using Daawat basmati rice for this recipe.
Chicken stock
Chicken stock gives aroma and flavour to the rice. I am using the homemade chicken stock. If you don't have the chicken stock you can use water instead.
Shitake mushroom
Dried shitake mushrooms are easily available. I am using the dried mushrooms to enhance the flavour and aroma. If you prefer the fresh one you can use.
Marinade
The marination is the process of pre-soaking the meat with sauce, condiments and spices. I am using sauces, spring onion, ginger and sesame oil for the marinade.
Sauces
I am not using any special and rare sauce in this recipe. The generally available and commonly used oyster sauce and soy sauce are used.
Fried Onion
This step is really optional.But if you add fried onion it will enhance the taste.
Similar International Recipes
High protein breakfast wraps– One of the Middle eastern vegetarian food. Tofu is plays the main ingredients in this recipe.
Tofu Japanese Curry– Japanese cuisine does not end without curry. This curry contains apple to sweeten the curry.This is a vegetarian curry.
Stuffed squid fried rice-This fusion recipe includes squid,broccoli and fried rice.
Tofu wonton ravioli pasta– Ravioli pasta made with filled wonton. Homemade pasta sauce is used as a base in this recipe.
Tom yum fried rice– This Thai cuisine recipe is made with store-bought sambal paste,lemongrass and kaffir lime leaves. This dish will be your all time favourite recipe.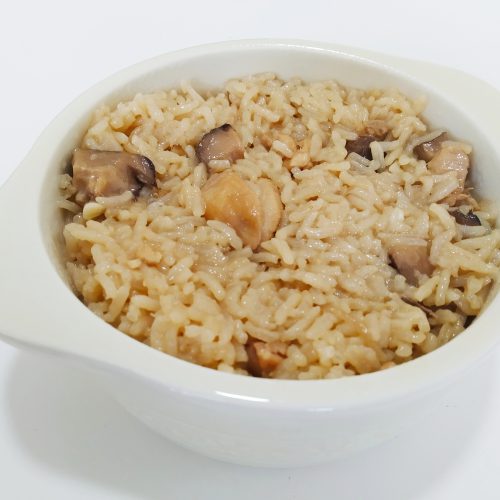 Claypot Chicken Rice (Pressure cooker method)
This recipe is a chinese style claypot chicken rice using pressure cooker with fewer ingredients and simple steps.
Ingredients
500

gm

Chicken

thin strips

5

nos

Shitake mushroom

dried

750

ml

Chicken stock or water

1

cup

Long grain rice

½

inch

Sliced ginger

Spring onion

Water-2 cups and 2 tbsp
For fried onion
1

Onion

medium-sized

3

tbsp

Oil
For Marinade
2

tbsp

Sesame oil

3

tbsp

Oyster sauce

2

tbsp

Soy sauce

1½

tbsp

Ginger extract

2

Spring onion

1

tsp

Sugar

Crushed black pepper
Instructions
Soaking
Soak the dried shitake mushroom in warm water for 20 minutes.
Marination
Add chicken in a bowl. Add soy sauce.

Add ginger juice. Mix well and keep aside.
Fried onion
Add the chopped onion and fry till the onion turns into golden brown.

Take out the onion from oil and keep aside.
Pressure cook
Add oil in a pressure cooker. Add the chopped shitake mushroom and fry for 2 minutes.

Add marinated chicken. Cook for 2 more minutes.

Add the washed rice and stir well to mix them.

Now, add water and mix. Add the fried onion and pressure cook for 2 whistles.

Sprinkle spring onion and serve hot.
Notes
Fresh shitake mushroom can also be used.
Basmati rice and Jasmin rice/fragrant rice can be best for this recipe.
This simple recipe contains less oil. Oil is used in frying onions only. I hope you enjoy this recipe as much as I did. Try it out and leave a comment on how it went. Any feedback is appreciated.
Subscribe to my YouTube channel GameOfSpice for more healthy vlogs. For instant updates about new recipes check out my Instagram. For recent updates, check out my Facebook page. You can also go through my pins on Pinterest. Check out my Yummly for healthy recipes.