I am not a fan of chocolate. But, I like black forest cake. The chocolate bitterness will stay in mouth and trouble consumers. If the dark chocolate is at one extreme, with bitterness the white chocolate is at the other extreme, being too sweet and bland. This was my perception.
I wanted to make some dessert using fresh mango. So I planned a recipe with mango pulp and cornflour. When I started preparing the mango mixture, I realized it will be better if the base is hard enough to hold the mango mixture until it sets.
In the middle of the cooking process, I decided to use chocolate for the base. I thought the bitterness from normal chocolate will dominate the mango flavour and I decided to go for white chocolate. I searched my cool rack in my refrigerator and found white chocolate.
Mangoes
I see that Thai mangoes are sweet and I used them in this recipe. These Thai mangoes are consistently sweet compared to other varieties. The shape is long compared to other varieties and yellow in colour.
White chocolate
I am using cooking chocolate and the brand I used has sugar. These white chocolates come in bars. I used to keep these cooking chocolate bars in the refrigerator to use them when needed.
Dessicated coconut
Coconut and chocolate always remind me of Bounty. The white chocolate is also pairing well with coconut.
Corn flour
I am using cornflour to make the mango puree a little soft and firm when filled above the chocolate.
Agar-agar
Here I am using agar-agar to set the mango puree. The mango puree sits nicely on top of the white chocolate base to make the cups of perfect shape.
Similar agar-agar recipes
Mango Jelly– Simple mango jelly recipe made using fresh mango and agar-agar strips. This recipe does not contain any gelatin.
Red ruby milk pudding– This traditional and well-known Thai dessert is famous in most Thai eateries. This recipe has some modifications to make it into a low-fat version.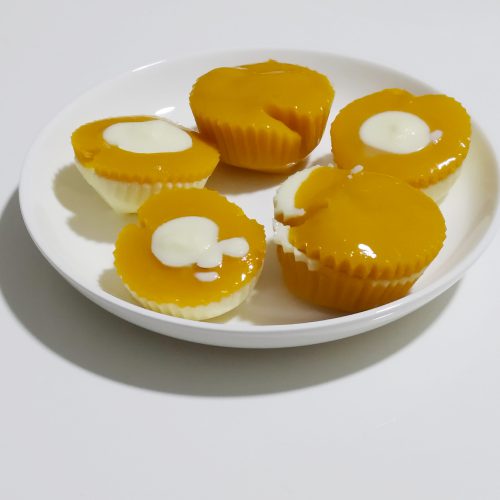 White chocolate mango cups
A simple dessert recipe made using fresh mango and placed on top of the white chocolate to make a cup.
Ingredients
2

Mango

(small-sized)

1

cup

Water

1½

tbsp

Cornflour

1½

tbsp

Agar-agar strips

3

tsp

Dessicated coconut

200

gm

White chocolate
Instructions
Puree the mango and keep aside.

Grind the agar-agar in blender to make them into small pieces.
For agar-agar
Add ground agar-agar and cook until all the strips completely dissolve in water.

Now add mango puree and cornflour in the agar-agar mixture. Mix well and make sure their are no lumps formed.

Cook the mixture in low to medium heat.

Cook it until the mixture thickens but is in pourable state.
For white chocolate mixture
Double boil the cooking white chocolate until it thoroughly melts.

Add desiccated coconut and mix well to merge with white chocolate.

Pour the white chocolate mixture until half of the lined muffin tray.Leave it for 15 seconds to set.

Now pour the mango mixture on top of the white chocolate.

Pour the white chocolate on top of the mango mixture.

Keep refrigerated until you serve.
Notes
Cooking white chocolate works better for this recipe.
Be cautious while double boiling to avoid the vapour or water from getting into the white chocolate. This will increase the liquidity of the white chocolate.
Try to use the ripe sweet mango to get the more sweetness.
Similar mango desserts
Mango Sago– This is a Hong Kong-based dessert recipe. The original Hong Kong version includes Pomelo (fruit). But it is prevalent in most of the South-East Asian countries with some variations.
Mango Jelly– Simple jelly recipe made with fresh mango and agar-agar strips. This recipe does not contain any gelatin.
4 ingredients mango mousse-Mango lovers will not be ready to miss this exciting dish. You must try this mango mousse recipe right away.
Subscribe to my YouTube channel GameOfSpice for more healthy vlogs. For instant updates about new recipes check out my Instagram. For recent updates, check out my Facebook page. You can also go through my pins on Pinterest. Check out my Yummly for healthy recipes.