Need a quick food for lunch or dinner? Are you a healthy seeker? Don't want to order food?
Let us go to this simple quick fix for a pizza craving. This is an easy crispy Hawaiian tortilla pizza, a vegetarian pizza made using tortilla wraps. If you don't have enough time to make a traditional pizza then this jiffy recipe will work for you.
What you need to make a Crispy Hawaiian tortilla pizza
Tortilla pizza
This simple recipe contains tortilla as the pizza base replacing the regular pizza base made using plain flour/all-purpose flour. I am using the store-bought multigrain tortilla wraps. You can select healthy alternatives like Quinoa, Oats, wholemeal, whole wheat tortillas for the base. The store-bought tortilla has long shelf life so you don't need to run to the supermarket every now and then for tortillas. You can easily store them in your pantry.
Toppings
Let your imagination loose and go wild with the topics! I am making a vegetarian pizza so I am adding paneer/cottage cheese, capsicum and button mushrooms. You can choose your choice of vegetables, ham and sausage to make the pizza more versatile. Last but not least, I added mozzarella cheese.
Hawaiian Pizza
What makes a pizza a Hawaiian pizza? Of course, the ingredient specific to Hawaiian pizza. The pineapple is the key ingredient here. Be generous when you add pineapple chunks to get the Hawaiian flavour. Generally, the Hawaiian pizza includes fewer toppings and definitely includes pineapple and ham. To make this pizza more healthy and vegetarian I am adding paneer/cottage cheese and pineapple.
Similar baked recipes
KUNAFA- simple and easy Middle Eastern recipe– This is a version of a rich, creamy, sweet dessert covered in a crunchy outer layer topped with your favourite cream and pistachio. The description itself makes the mouth water.
FALAFEL 2 ways-baked and fried– Falafel is a traditional Arab food. This delicious food is made of chickpeas or fava beans. This crispy food is prevalent in Middle east though they are thought to have originated from Egypt. This vegan or vegetarian food is a good replacement for meat as they contain the required protein.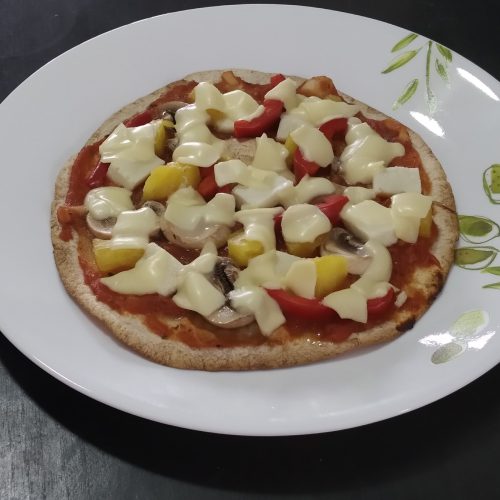 Tortilla recipe | Crispy Hawaiian Tortilla Pizza
A quick vegetarian and healthy pizza recipe made using tortilla and paneer/cottage cheese. A hawaiian style pizza that includes pineapple in its topping.
Ingredients
2

Tortillas

½

cup

Cottage Cheese/paneer

½

Capsicum/bell pepper

1

tbsp

Tomato ketchup

½

cup

Homemade pasta sauce

1

tsp

Chilli sauce

½

cup

Pineapple chunks

4

singles

Mozarella cheese
Instructions
Place the tortilla in a lined baking tray.

Meanwhile, preheat the oven to 160°C for 10 minutes.

Spread the sauce mixture on top of the tortilla.

Place the paneer/cottage cheese above the sauce.

Place the sliced mushrooms.

Place the capsicum/bell pepper.

Place the pineapple chunks.

Sprinkle the mozarella cheese.

Place the topped tortilla in the oven.

Bake the tortilla for 8 to 10 minutes or until the sides are ligtrly brown.

Serve with chilli flakes,powdered cheese for extra add-ons.

Serve the pizza immediately to enjoy the crispy texture.
Notes
I am using the store-bought tortilla wraps.
The multigrain, oats, quinoa, wholemeal, tortillas work the same way as wholemeal tortilla works.
I am using homemade pasta sauce in this recipe.
Similar recipes
Milo Jelly-Simple Milo jelly using agar-agar strips and Milo. A Kids-friendly recipe with fewer ingredients even kids can make this recipe.
4 Ingredients Mango Mousse– Mango lovers will not be ready to miss this exciting dish. One of the best and easy mango recipe to try in this mango season.
Set up a topping bar (with loads of veggie options) so your children can get creative and make their very own Pizza. When you add vegetables you can include pre-cooked vegetables. These are the vegetables goes well when precooked:
Tomatoes (sliced),
Roasted vegetables (bell peppers/capsicum, asparagus, onion, snow peas, sweet potato),
Olives (sliced),
Mushrooms (sliced & sauteed),
Spinach (wilted),
Zucchini (ribboned),
Pineapple (small chunks),
Cooked meat (shredded chicken etc)
I am using homemade pasta sauce and you can try these pasta sauces:
Pesto sauce
White sauce
Arrabbiata sauce
Marinara Sauce
Subscribe to my YouTube channel GameOfSpice for more healthy vlogs. For instant updates about new recipes check out my Instagram. For recent updates, check out my Facebook page. You can also go through my pins on Pinterest. Check out my Yummly for healthy recipes.
---