Roselle is native to West Africa. It is a variant of Hibiscus. Hibiscus juice has an important place in Thai cuisine. It accompanies most Thai recipes nicely.
By the way which part of the hibiscus, we can use?
To use hibiscus, colored flowers are used to make hibiscus tea, while dried tea leaves are used to make regular tea. The petals of the flowers are used fresh or dried, depending on the recipe.
What does Roselle taste like?
Roselle has a crisp tart berry and rhubarb taste. They taste like cranberry or pomegranate. The mild sweetness of the hibiscus helps to avoid or reduces the addition of sugar.
They combine with sugar to produce a delicate light flavor. The vibrant color and punch of its taste will make us drink it frequently.
Are Hibiscus and Rosella the same?
The names roselle, rosella, and hibiscus are used interchangeably. Hibiscus flowers have big, soft petals that can be easily dried in the sun, while roselle flowers are water-rich, with thick petals and a big seed in the center. While all true roselle plants are hibiscus plants in the scientific sense, not all hibiscus plants are roselle.
Hibiscus benefits
Hibiscus is a rich source of powerful antioxidants (flavonoids and anthocyanins), and vitamins A, B, and C. Additionally, the calyx of the hibiscus plant is used to treat urinary tract infections, constipation, and lower blood pressure and cholesterol levels.
Detox juices to try
SUGAR-FREE GREEN APPLE SOUR PLUM JUICE-A sugar-free detox juice that includes green apple and sour plum.
LEMONGRASS PANDAN JUICE– A herbal tea /juice that includes lemongrass and pandan leaves.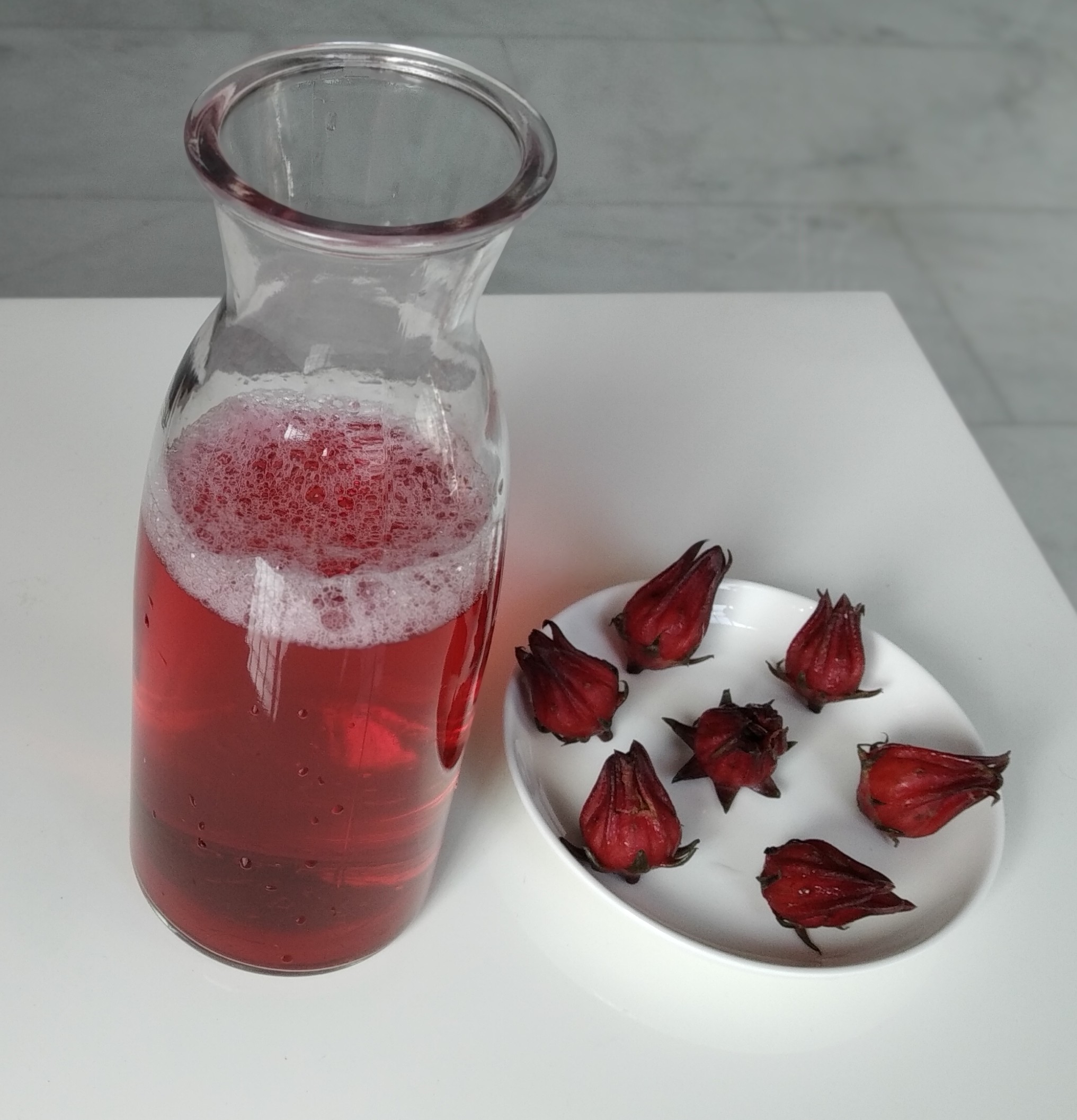 How to make hibiscus juice | Roselle tea | Detox
A healthy herbal detox juice which is famous in Thai cuisine
Ingredients
Roselle-200 gm

approximately 20 to 24 roselle based on the size

Water-2.5 liter
Instructions
Deseed the roselle flower.

Wash and drain the excess water.

Bring the water to a boil. Add roselle flowers and cook covered in low heat for 20 to 30 minutes.

Keep it aside and let it cool down completely.

Add ice cubes to drink it cold.
Notes
Make sure to deseed the roselle flowers before boiling them.
Add sugar based on your sugar preference.
Subscribe to my YouTube channel GameOfSpice for more healthy vlogs. For instant updates about new recipes check out my Instagram. For recent updates, check out my Facebook page. By the way, you can go through my pins on Pinterest. Check out my Yummly for healthy recipes.