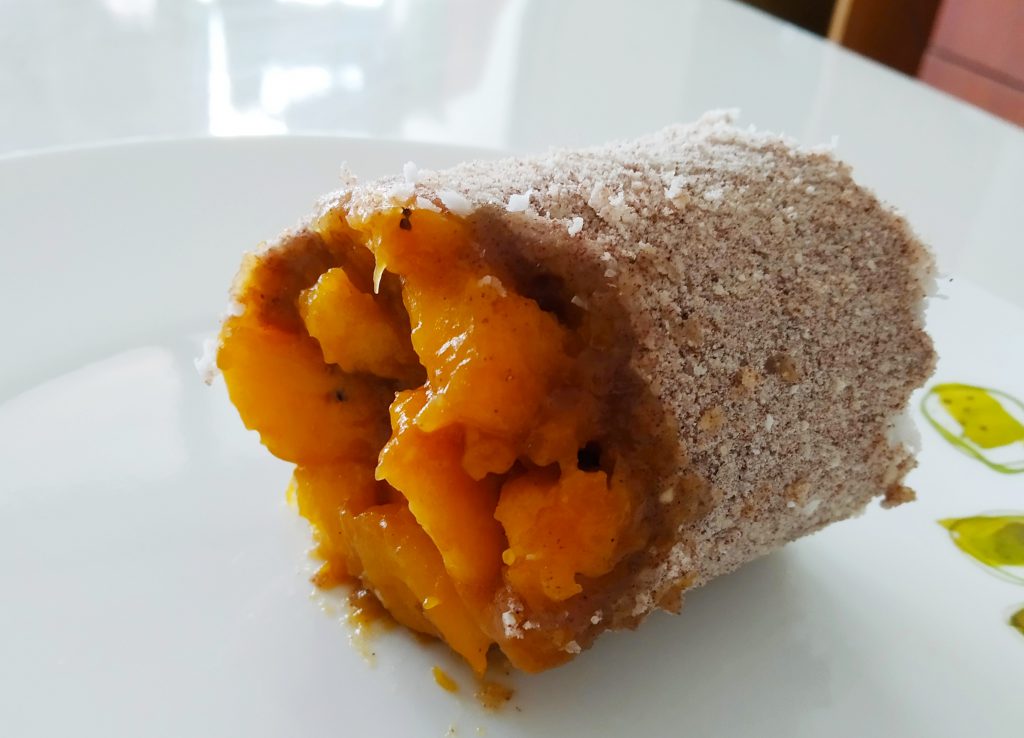 I am planning to make a healthy finger millet puttu/steam cake as a snack using Puttu flour for my hungry kids.Puttu is a steamed breakfast from the southern part of India. People who live in Kerala and the Tamilnadu-Kerala border districts frequently make this delicious breakfast.
Traditionally, Puttu is made with bamboo logs. Even small tea shops and small restaurants will provide this dish as breakfast in Kerala.
Puttu is a heavy breakfast as it is made out of rice flour. I like to prepare the Puttu with red rice which is called Chamba Puttu.
Nowadays I am also including millet in our daily routine. So, this recipe turned into a finger millet Puttu.
Nowadays kids are nagging for snacks especially when they are at home for long hours. As I stopped packed snacks except for some brands of biscuits, I have to make new snacks for them.
I bought Nenthran bananas from an Indian shop last week. They become ripe and ready to eat. I am using Nenthran banana in between Puttu flour to make it delicious to eat without any curry. Also, my kids love the sweet taste of the bananas, so this was ideal.
What do we need to make healthy finger millet puttu/steam cake
Rice flour
Use the roasted rice flour for making puttu/steam cake. If you have unroasted rice flour make sure to roast it until the nice aroma comes out from the flour and the flour colour changes slightly.
Ragi flour/finger millet flour
Make sure to roast the ragi flour before adding to prevent a sticky texture. Dry roast the flour until the colour slightly changes and nice aroma comes out from.
Coconut
Fresh coconut is the best option if you can find. Otherwise go for the grated frozen coconut to achieve the best results.
Nendran banana
Semi ripened banana is best to use. If the banana is overripe it will be mushy and stick all over the puttu maker and tastes too sweet.
Jaggery/palm sugar
Powdered palm jaggery/palm sugar is the sweet we are using here to go for nutrient-rich version.
Oil/ghee
Preparing the banana mixture can be achieved using oil. If you prefer rich taste and aroma then use ghee.
Cardamom powder
Cardamom powder is used to make the banana mixture more flavorful and tasty.
Similar healthy recipes
Sugar-free green apple sour plum juice– A simple and healthy sugar-free juice recipe made using green apple and sour plum.
Vegetarian/vegan sushi-An oil-free snack or dinner recipe made using rice, vegetables and the superfood-Seaweed.
Baked wonton chips-A baked chips made using wonton wraps. A simple and less oily homemade chips easily satisfy midday hunger.
Thai-style steamed fish with lime and ginger– An aromatic and flavorful steamed fish dish made in Thai-style using lime, ginger and lemongrass.
Breakfast/snack Ideas: How to make healthy finger millet puttu
A healthy puttu/steam cake made using finger millet flour along with rice flour and can be made as a sweet version with Kerala/Nendran banana
Ingredients
Roasted Rice flour-1 cup

Roasted finger millet flour-1/2 cup

Grated coconut

Salt

Water
For banana stuffing
Chopped Nenthran banana(big-sized)-2

Jaggery or palm sugar-4 tbsp(based on your sweetness preference)

Grated coconut-1 tbsp

Oil or Ghee-2 tsp

Cardamom powder-1/4 tsp
Instructions
Add rice flour, finger millet flour and salt in a mixing bowl. Don't add all the water at once. Sprinkle some water at frequent intervals and mix them.

To get soft Puttu, the rice flour to water ratio is important.

To check this, gently press a small portion of the flour between your palms. It should form a lump. When you press this flour lump more, it breaks and crumbles. This should be the texture of the flour.

Heat oil or ghee in a pan, add the Nenthran banana and roast. After a few minutes, add jaggery, cardamom. Cook for some more time until the banana slices become a little soft. Add grated coconut and keep aside for cooling.
Steaming puttu
To make Puttu, you need the Puttu pot and cylinder part which comes along with the pot.

Fill the Puttu pot halfway with water. Allow it to boil.

Meanwhile, place the perforated disc inside the cylindrical vessel. Now, add 2 tbsp of grated coconut into the cylinder on the disc.

Add Puttu flour until it makes up half of the cylinder.

Add 2 tbsp of the banana mixture and add the Puttu flour.

Now, add 2 tbsp of grated coconut to cover. This will help the flour from coming out of the cylinder when the steam comes out.

Keep the cylinder part in the pot and allow it to cook. When you see a lot of steam coming out from the holes of the cylinder, turn off the heat. You can smell the aroma of cooked rice flour when it is ready.

Allow it to cool down for 2 to 3 minutes. Serve hot.
Notes
It goes along with boiled green gram(Payar), papad, sugar and banana. you can enjoy with small garbanzo beans/chickpea curry.
Potato stew or veg stew, chicken curry, egg curry, mutton curry can also be paired with Puttu.
You need Puttu maker to try this recipe. If you don't have a Puttu maker, Idli cooker can be used. Spread enough flour in the idli plates and place banana mixture and cover again with Puttu flour. Add coconut on top of that.
I am using the store-bought rice flour and store-bought finger millet flour.
If you can't find the roasted finger millet flour, roast it before adding. This step cannot be missed as roasted finger millet flour gives flavour and prevents from sticking.
The 1:1/2 ratio of Rice flour and finger millet works perfectly if you are trying finger millet for the first time and you are worried about its flavour as this will not be very different from rice flour.
Finger millet flour can be fully replaced by rice flour.
If you want the Puttu to be soft, use a blender to pulse the rested flour once or twice.
Nendran banana gives nice texture and taste. If other types of banana are used the banana will become mushy as they are not dense like Nenthran banana.
If you don't want to add banana stuffing and wanted to eat with any other curry skip the banana stuffing and continue with the rest of the steps.
Kadala curry (garbanzo beans)and dried green peas curry are the best-suited ones.
Similar Kerala recipes
Buttermilk curry| Mor kulambu– One among the Onam Sadhya recipes- a comforting coconut-based curry made using buttermilk/curd/yoghurt with mild spice.
Moong/mung dal | Pasi paruppu payasam-One among the Onam Sadhya recipes-a sweet dish made using mung/moong dal and coconut milk/cream.
Steamed apple cake-A simple steamed evening snack/special day dessert that can serve warm or chilled.
Subscribe to my YouTube channel GameOfSpice for more healthy vlogs. For instant updates about new recipes check out my Instagram. For recent updates, check out my Facebook page. You can also go through my pins on Pinterest. Check out my Yummly for healthy recipes.