This traditional and well-known Thai dessert is famous in most Thai restaurants. Not to mention that this is one of my family's favourite dessert too. We like to finish our course of a meal with either Mango sticky rice or Red ruby.
One of the main ingredients in this recipe is coconut milk. The coconut milk gives the nice fresh sweet taste to this recipe.
I am making this recipe using milk instead of coconut milk to make it healthier and low-fat recipe. I am using agar-agar to make this red ruby into a pudding.
Tub Tim Krob or Thapthim krop is a Thai name for the Red ruby we are planning to make.
What is red ruby milk pudding dessert made of?
Water chestnut
A Chinese staple vegetable prominently used in Chinese cooking. A vegetable looks like a chestnut in colour and shape. But it has nothing to do with chestnut. This is an aquatic tuber vegetable that grows in water.
Food colour
Red food colour or any natural red colour will work in this recipe. The outcome of red rubies on white background can be achieved through good quality food colour or natural red colour from any food.
Tapioca flour
Store-bought tapioca flour works fine for this recipe.
Milk
The regular low-fat milk is the dairy I am using in this recipe.You can opt for full cream milk if you wish so for a creamy texture.
Sugar
Raw sugar is the sweetner I am using here.You can add any colourless sugar or sweetener to retain the white colour.
Pandan leaves
These aromatic leaves gives mild flavour to the pudding.These pandan
Agar-agar
An alternative to gelatine,I am using agar-agar to make a jelly like substance.
Similar pudding recipes
Low-fat alcohol-free pina colada pudding-A refreshing pineapple pina colada made using low-fat ingredients to make it healthier.
Banana pudding-A banana based steamed pudding suitable for evening snack.
Custard bread pudding-A leftover bread recipe incorporates a custard sauce to moisten and decorated with almond and chocolate sauce.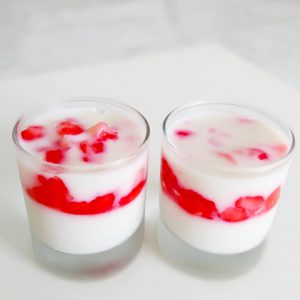 Thai cuisine: How to make a low-fat ruby milk pudding
A Thai recipe made into a low-fat pudding for a refreshing dessert.
Ingredients
Water chestnut-12

Red food colour-1/4 tsp

Tapioca flour-1/2 cup

Milk-1 1/2cups

Sugar-6 tsp

Pandan leaves-3

Agar-Agar-8 to 10 gm

Water-1/3 cup
Instructions
Clean and wash water chestnuts to get rid of dirt and mud.

Peel off the skin and wash again.

Chop the chestnuts into small chunks. Add the food colour to the water chestnut and mix well. Keep this aside for 20 minutes.

Now mix the tapioca flour in the chestnuts and mix well until the flour coats and covers all the sides of the chestnuts.

Meanwhile pour water in a pan and bring it to boil. Add pandan leaves and cook for some more time until the leaves release the fragrance.

Add the Agar-Agar, sugar and cook till all the strands mix together with water and no strands are visible.

Bring the milk to boil in another pan or pot.

Add the Agar-Agar mixture into the boiling milk and cook for few more minutes until everything blends together. Keep this aside to cool down.

Now bring to boil the water in a big pan or pot. Add 2 tsp of sugar into it. When you see bubbles, add the chestnuts and mix them frequently to avoid sticking together.

Cook till the chestnuts float on top of the water. Strain the excess water.

Take cold water in a bowl and add the chestnuts. Keep aside.

When the milk is warm enough to handle, pour this into a glass bowl or cup until it reaches half.

Keep this in the refrigerator for 10 minutes to set.

Now, place the chestnuts above the milk mixture in the cup. Pour the remaining milk and keep this in the refrigerator for 30 minutes.
Notes
Give a nice and thorough the wash to the chestnut to get rid of the mud and dirt.
Consume the red ruby pudding on the same day itself otherwise, the crunchiness will be lost.
If you are making the milk and Agar-Agar mixture in one sitting, after setting the red ruby in the refrigerator the remaining milk mixture will also set. So, reheat the mixture and pour over the red ruby and keep them in the refrigerator for the setting.
To make a natural red food colour:Ingredients: Beetroot
Method: Wash and peel the skin of the beetroot. Grate the beetroot using a cheese grater. Sundry the grated beetroot for 3 to 4 days to get ita moisture free and dry. Or, use the oven to dry completely. Preheat the oven to 180 C.Roast the beetroot in the oven for 15 minutes. Make sure to stir after every 5 minutes to avoid burning. Grind into a fine powder and store in the refrigerator.
Low-fat recipes to try
Kunafa-Middle Eastern low-fat dessert-A low-fat Middle Eastern dessert made using fried vermicelli and pistachio.
Low-fat dessert-Mango sago-A refreshing low-fat dessert made using sago pearls and fresh mango.
Subscribe to my YouTube channel GameOfSpice for more healthy vlogs. For instant updates about new recipes check out my Instagram. For recent updates, check out my Facebook page. You can also go through my pins on Pinterest. Check out my Yummly page for healthy recipes.