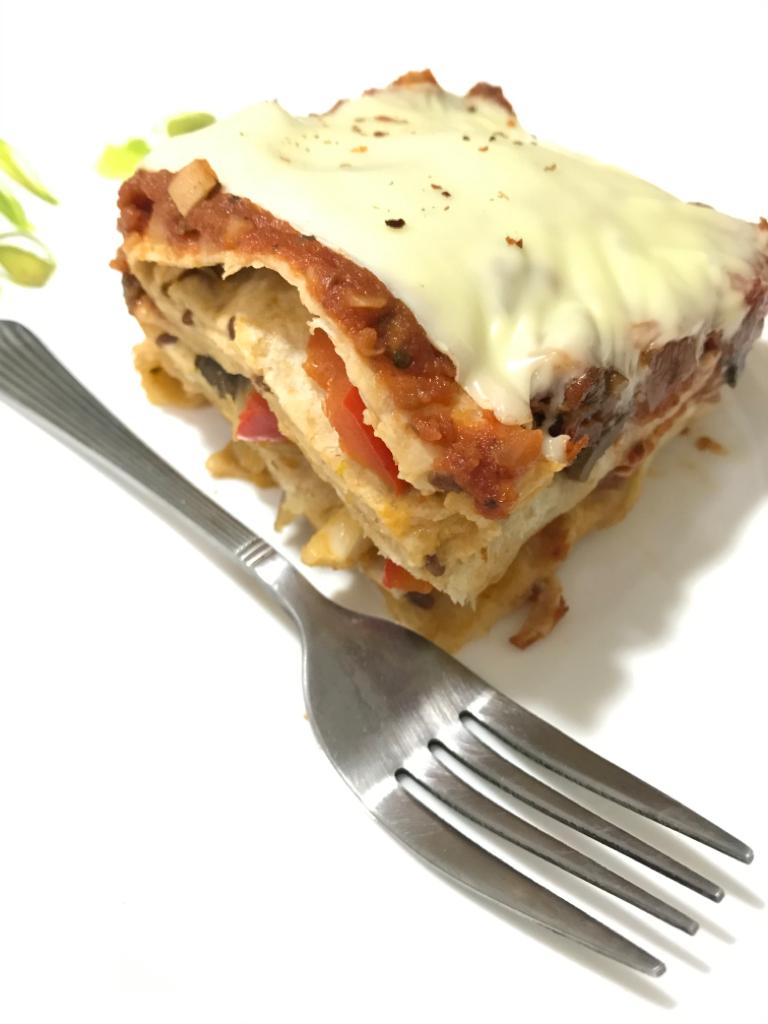 Today's recipe is a tortilla lasagna made on stovetop without oven or equipment.
I had planned to prepare lasagna last week and bought some mozzarella cheese as well. But a lot of workload and kids' exams insisted me to postpone this recipe.
And I forgot that I ran out of lasagna sheets. So I searched my pantry desperately to find some alternative for lasagna.
I had already pre-prepped pasta sauce and other ingredients for the lasagna. So I didn't want to keep them in the refrigerator for future use. I searched my pantry and found some random items like Fusilli pasta, Tortilla wraps and some Couscous too.
I made my mind and decided to continue the lasagna recipe with Tortilla wraps. Here I am using multigrain Tortilla wraps and homemade pasta sauce.
The things needed to make stovetop tortilla lasagna
Multigrain tortilla wraps
The multigrain tortilla wraps gives more nutrients than the regular flour tortillas. The single pack of this multigrain tortilla wraps contains 8 tortillas.
vegetables
Mushrooms,onion and bell pepper are the vegetables I am using in this recipe.You can add your choice of vegetables like corn, asparagus, carrot, cauliflower, broccoli to boost the nutrient intake.
Chicken
I like to use Kampong chicken whenever possible. I chopped the chicken into tiny chunks to easily incorporate the chicken into pasta sauce while arranging them for layers.
Homemade pasta sauce
I used homemade pasta sauce I usually prepare for my routine meal prep.
Cheese
Mozzarella cheese singles works fine here.If you want to used the shredded mozzarella cheese that works fine too.
Seasoning
Other than salt and pepper as the regular seasoning I like to add taco or peri-peri to give a flavourful spicy taste.
Olives
What?An Italian pasta without Olive? There may be…I love to add olives wherever I can. If you get stuffed olives…give it a try.
Similar Italian recipes
Baked stuffed shells -A baked stuffed shells pasta recipe contains tofu,asparagus,mushroom and cheese.
Wonton ravioli pasta-A tofu,mushroom,spring onion,soy sauce stuffed ravioli made using wonton wraps are served with tomato based sauce.
Pasta arrabiata-A homemade pasta arrabiata sauce served with penne pasta to make a simple Italian recipe.
Hearty pasta soup-A hearty vegetable loaded soup recipe which contains soup pasta to compensate the carbohydrate requirement.
1cup=250 ml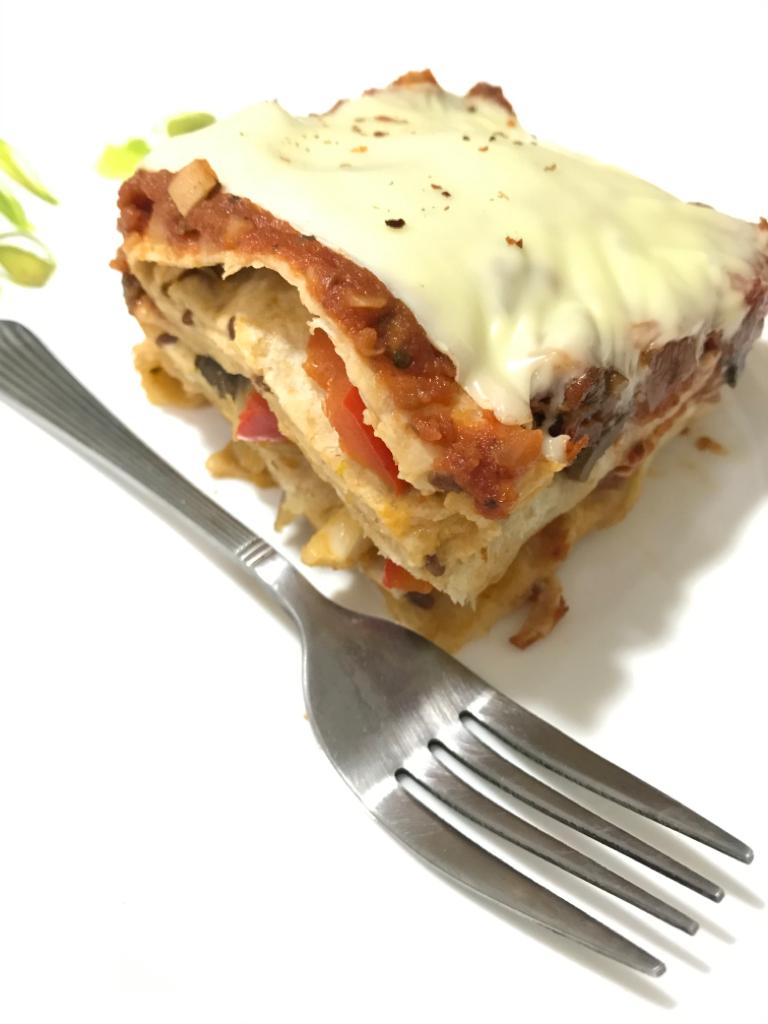 How to make tortilla lasagna on the stovetop
An oven-free, stovetop lasagna recipe made using store-bought tortilla.
Ingredients
Multigrain Tortilla wraps-8

Homemade pasta sauce-1 1/2 cup

Chicken chunks-250 gm

White button mushroom-200 gm

Sliced onion-1

medium-sized

Bell pepper-1

medium-sized

Black Olives/Green olives

Milk-1/2 cup or cream -1/4 cup

Mozzarella cheese singles-4

Taco seasoning or peri-peri seasoning-2 tbsp

Salt

Oil or butter
Instructions
Heat oil in a pan. Add chicken chunks, salt and fry for 3 minutes. Add seasoning, and saute. Keep aside.

Fry the onion, half of the mushrooms and bell pepper in oil. Saute until the onion colour changes and keep aside.

In a hot pan add oil. Add the remaining mushrooms and fry. Now add the pre-prepared pasta sauce. Season the pasta sauce with salt and pepper if required in this stage. Add milk and cook until everything blends together.

Add the chopped olives and keep aside.

Meanwhile, separate the wraps. Place the chicken stuffing and onion bell pepper mixture in the centre of the wrap. Fold the wrap and keep aside.

Do the same with the rest of the wraps using chicken and onion mixture. Fold them and keep aside.

Grease the baking pan with little oil or butter. Spread the pasta sauce. Now arrange the wraps above the pasta sauce. Now pour some pasta sauce over the wraps. Place the mozzarella cheese singles on top of the sauce.

Repeat the same steps for the rest of the wraps too. Garnish the top layer with mozzarella cheese again.

Place the Iron Tawa on the stovetop in medium heat. Place the baking pan on the Tawa in medium heat for 3 minutes. Cook them in low heat for 10 more minutes.

Changes and rotate the baking pan in between to get evenly cooked lasagna.
Notes
Use chilli flakes in the pasta sauce if you prefer spiciness.
I used the store-bought multigrain tortilla wraps. Wholemeal, Oats, Quinoa wraps will work as well.
Subscribe to my YouTube channel GameOfSpice for more healthy vlogs. For instant updates about new recipes check out my Instagram. For recent updates, check out my Facebook page. You can also go through my pins on Pinterest. Check out my Yummly page for healthy recipes.