Potato smileys are my kids' favourite. Even we adults like a happy face. I Tried the same old potato smiley recipe with sweet potato to make the recipe healthier.
Lesser ingredients make the recipe more convenient to prepare even in weekdays. I deep fried the smileys as the main consumers are my kids. If you prefer the less oil version, try Air-frying the smileys based on the manual provided by the air fryer.
I used to prepare my bread crumbs using store-bought bread. As we cannot finish the whole loaf I will dry them in the sun and crumble using a blender.
What do we need to make a crispy nutritious sweet potato smiley
Sweet potato
Sweet potato is the key ingredient here. We are replacing regular potatoes with highly nutrient sweet potato to make this recipe nutritious. The regular purple-skinned yellow flesh sweet potatoes are used in this recipe. If you want a twist you can choose the purple sweet potatoes to get a purple smiley.
Bread crumbs
I used breadcrumbs to bind the mashed sweet potato and it gives a nice taste
Rice flour
Rice flour is used as a binding agent and to increase the volume of the recipe. The result was a crispy smiley.
Seasoning
Mild spiciness achieved through chilli powder or pepper powder here.
SImilar recipes
Crispy baked wonton chips in oven – A crispy baked chips made using wonton recipes.A customizable chips recipe that will enlighten your imagination for topping and seasoning.
Homemade tangy fox nut/lotus seed– A simple and healthy snack recipe made with lotus seed with the tangy and sweet seasoning.A better option for movie time snack and mid day snack.
Quick masala lotus seed– A healthy crunchy lotus seed snack with simple spices.The best alternative to butter popcorn with low fat and simple seasoning.
Paneer balls– Paneer merges with bread and potato in this recipe to enhance the taste. Potato is used as a binding agent in this recipe.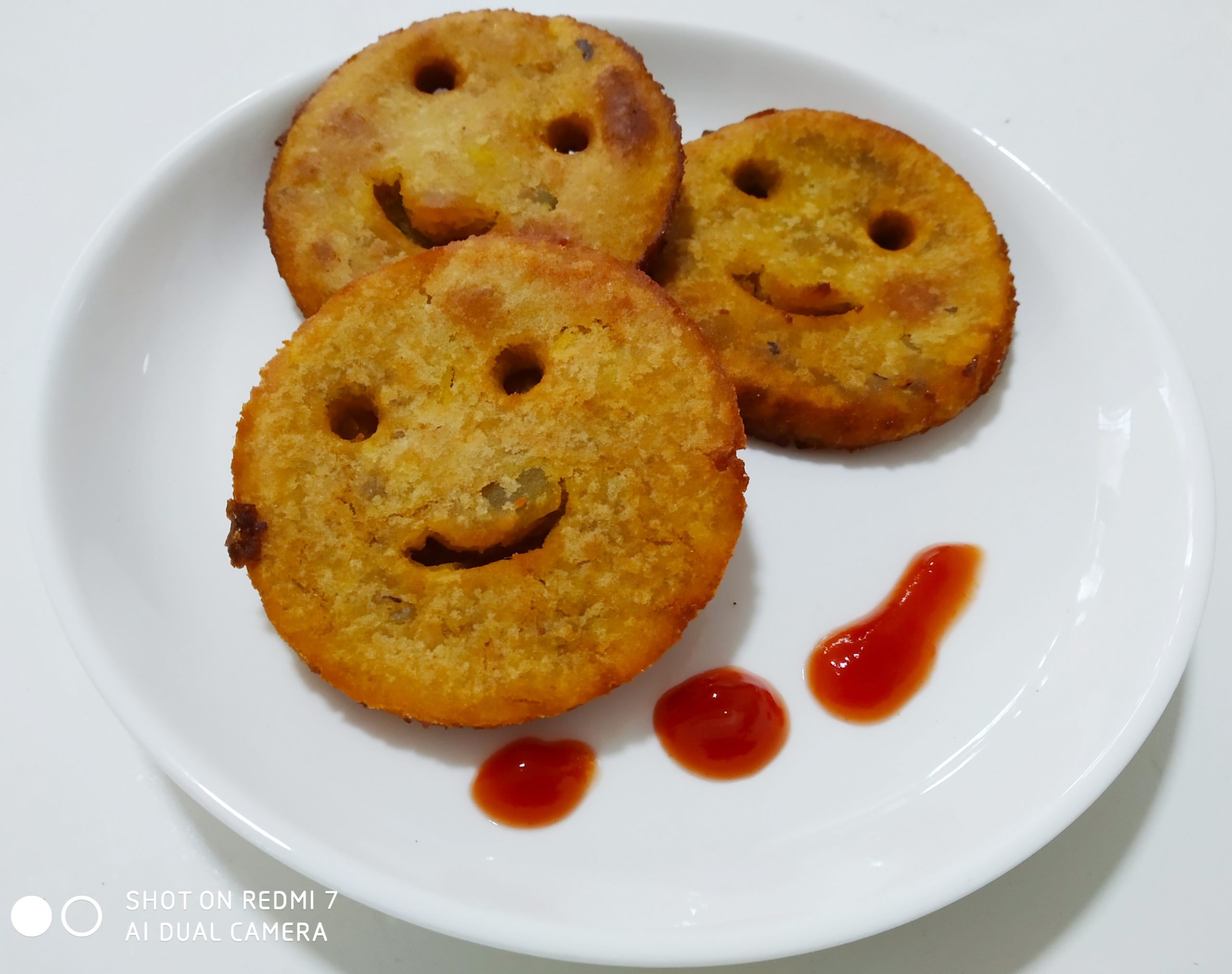 Kid-friendly recipes – How to make Crispy nutritious sweet potato smiley
A smiley recipe with the goodness of nutrients from sweet potato.
Ingredients
Boiled Sweet potato-1 cup

Bread crumbs-1/2 cup

Rice flour-1/4 cup

Chilli powder-1/4 tsp or pepper powder-1/4 tsp

Oil

Salt
Instructions
Mash the boiled sweet potato. Add breadcrumbs, rice flour, salt, chilli powder or pepper powder.

Mix them until everything blends together. Now make a dough.

Partition the dough into 2 or 3 small doughs.

Flatten the dough above a baking paper by using your palm or rolling pin.

Use a circle-shaped cutter and cut the flattened dough. Now use a straw to make eyes. Use a toothpick to make a smile. Keep them aside.

Deep fry the smileys. Serve hot with Tomato ketchup or Mint-cilantro chutney.
Notes
Make sure there are no lumps when making the dough.
The same recipe can be used to bake the smileys.
An air fryer can be used to avoid the deep-frying process.
If you like Italian seasoning you can add that too.
This recipe can be frozen for future use. After preparing the smileys, freeze them in ziplock pouches. When you need them to take out from the freezer and fry or air fry.
Subscribe to my YouTube channel GameOfSpice for more healthy vlogs. For instant updates about new recipes check out my Instagram. For recent updates, check out my Facebook page. You can also go through my pins on Pinterest. Check out my Yummly page for healthy recipes.