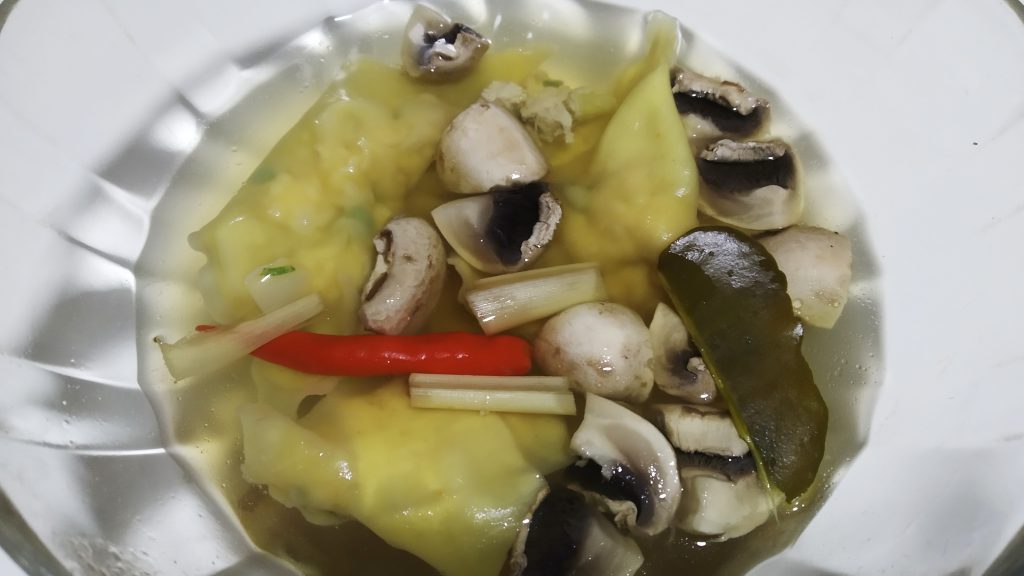 I opted to fuse my favorite Chinese dish, wonton, with the renowned Thai soup, Tom Yum, to create an Asian culinary delight for my blog. I am excited to share my recipe for a delectable clear soup that combines the distinctive flavors of Tom Yum and the savory wonton. This recipe is surprisingly simple to prepare and promises a burst of rich flavors that will tantalize your taste buds.
Tom yum vs Tom Kha
Clear Tom yum vs red Tom yum
Tom Yum and Tom Kha share similarities in terms of their ingredients and flavor profiles. Both dishes have a sour and spicy taste. However, they differ in appearance and preparation, with Tom Kha being less spicy and characterized by its sweetness and creaminess from the addition of coconut.
Chop or lightly pound the ingredients and add them to tom yum to create a clear and mildly spicy soup. On the contrary, Tom Kha utilizes ground ingredients, giving the soup a spicier flavor profile. Additionally, I added coconut cream to create a thicker and sweeter soup.
Wontons
To make wontons, mix flour, egg, salt, and water to create the dough wrappers that will encase the filling, which can consist of chicken, seafood, tofu, vegetables, or other ingredients. Boiling or steaming the wontons is a common Chinese cooking method used to make them healthier. However, some recipes require deep-frying or shallow-frying the wontons.
Dumplings vs Pot Stickers
Dumpling is a generic term used to mention the pieces of dough wrapped around a filling, or of dough with no filling. The dough can be based on bread, flour, or potatoes, and may be filled with meat, fish, cheese, vegetables, fruits, or sweets.
Generally, dumplings are larger in size and are either boiled or pan-fried (although some can be steamed, those are rare). The fillings for dumplings can be meat, seafood, and vegetables.
Every dumpling has its own individual name, be it a Xiao Long Bao (soup dumpling), Jian jiao (pan-fried dumplings), or Baozi (steamed soft bread bun filled with bbq meat or other fillings).
Pan-frying is the cooking method used to prepare potstickers, which are dumplings. This method is unique and involves a combination of "steam-fry" techniques. First, the dumplings are lightly browned in oil. Then, water is added to the pan, and it is covered to steam and cooks the dumpling filling. Finally, the lid is removed to allow the water to cook off, and the dumplings are pan-fried until crispy on the outside.
Dim sum
Dim sum is a Cantonese food and refers to small bite-sized dishes that are served in bamboo steamer baskets or on small plates. The dim sum is steamed, baked, or fried and available in a sweet and savory taste. The steamed and fried versions are used in starters and the baked ones are preferred along with tea.
Gyozas
Gyoza is a Japanese dumpling filled with moist and juicy ground meat and vegetables, steamed and pan-fried to crispy golden brown on the bottom. A replica of a potsticker from Chinese cuisine.
Fried wontons
Fried wontons are among the famous and easy-to-make snacks as well as party food. These fried wontons are Chinese dumplings filled with meat or other savory ingredients. While they are commonly made for wonton soup, the nice and crispy wontons take place as an appetizer or starter on the restaurant menu.
Crab Rangoon
Crab Rangoon is a version of fried wontons filled with cream cheese and crab filling.
Wonton filling
Common wonton filling includes meat, poultry, seafood, tofu, and vegetables like mushrooms, water chestnuts, chopped-up Asian greens, and even carrots.
How to make wonton
The generic ingredients to make wonton include flour, egg, salt, and water. However, I opted for store-bought wonton wraps, which are readily available in supermarkets. Nevertheless, if you have the time and interest, you can give making your own wonton wraps a try.
Wonton folding
Folding wonton is a good time-pass and creative activity to try on. Be it a bonnet, diamond, scrunch, ravioli, samosa, envelope, ingot, folding arm, or pointed star; there are many folding styles to try and cherish!
Wonton gluten-free vs whole meal
If you're concerned about gluten, opt for gluten-free wonton wrappers. Therefore, feel free to savor the wontons with your whole heart.
What do we need to make a clear tom yum wonton soup
For wonton
I am using minced chicken, ginger, green onions, and soy sauce to make the filling for the wonton. Use a food processor/blender to make the chicken into tiny chunks.
For Soup
Furthermore, I am incorporating a range of Asian herbs, including galangal, lemongrass, bird's eye chili, kaffir lime leaves, and cilantro, as well as mushrooms and onion in the soup. It's crucial not to overlook any of these ingredients, as they are the essence of the soup. Omitting any listed ingredients may result in an unsatisfactory outcome. Additionally, lime/lemon juice and fish sauce are the key components that provide the soup with its distinct flavor and aroma.
Fusion recipes to try
Spaghetti ka prao- A basil chicken recipe served with spaghetti to make it healthier and versatile.
Boba custard pudding– A steamed custard pudding topped with sweet boba(bubble tea) pearls.
Sweet milk wonton– A sweet recipe with filled wonton in a sweet milk sauce.
Stuffed squid fried rice-A broccoli fried rice filled inside the squid/calamari.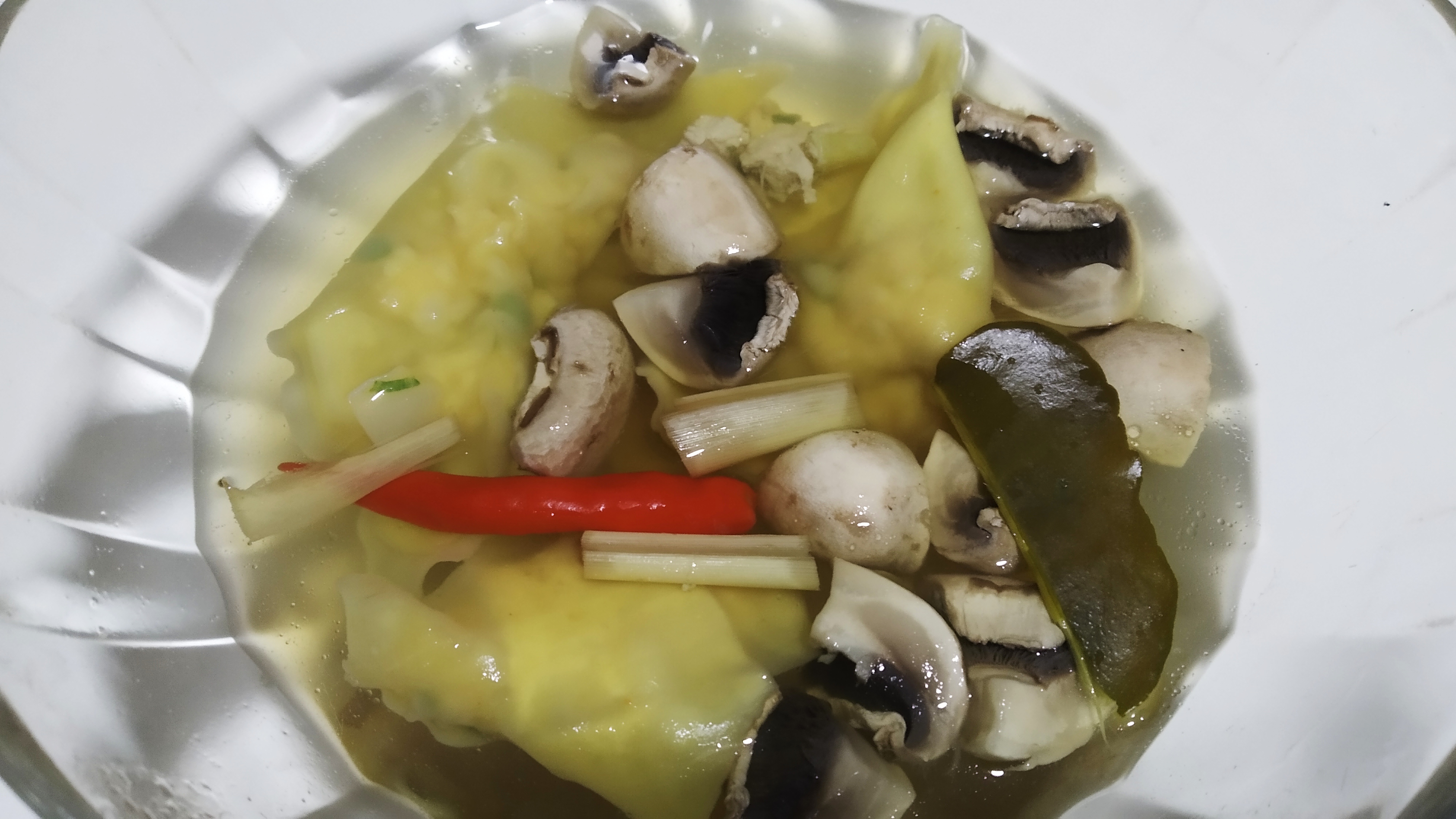 Easy to make homemade clear tom yum wonton soup
A fusion recipe incorporates Thai based tom yum and Chinese wonton.
Ingredients
For tomyum soup
5

Thai red chilli

2

Lemongrass

1

Sliced white/yellow onion

2

inches

Galangal

5

Kaffir lime leaves

6

Button mushroom

Lime juice

from 2 limes

3

tbsp

Fish sauce

6

cups

Water

3

tbsp

Cilantro
For wonton
250

gm

Minced chicken

1

tbsp

Minced ginger

2

Spring onion/green onion

1

tbsp

Soy sauce

200

gm

Wonton wraps
Instructions
In a bowl, mix the chicken, ginger, green onion and soy sauce. Based on the strength of the soy sauce, add salt if required.

Dab at the corners and sides of the wonton wraps with water. Then, fill the center of the wrap with the chicken mixture (the quantity depends on the size of the wrap) and fold them into various shapes. For this step, let your imagination come into play. I have tried some shapes.

Boil some water. Put the wontons in it. When the wontons come to the surface of the water, it's cooked. If left for long time, the wontons will become soggy.Bring the water to boil. Add the ingredients mentioned for Tom Yum except lime juice and fish sauce. When the strong fragrance comes from the soup, add fish sauce.

Add lime juice after turning off the stove to get a clear soup. If the soup is boiling hot when adding the lime juice,the soup will end up cloudy.
Few Thai recipes
Hibiscus juice– A juice recipe made using fresh hibiscus flowers. A refreshing thirst quencher to serve on hot days.
Tom yum fried rice-An authentic Thai fried rice made using freshly ground Tom yum paste. A prawn fried rice to try.
Red ruby milk pudding– A healthy yet tasty low-fat Thai red ruby.
Thai-style steamed fish– A Thai-style steamed fish with Asian herbs and condiments to enrich the dish.
Subscribe to my YouTube channel GameOfSpice for more healthy vlogs. For instant updates about new recipes check out my Instagram. For recent updates, check out my Facebook page. You can also go through my pins on Pinterest. Check out my Yummly page for healthy recipes.