Custard bread pudding dish to satisfy the appetite of kids on Saturday. My kids are currently enjoying their favourite Youtube show.
I already prepared the pudding in the refrigerator to surprise them. My kids like chocolate sauce like any other kids. So I hope they will like it.
This is a simple dish that doesn't ask for a lot of ingredients. If you have the custard powder, then it is simple and easy. I added the palm jaggery as I like the flavour. If you prefer the custard sauce to be in yellow colour, avoid palm jaggery. Add raw sugar instead.
If you like adding fresh fruits to the pudding, make some more custard sauce. Add chopped fruits and nuts. Pour this on top of the pudding and serve immediately.
What we need to make custard bread pudding
Bread
I am using the store-bought bread to make the process easier.I use multigrain or oatmeal bread to make the recipe healthier.
Custard powder
The vanilla flavored or plain custard powder is needed in this recipe. The custard sauce is used to make the sauce which is used as the base in this recipe.
Milk
Low fat is the liquid I am using to make the custard sauce. Full fat milk can be replaced to make the custard sauce creamier.
Jaggery or sugar
Jaggery or raw sugar can be used here. If you like brown sugar that can be used as well.
Chocolate sauce
Chocolate is topped on this recipe to make the recipe chocolaty. You can skip this if you are not fond of chocolate or chocolate sauce.
Cardamom & almonds
Cardamom is the flavoring I am using here and almonds are purely optional if you like so.
Bread recipes
Stuffed french toast– A stuffed french toast includes a chocolate filled sweet one and the mushroom,cottage cheese/paneer stuffed savoury one.
Savoury bread waffle-A savoury waffle made using bread slices,eggs,milk and vegetables to make an evening snack/ a breakfast.
Crispy paneer balls– A quick evening snack recipe made using cottage cheese/paneer ,potato and bread.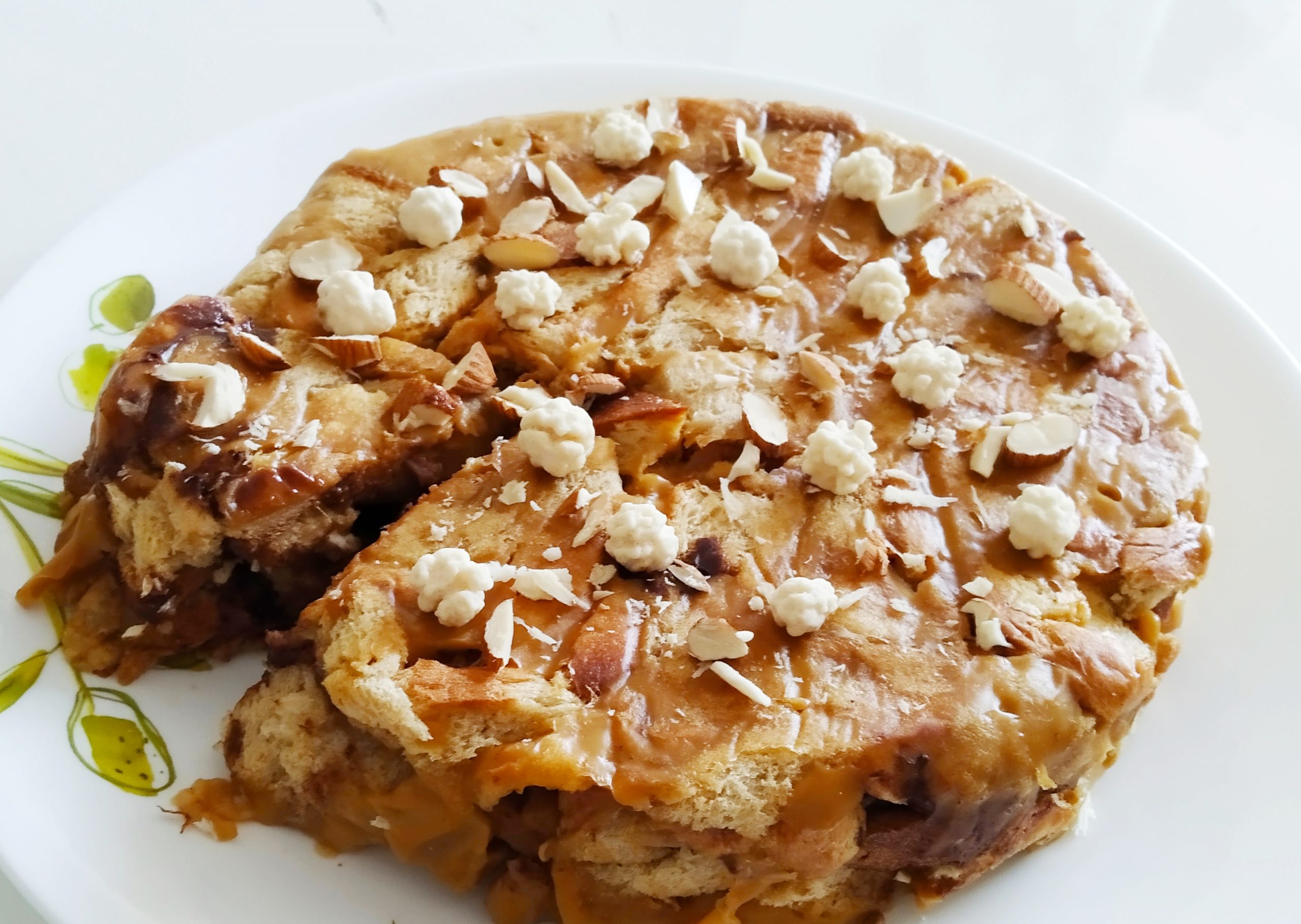 Quick snacks: How to make custard bread pudding
A quick custard recipe made using store bought bread, milk and custard powder.
Ingredients
Bread slices-8

Milk-2 cups

Custard powder-3 tbsp

Jaggery or Sugar-4 tbsp

Cardamom powder-1/4 tsp

Chocolate sauce-5-6 tbsp

Sliced almonds-10 or almond flakes-2 tbsp
Instructions
Toast the bread. Chop the bread into small chunks.

Meanwhile, add custard powder in a small amount of cold milk.

Boil the remaining milk in a pot and add sugar.

Add the custard mixture and mix well.

Cook for few minutes until it becomes thick.

Turn off the heat and keep the custard sauce aside for cooling.

Use baking paper to cover the pan. Layer the bread pieces. Pour the custard sauce and level it.

Now, add the chocolate sauce and sprinkle the sliced almonds.

Layer the bread pieces one more time.

Pour the remaining custard sauce.

Add the chocolate sauce and level it in the refrigerator for 8 hours.

Steam the bread in a steamer for 20 minutes.

Once the pudding is cool enough, decorate with sliced almonds.

Serve chilled for better taste.
Notes
Toasting makes the bread dry. It absorbs the custard better.
You can use cooking chocolate or normal milk chocolate instead of chocolate sauce.
If you like the almonds without skin, soak in hot water for 5 minutes. When it is cooled down squeeze the nuts to remove the skin.
I am using a stovetop steamer. When you steam the pudding in the steamer, cover the lid with a cloth to prevent the water droplets from dripping into the pudding.
Quick snacks
Crispy baked wonton chips– A quick and easy to make chips made using wonton wraps and seasoning.
Crispy Hawaiian tortilla pizza– A Hawaiian style pizza made using tortilla wraps, pineapple chunks, cottage cheese/paneer.
Steamed apple cake– A steamed apple cake cake includes apples, milk powder, eggs and cake flour to make a soft cake.
Healthy millet cranberry waffle– A cranberry sauce topped waffle made using healthy millet flour,oats,wheat flour.
Check out my YouTube channel GameOfSpice for more healthy vlogs. For instant updates about new recipes check out my Instagram. For recent updates, check out my Facebook page. You can also go through my pins on Pinterest. Check out my Yummly for healthy recipes.