Eggless mango muffins for Father's Day
One more dessert recipe with fresh mango pulp is on the way. This Father's day special eggless mango muffin was the fathers day special dessert I made at home. It took some days to post this delicious muffin due to some workload.
Father's Day is a day of honouring fatherhood and paternal bonds, as well as the influence of fathers in society. To thank and celebrate our selfless father we should make something special on a special day. So I decided to make some dessert with mango. I should say that my family loves mango.
I really like one thing about this dessert is it does not require any whipping cream/fresh cream. I am using yoghurt for the topping sauce. I am using the fresh ripe mangoes to avoid the sour taste. I am using kiwi slices for topping.
What we need to make eggless mango muffin
Fresh mango
Mangoes are the favourite fruit for most people.No wonder the bright yellow colour and the fragrance from the ripe mango will appetise us. I am using ripe Thai mangoes as they are very sweet.
Yoghurt
Yoghurt gives moisture and softness to the muffin. I am using store-bought plain yoghurt. Most of the store-bought yoghurt contains sugar. So check the label when buying.
Self-raising flour
Self-raising flour is flour with baking powder and salt. I am using self-raising flour in this recipe to make a fluffy muffin.
Powdered sugar
Powdered sugar, also called confectioners' sugar or icing sugar, is a finely ground sugar produced by milling granulated sugar into a powdered state. I am grinding the raw sugar to make powdered sugar for this recipe.
Toppings
I made a mango yoghurt sauce made with fresh mango pulp. And for a punch, I am using kiwi slices as well for the topping.
Similar mango dessert
White chocolate mango cups-A mango dessert recipe made using fresh mango and white chocolate is used as a cup to contain the mango filling.
4 ingredients mango mousse-Mango lovers will not be ready to miss this exciting dish. You must try this mango mousse recipe right away.
Mango Jelly-Simple jelly recipe made with agar-agar strips. This recipe does not contain gelatin.
Mango sago-Simple mango dessert with fewer steps and ingredients. A wonderful dessert for the unexpected guests.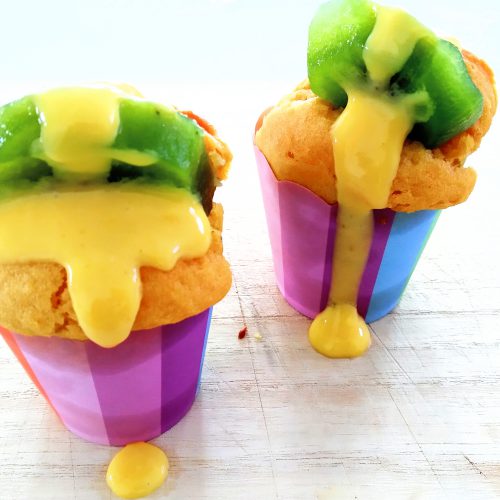 Father's Day special-Eggless Mango Muffins-Best Fluffy muffins
A dessert recipe for selfless fathers.
Ingredients
¼

cup plus 1 tbsp

Mango puree

¾

cup

Self-raising flour

¼

tsp

Baking soda

¼

cup

Oil

¼

cup

Yogurt

2½

tbsp

Powdered sugar

5

Kiwi slices
Mango Yoghurt Sauce
2

tbsp

Yogurt

½

tsp

Sugar

2

tbsp

Mango puree
Instructions
Mix well until everything blends together.

Mix well until everything blends together.Stir in one direction.

Pour the batter in a lined muffin tray.

Preheat the oven for 10 minutes at 160 C.

Bake for 10 to 12 minutes.

Keep them on a wire rack for cooling.
For mango sauce
Use a hand blender to mix them well and make sure the sauce is creamy and pourable.
Serving
Make a slit on the top of the muffin.

Place the kiwi slices on the slit.

Drizzle the mango yoghurt.
Subscribe to my YouTube channel GameOfSpice for more healthy vlogs. For instant updates about new recipes check out my Instagram. For recent updates, check out my Facebook page. You can also go through my pins on Pinterest. Check out my Yummly for healthy recipes.