Crispy baked wonton chips
Chips. The word itself drives our memory to think of the crispy thin layer of potato. Deep-fried or baked, the common side dish/snack/appetizer is around the world. Not only is it popular among kids, but chips are also famous among adults as well. Any party without chips?
Hmmm…possible but rare. But why are the chips very famous? Of course, they are tasty and they are easily available and affordable. Regular potato chips are high in calories. Frito-Lay, Pringles are the most famous among them. So the chips manufacturers are creating alternatives to reduce the calorie and to boost the nutrients.
Some chips or crisps are available from vegetables like plantain, tapioca, yam, and even carrot. Some fruit-based chips are prevalent too. Sweet potato chips are eaten in Korea, New Zealand, and Japan and parsnip, beetroot, and carrot crisps are available in the United Kingdom. India is famous for its chips varieties ranging from potato, plantain, tapioca and yam. Philipines is famous for banana chips. Kenyan cassava chips, rice chips from China, Mexican tortillas and Indonesian and Malaysian prawn crackers are some more examples. Nacho chips are the party favourite and movie time snack available in theatres.
Are the crispy baked wonton chips worth a try?
Yes. They are crispy and you can make ahead crispy baked wonton chips and store them in an airtight container for 3 to 4 days to enjoy the crunchy snack for mid-day snacks.
Nowadays I have been using feathery, light, ultra crispy baked wonton chips instead of baked tortilla chips and they are so good. Here, I am making chips using wonton wraps.
What we need to make crispy baked wonton chips
Wonton
Wonton wrappers are used in Asian cooking to make dishes like crab rangoon, wontons, egg rolls, and many other dishes. I am using the regular wonton wraps available in supermarkets. Wholemeal wontons can be used to make the recipe healthier.
Olive oil
Olive oil is the oil used in this recipe. Any of your favourite oils can be used. Try to avoid strong-smelling oils like sesame oil as they tend to overpower the dish.
Seasoning
The simple salt and pepper, cheese, smoked paprika, Indian masalas will work well in this recipe. Be wild with your seasonings and toppings.
Dip/Sauce
The simple tomato ketchup, hummus, nacho cheese, salsa are best when accompanied by these chips.
Please go through GameOfSpice on YouTube for interesting video recipes.
Similar wonton recipes
Sweet Milk Wonton-This fusion recipe includes wonton and Bengal gram and is infused in sweet milk. A healthy steamed dessert recipe and kids' favourite snack.
Tofu Wonton Ravioli Pasta– A ravioli pasta made using wonton wraps for a quick dinner. A vegetarian filling that contains tofu and shitake mushrooms.
Clear Tom Yum Wonton-A simple fusion recipe contains chicken filling inside the wontons and the clear tom yum soup.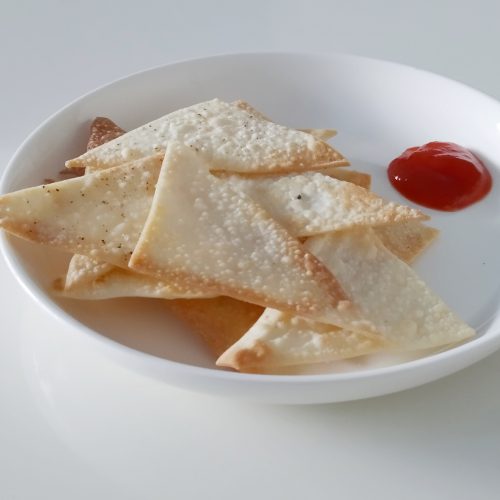 Crispy Baked Wonton Chips
A crispy baked recipe made using wonton wraps olive oil and simple spices.
Ingredients
20 to 25

Wonton wrap

3

tbsp

Olive oil

1

tbsp

Water

Salt

Smoked paprika(optional)

Cheese

pepper
Instructions
Preheat the oven to 200°C.

Cut the wonton wrap diagonally.

Cut the diagonal wonton into two pieces.

Apply oil on the baking tray.

Place the wontons on the tray.

Season with salt and pepper.

Place the tray in the oven.

Bake the wontons for 6 to 7 minutes or until they are in golden colour.

Serve immediately with your favourite sauce,dip or salsa.
This is our movie time snack. They stay more crispy for a long time if maintained properly. The same recipe can be made using the air fryer as well. These will keep for a week or two in an airtight container.
Similar crunchy recipes
Tangy sweet fox seed/lotus seed/Makhana– A simple and healthy snack recipe made with lotus seed with tangy and sweet seasoning.A better option for movie time snacks and mid-day snacks.
Falafel 2 ways-baked and fried– A Middle Eastern snack recipe made using chickpeas/garbanzo beans and simple spices. To make the recipe more healthy a baked version is also depicted.
Masala lotus seed– A healthy crunchy lotus seed snack with simple spices.The best alternative to butter popcorn with low fat and simple seasoning.
Subscribe to my YouTube channel GameOfSpice for more healthy vlogs. For instant updates about new recipes check out my Instagram. For recent updates, check out my Facebook page. You can also go through my pins on Pinterest. Check out my Yummly for healthy recipes.