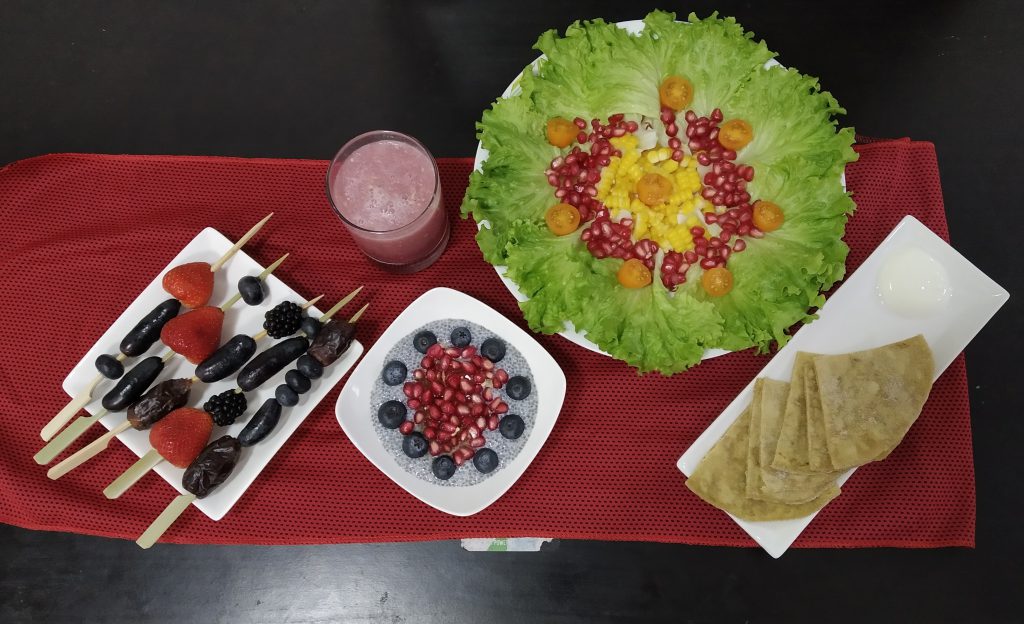 Today I prepared a simple Veg Iftar platter that can be consumed any day. This Veg Iftar Platter includes salad, chia pudding, potato paratha/chapati, pomegranate sarbath and fruit skewers. This low calorie, fibre and fruit rich platter is the easier one to incorporate in your weekly meal plan as well. If you are on a diet plan and want to enjoy the Iftar meals, here is a vegetarian treat that is healthy, light-weighted and tasty.
What does this veg Iftar platter include?
Potato chapati,a carb
Vegetarian salad
Pomegranate chia pudding
Pomegranate sharbat/sherbat
Fruit skewers
What does Ramadan celebrate?
Ramadan celebration is after a month of sacrifice and prayer. A whole month of fasting starts in the dawn of the day and ends in the dusk of the day. The fasting process prohibits eating any food and even drinking water. The hardship of fasting ends every day with an Iftar (breaking the fast) with family.
What do you eat in Iftar?
The regular Iftar can be a feast with various dishes that include rice, meat, vegetables, fruits, desserts, snacks, dates, and juices, which incorporates the daily adequate carbohydrates, protein, fibre, vitamins, and minerals.
What to eat for Iftar?
The best foods that can be added to your Iftar will make feel light and healthy during the Ramadan period. And this will give us the energy to continue our next day fasting as well.
To replenish energy and continue the daily activities without fatigue after breaking the fast, the meal should be light and healthy. The daily recommended dose of vegetables and fruits will maintain our energy level.